Ice Anglers, Meet Your Favorite New Magic Wand
CCI Perch Seeker
November 11, 2019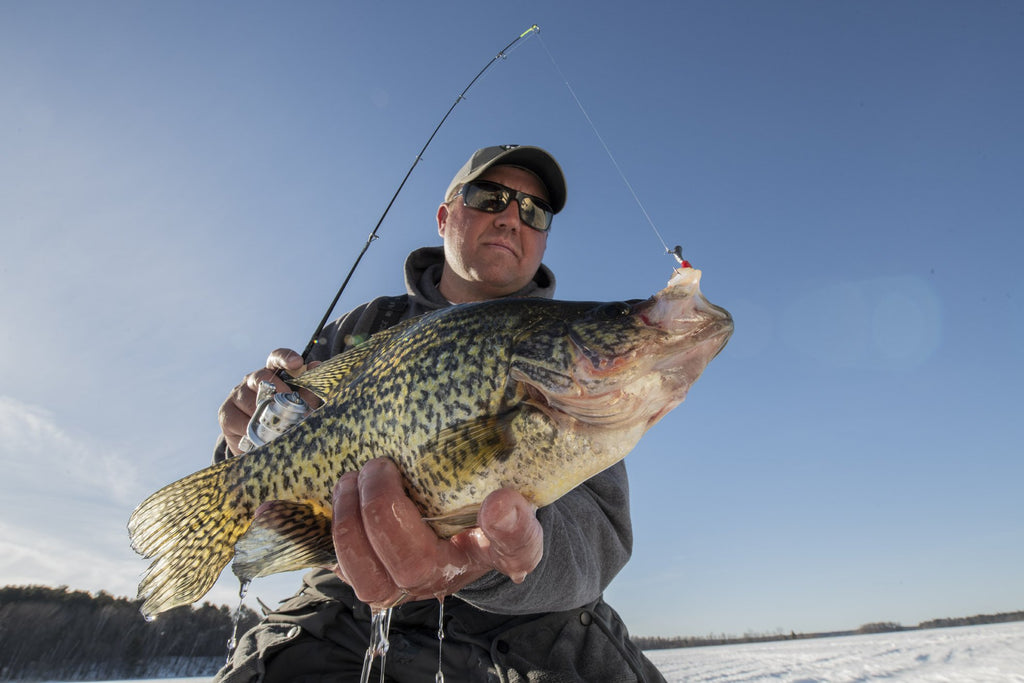 NEW, one-of-a-kind CI32MLXF PERCH SEEKER ice rod headlines St. Croix's expanded Croix Custom Ice Series
Park Falls, WI (November 7, 2019) – The ice speaks. Do you hear it? The creaks, pops and moans resonating from lakes across the northern reaches of the ice belt are creeping ever southward, building ice and providing the platform from which summoned anglers will perform a new season's worth of wintertime wizardry. It's an exciting time, full of anticipation.
With due respect paid to seasons past, the truth reveals that there's never been a better time to be an ice angler. Today's technology delivers superior products that help ice anglers stay more comfortable, find more fish, and make presentations that catch more fish – all of which combine to make the sport of ice fishing a whole lot more fun. And at the business end of it all is St. Croix Rod, the family-owned, American rod manufacturer that's been providing passionate anglers with the Best Rods on Earth® for over 70 years.
St. Croix makes dozens of unique and specialized ice rods to suit the needs of any angler, the most discriminating of which choose Croix Custom Ice (CCI). The CCI line features carefully engineered rod blanks as diverse as the specialized techniques they serve, including Solid Carbon (SC material), Solid Glass (SG material), Tubular Carbon (TC material), Tubular Carbon / Tubular linear S Glass (TCG material), and Tubular Carbon Fused to Tubular linear S Glass through a unique, proprietary manufacturing process (TCFG material).
A particularly exciting and unique rod in the expanded CCI lineup for the 2019/2020 season is the 32-inch medium-light power, extra-fast action CI32MLXF Perch Seeker, featuring a dynamic blend of carbon and glass patterns in a tubular construction. According to St. Croix's Director of Manufacturing and Engineering, Jason Brunner, it isn't witchcraft or wizardry, per se; it just hasn't been done before.
"St. Croix is known for making true, extra-fast rod blanks while keeping them durable and light, which is something a lot of companies can't do. We have the design expertise, manufacturing resources, tools and equipment to pull it off," says Brunner. "We've crafted lightweight, extra-fast models in our longer, one-piece rods for several years now, so St. Croix was uniquely positioned to apply our technologies and become the first manufacturer to bring those same benefits to a shorter, extra-fast, tubular ice rod. We've been impressed with how well the new Perch Seeker performs. It's an exceptional, one-of-a-kind rod, and that fact is reinforced by the reactions of ice anglers when they pick it up for the first time."
St. Croix pro and ice aficionado Joel Nelson speaks to everything that makes the new Perch Seeker unique. "The cool part with the Perch Seeker is that it's a hybrid that hasn't really been seen before—I describe it as a cross between a power-noodle and a dead stick rod. It's a medium-light power rod and still has the extra-fast tip, yet it fishes stiff enough that you can use perch-sized, small walleye-sized, or trophy crappie-sized baits. It's not just a perch rod; it does a lot of things really well. It's something anglers will use if they're fishing the perch factories—your Winnie, your Leech—but also the sloughs of the Dakotas. It's a tool anglers will love for walleyes and big crappies. This rod is versatile and truly unique. There's no noodle-style rod out there with a strong base section that fishes to the middle like this new Perch Seeker does."
Northeast angler and St. Croix pro, Christi Holmes, agrees. "The CCI Perch Seeker is my new go-to rod for crappie fishing here in Maine. Its lightweight, tubular-carbon and glass blank and extra-fast action really telegraphs those subtle bites," she says. "And it has the power to beat up on bigger fish. To do a smaller ice rod in a tubular structure of that nature—a 32-inch medium-light with a true, extra-fast tip—is very unique. It's something you won't find from anyone else."
Minnesota fishing guide, Tony Roach, is intimately familiar with every rod in the CCI lineup and "loves them all" for their specific tactical strengths. But like Nelson and Holmes, Roach has a new favorite. "The Perch Seeker is my favorite rod in the lineup, hands down. Everything about the rod feels so good," says Roach, who echoes Nelson's sentiments on the stick's unique versatility. "It's not only an ideal perch rod, it's a superb light-walleye and crappie rod, too. The super lightweight blank construction, medium-light power and extra-fast tip are what combine to produce the performance and feel that make this rod unique. Perch specialists are going to flock to this rod, and it's going to be a must-have for just about everyone else."
Launched in 2018, the technique-specific Croix Custom Ice series features unrivaled technology and performance to exceed the expectations of the most demanding ice anglers. The blank materials used for this series are engineered specially for ice rods and incorporate five distinct blank platforms including Solid Carbon (SC material), Solid Glass (SG material), Tubular Carbon (TC material), Tubular Carbon / Tubular linear S Glass (TCG material), and Tubular Carbon Fused to Tubular linear S Glass (TCFG material).
The expanded, 13-rod CCI series for 2019/2020 includes three new models: the Perch Seeker, a 32", TCG, medium-light ice rod with an extra-fast tip (CI32MLXF); the Spoon Hopper, a 36", TCG, medium-light power, fast action rod (CI36MLF); and the 36" Trophy Taker, a TC, medium-heavy power, fast action rod (CI36MHF). Designed and handcrafted in Park Falls, WI, Croix Custom Ice rods feature REC recoil guides with black pearl finish, split-grip super-grade cork handles and a 5-year warranty backed by St. Croix Superstar Service. Retail prices range from $130-$160.
#CROIXGEAR
Like the rods? You'll love our Croix Custom Ice lifestyle apparel!
MEET OUR MACHINERY
Coming to northern Wisconsin? We'd love to meet you, and we'd love for you to have the chance to Meet Our Machinery. Call us at 800.826.7042 or email us at factorytour@stcroixrods.com to schedule a factory tour. Learn more at https://stcroixrods.com/pages/factory-tours.
#stcroixrods
About St. Croix Rod
Headquartered in Park Falls, Wisconsin, St. Croix has been proudly producing the "Best Rods on Earth" for 70 years.  Combining state-of-the-art manufacturing processes with skilled craftsmanship, St. Croix is the only major producer to still build rods entirely from design through manufacturing.  The company remains family-owned and operates duplicate manufacturing facilities in Park Falls and Fresnillo, Mexico.  With popular trademarked series such as Legend®, Legend Xtreme®, Avid®, Premier®, Tidemaster®, Imperial®, Triumph® and Mojo, St. Croix is revered by all types of anglers from around the world.