St. Croix Rod Employee Spotlight
Cathy Thums and Dawn Eitrem
September 05, 2019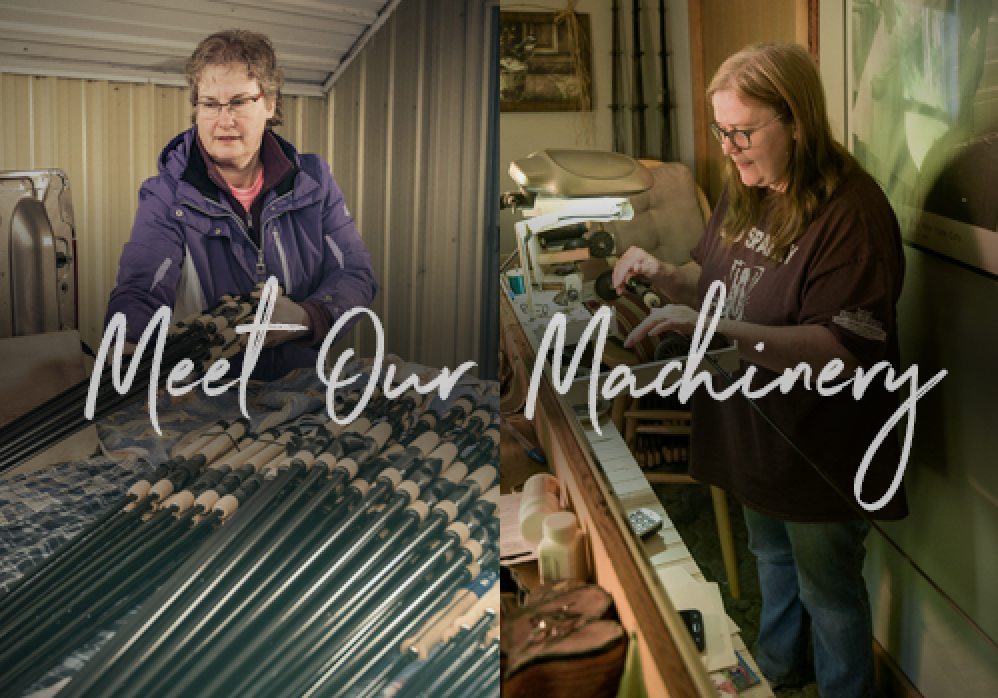 Building the Best Rods on Earth® requires the best technology, the best materials, the best equipment and, of course, the best people. Most of these highly trained artisans ply their trades at St. Croix's Park Falls factory. Some will be interested to learn, however, that St. Croix employs a few other gifted artisan who apply their skills and expertise to add value to St. Croix rods from the comfort and convenience of their own homes. 
Dawn Eitrem has been a St. Croix "Home Winder" for over 20 years and enjoys the flexibility her job affords her personal and family life.
Meet Dawn Eitrem and Cathy Thums, two experienced "home winders" who bring precision and excellence to the critical work they do on many diverse, American-made St. Croix products from their own home-based winding stations. 
Going on her twenty-first year with the company, Dawn Eitrem says working at St. Croix has been a great experience. "I just love what I do! First of all, there's a great deal of flexibility in working from home," she says, specifically noting that her career affords special opportunities to maintain family ties. "Yesterday, I was able to spend some time with my grandson that I wouldn't have been able to do if I was working in a factory somewhere. That's really nice," Eitrem says. 
Dawn puts in an average of 36 hours per week, winding the precision thread wraps onto anywhere between 100 and 150 rods, depending on the specific models at her workstation.  
The company's moniker of "Best Rods on Earth" is something Dawn understands well and takes a great deal of personal pride in. "I've been told by many, many people that St. Croix rods are the best rods out there, and it feels good knowing that I've been a part of that," she says.  
 
When asked about her longevity with St. Croix, Eitrem gives a lot of credit to how the family-owned company is run, and to its management structure. "It's really great when you can talk with your boss on a one-to-one level. I've always enjoyed that kind of relationship with my superiors, who've been incredibly nice people in addition to being good managers." 
Cathy Thums picks up a fresh batch of St. Croix rods at the Park Falls factory every week. 
Cathy Thums is another home winder who has been with the company for nearly two decades, winding countless numbers of various models of St. Croix rods throughout her tenure.  
"I typically put in eight to 10 hours a day," says Cathy. "But working from home leaves a good deal of freedom for me to take on other tasks during breaks, like gardening right now or canning vegetables. That's pretty great! When I started the job, we had kids at home and my husband was on the road all week, so a job working from home was perfect and has been ever since." 
Before a new batch of rods is distributed to the home winders, each individual rod is measured and marked at the factory for precise guide placement. The correct guides and threads are also packaged for pick-up. Dawn picks up her weekly orders from the factory in Park Falls on Mondays, and drops off her completed products from the previous week at the same time. Cathy picks up and drops off on Wednesdays. Following home winding, the rods go to a special department inside the factory that performs laser-aided guide alignment. After alignment, rods go through various finishing and inspection steps before they are bagged and shipped to the warehouse.   
Both Dawn and Cathy find home winding to be a rewarding career that's a perfect fit for their active family and personal lifestyles. "I'm grateful to be doing what I'm doing. It's something I take pride in and it's pretty neat to know that the work I do will end up in the hands of anglers from all over the world," Cathy says. Dawn agrees: "The fact that these are the industry's very best fishing rods creates a good deal of satisfaction in what I contribute to the total rod-building process each and every day." 
St. Croix salutes Dawn Eitrem and Cathy Thums for their years of service, commitment, and attention to detail in helping us deliver the Best Rods on Earth. If you are coming to northern Wisconsin, we'd love to meet you and provide you with the opportunity to Meet Our Machinery. Call us at 800.826.7042 or email us at factorytour@stcroixrods.com to schedule a factory tour. Learn more at https://stcroixrods.com/pages/factory-tours.