The Ultimate Ice Trolling Rod
Croix Custom Ice Spoon Hopper
November 12, 2019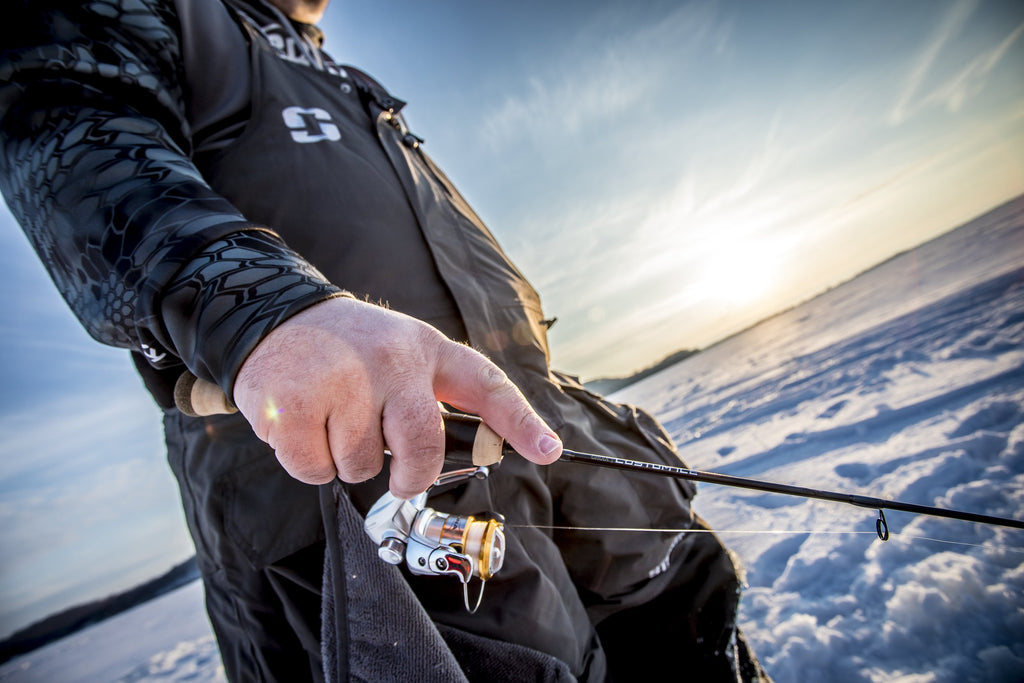 Park Falls, WI (November 12, 2019) – Suspended basin crappies and reef-roving walleyes don't stay in one place very long. Anglers looking to earn success against such upwardly mobile targets shouldn't either. That means drilling lots of holes, staying mobile, constantly checking those holes with electronics, and fishing "heavy" to get down to marked fish before they bug out.
"Anglers who keep their butt on a bucket during such circumstances are missing out," says famed Minnesota fishing guide and St. Croix Rod pro, Tony Roach. "And those who travel light and fish fast are cashing in."
Roach is an advocate of hole hopping – or ice trolling, as he calls it – when structure fishing for walleyes throughout most of the ice season on his home waters of Mille Lacs and other nearby lakes. "It's not really that different from fishing in your boat when you're moving and hitting different parts of a piece of structure by backtrolling or drifting," he says. "Ice trollers accomplish the same thing by drilling lots of holes in productive or attractive areas on and around bigger pieces of structure and then coming back and cycling through them to target and catch those active, aggressive fish."
St. Croix Rod takes great pride in making the fishing rods that help anglers find more success in any fishing situation. On the ice, the most discriminating anglers – including Tony Roach – choose St. Croix's pinnacle Croix Custom Ice (CCI) Series rods. The CCI line features carefully engineered rod blanks as diverse and unique as the specialized techniques they serve, including Solid Carbon (SC material), Solid Glass (SG material), Tubular Carbon (TC material), Tubular Carbon / Tubular linear S Glass (TCG material), and Tubular Carbon Fused to Tubular linear S Glass through a unique, proprietary manufacturing process (TCFG material). The expanded CCI lineup for 2019/2020 encompasses 13 specialized models, including the all-new 36" medium-light power, fast action CCI SPOON HOPPER (CI36MLF) – a model Roach labels, the ultimate ice-trolling rod.
"The 36" Spoon Hopper is the ultimate ice trolling rod for walleye anglers on the move. It is the ideal rod for fishing light spoons, and a must-have item for not only walleye anglers, but for hole-hoppers chasing down big crappies as well," Roach says. "It's got a dynamic blend of carbon/glass tubular construction, which makes it exceptionally light and responsive. The medium-light power and fast action tip allow the angler to have total control when fishing the 1/8-oz spoons preferred by so many anglers. I am a hole hopper, always on the move in search of the next strike. Along with the 36" medium power, fast action CCI Outside Eye (CI36MF) rod for slightly heavier spoons, the new Spoon Hopper is my new go-to rod when traveling light and fishing fast."
St. Croix Rod pro and fellow Minnesota ice warrior, Joel Nelson, shares Roach's enthusiasm for the new CCI Spoon Hopper. "The Spoon Hopper is my top choice for an outside rod," he observes. "Because of its 36-inch length, it's great for your Mille Lacs, Winnie, and other big water environments. You might be fishing big reefs and you can't just sit; you've got to roll and hole hop. Because it's longer, you can stand and fish next to the hole without getting lulled into kneeling or sitting down. It has the perfect blend of medium-light power and fast action, so you can fish a 1/8-ounce spoon with it perfectly. If you're fishing spoons for walleye or crappie – which is about 70% of any ice anglers' tackle box – this thing is the real deal."
Launched in 2018, the technique-specific Croix Custom Ice series features unrivaled technology and performance to exceed the expectations of the most demanding ice anglers. The expanded, 13-rod CCI series for 2019/2020 includes three new models: the Perch Seeker, a 32", TCG, medium-light ice rod with an extra-fast tip (CI32MLXF); the Spoon Hopper, a 36", TCG, medium-light power, fast action rod (CI36MLF); and the 36" Trophy Taker, a TC, medium-heavy power, fast action rod (CI36MHF). Designed and handcrafted in Park Falls, WI, Croix Custom Ice rods feature REC recoil guides with black pearl finish, split-grip super-grade cork handles and a 5-year warranty backed by St. Croix Superstar Service. Retail prices range from $130-$160.
#CROIXGEAR
Like the rods? You'll love our CCI lifestyle apparel!
MEET OUR MACHINERY
Coming to northern Wisconsin? We'd love to meet you, and we'd love for you to have the chance to Meet Our Machinery. Call us at 800.826.7042 or email us at factorytour@stcroixrods.com to schedule a factory tour. Learn more at https://stcroixrods.com/pages/factory-tours.