My Favorite Rod
June 16, 2021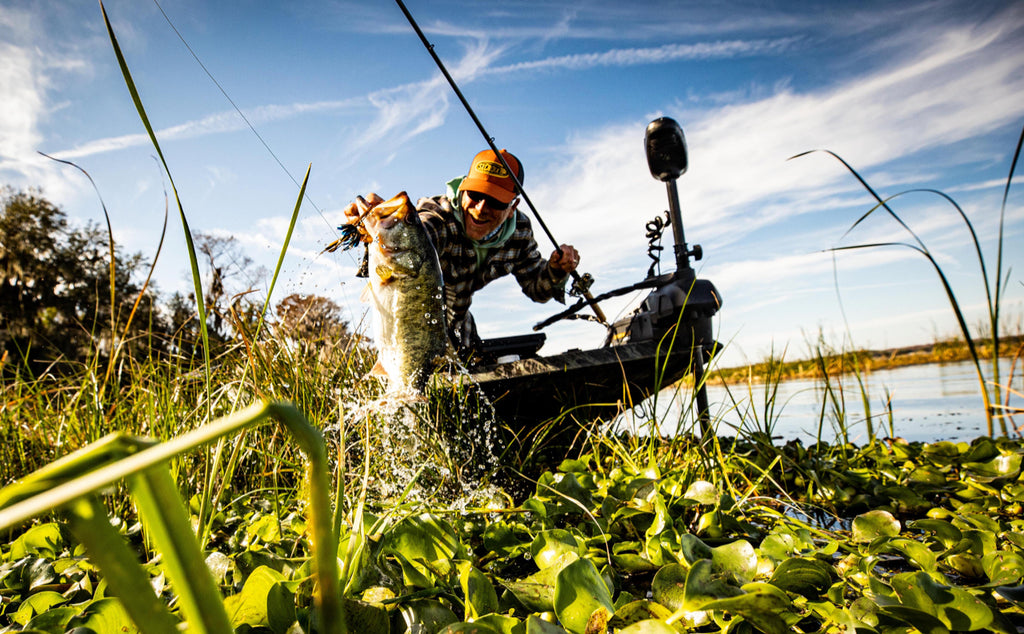 Length, power, and action are the holy trinity of fishing-rod selection. Each of three of these variables play distinct and important roles in determining how useful a rod is in any fishing scenario. Together, they define a rod's basic performance characteristics and make possible an incredible number of choices for the angler.
That's a good thing. Anglers like choices, and they all have slightly different preferences for rods they use day-in and day-out while employing varying techniques and presentations to catch their favorite species. This is why advanced anglers always have multiple rods rigged and ready to go.
But what if they could only choose one rod? Well, that's the precise, horrifying question we asked several of our St. Croix pros, with the hope that their answers will help the rest of us make better decisions when shopping for our next fishing rod.
Smallmouth Bass – Joel Nelson
I'd go with a 6'10" medium power, extra-fast action spinning rod, specifically the Legend X XLS610MXF model," says Nelson. "It's one of the most versatile rods for bass and I also use it for walleye. There are all kinds of finesse presentations to catch smallmouth bass, and this rod excels with just about all of them. But I'm a very simple-minded bass angler. Day in and day out, I like a simple jig head with a plastic trailer… usually a curly-tail grub, but sometimes a fluke or Z-Man TRD. With the curly-tail grub I can alternate between bottom hopping and crawling or swimming at any depth. This is a very versatile presentation in both lakes and rivers. The length is perfect. I can make long casts with a 3/16 to 5/8-ounce jig on 8-pound line or work vertically next to the boat. It's lightweight with great balance, which means it's comfortable to fish with all day and produces great leverage. The extra-fast action is great for setting the hook and getting into the rod's power quickly. For as light as this rod is in the hand, it feels very strong and responsive. That's key for smallmouth bass in rivers and in deep lakes where you want to keep big bass away from rocks and wood. I like the overall beef this rod delivers in an extremely sensitive, lightweight package.
Smallmouth Bass – Bill Schultz
I have a handful of favorite rods, but I probably use the Avid X 7' medium power, extra-fast action spinning rod (AXS70MXF) the most. All my bass have come on a relatively few great presentations. Right now, with much of my fishing being done on the big waters of Sturgeon Bay, Green Bay, and Lake Michigan, I am either using the Ned Rig with Z-Man ElasZtec finesse plastics, swimming a Kalin's Lunker grub or Keitech FAT Swing, or using a Right Bite 2.5" Tube.  This rod works great for any of these presentations. The split-grip handle and 7-foot length balance well with these reels and allow for longer casts. And the combination of SCIII carbon and IPC (Integrated Poly Curve technology) make for an exceptionally smooth and durable package. I'm fishing these presentations slowly, and usually with bottom contact in water that's relatively deep. This rod has the sensitivity and the length that are helpful in these techniques.
Largemouth Bass – Derek Hudnall
Choosing just one rod would be very easy for me. It's the Victory 7'3" medium-heavy power, fast action casting rod (VT73MHF). I could bore everyone to death about the multiple techniques that I use this rod for, but I'll give you my favorite… flipping and pitching. On tour, when I'm able to find a flipping bite, I get that extra fire in my belly. It's my comfort zone and one of the techniques I have the most confidence in. One of the most common mistakes anglers make in choosing a flipping and pitching rod is length. Flipping with a rod that's too short or too long can rob you of accuracy, cause unnecessary fatigue and straight up cause you to lose fish. This industry is full of opinions, so one thing every angler needs to keep in mind is that we are all different. There is only one person on this earth that can swing a golf club like Tiger Woods, so don't try to mimic him. Similarly, just because your fishing partner, Kevin VanDam, or you dad flips with a 7'11" rod does not mean that's the best choice for you. Try a variety a lengths and chose the one that makes casts and presentations that seem effortless. Yes, that rod is out there for you, and for me, it's the Victory VTC73MHF. This new line offers what I call 'tweener' sizes. Most casting blanks go up to a 7'0" and then start back again at a 7'4" which leaves a big gap in lengths. That 7'3" length, in my opinion, is the dead center on rod lengths, and I think this rod will more than likely also be 'that' rod for most anglers. Combined with medium-heavy power that's ideal for so many common bass-sized baits and a fast action that helps deliver casting accuracy and dialed-in presentations, that 'right-sized' 7'3" length helps make this rod the proper tool and fit in so many applications. The SCIII+ blanks and ergonomics of these USA-crafted rods bring true, elite-level performance to any bass angler, because they are priced at a sweet spot almost anyone can afford.
Largemouth Bass – Jesse Wiggins
I'd also choose the Victory VTC73MHF. It's a baitcasting rod, but I think it gives most anglers the best flexibility. You can fish a worm, jig, chatterbait, spinnerbait… literally almost everything with it. A lot of time anglers have the wrong speed reels for their lures. When I'm rigging, I put almost all winding baits on a 6:1 reel. If I'm dragging or fishing the bottom, I use an 8:1. So, having something in the 7:1 range puts anglers in the middle and lets them vary the speed of the retrieve easier, simply by how quickly they turn the handle. That's an incredibly versatile package on the Victory VTC73MHF rod that'll allow anglers to have a lot of success with many of the most-popular bass presentations.
Largemouth Bass – Joe Balog
I exclusively fish for big fish and I use a St. Croix Legend Tournament Bass 7'4" medium-heavy power, fast action casting rod (LBC74MHF) more than any other. This rod is my Swiss Army knife for shallow largemouth. I use it for swim-jig fishing, fishing a hollow-body frog, swimbaits like a Skinny Dipper, and spinnerbaits around submerged grass. These techniques are effective around shallow, heavy cover year 'round. The rod balances very strong power for its medium-heavy rating with a fast tip capable of casting sizable lures with accuracy. The most important aspect is the rod's power and ability to move fish away from heavy cover. The biggest mistake I see in Florida bass fishing is anglers using too light of gear. Their equipment, while adequate for fishing in the north for fish weighing under four pounds, is simply not capable of controlling a really big fish around heavy cover. For that reason, they may land most of their bites, but frequently lose the best fish of their trip or season. It's important to constantly be considering what's going to happen if a really big fish bites. If I skip a frog up under that bush around that lay-down tree and an 8-pound bass eats it, what's likely to happen?" Am I going to have enough rod and heavy enough line to move that fish away from that tree – immediately – at the end of a long cast?  If the answer is 'I'm not sure', or if you aren't constantly thinking about those possibilities, you're in trouble. Always consider the big fish, every cast or flip. My head is always in the game, and with a Legend Tournament Bass LBC74MHF in my hands, I'm confident my gear is in the game, too.
Panfish – Brian "Bro" Brosdahl
My favorite all-around panfish rod is the St. Croix Legend Elite Panfish 7', light-power, extra-fast action spinning (LEP70LXF) rod. It's simply the best multi-purpose panfish rod for long, bomb casting, searching, and slip bobbing. It's gentle on a slab crappie's fragile mouth, can feel every nibble, quiver or shake, and has the backbone to pull giant, augering bluegills out of the jungle, with enough muster to defeat incidental catches of large bass or walleye. I usually rig the LEP70LXF with Sunline SX1 green 10-pound braided main line, a Northland Fishing Tackle Lite Bite ¾-inch bobber, and a size 10 swivel tied to 2-1/2 to 3 feet of Sunline Fluorocarbon 3 or 4-pound leader. At the business end, I'll tie on a 1/32 to 1/8-ounce Firefly jig or Gypsy Jig loaded with a wax worm, minnow, or chunk of night crawler. If you use a low-diameter braid for your main line, it's going to be much stronger than your leader. This way, a snag is only going to claim your jig and you can get back into the game much more quickly. The 7' length helps make this rod a versatile performer capable of almost any panfish presentation. That extra-fast tip combined with the SCV/SCVI carbon blank makes this thing a true magic wand, compounding its lightweight sensitivity and yielding smooth and immediate access to the rod's power. If you are looking for a single panfish rod that can do it all, you want to look at the 70LXF.
Panfish – Blake Tollefson
If I could only carry one panfish rod it would be the Legend Elite Panfish LEP70LXF, but St. Croix makes the same great length, power and action available in its extremely popular Panfish Series. The Panfish Series gives more anglers the opportunity to own high-performance panfish rods, and the PFS70LXF model is the best-seller in the series for a reason. I cast and retrieve a lot of small jig and plastic combinations. This is probably 75% of my panfishing, as it is for a lot of other anglers, too. Jigs in the 1/32-to-1/16-ounce range dominate most of my crappie fishing, but the Panfish Series PFS70LXF still can handle 1/8-ounce jigs when necessary. The rod also does well for other panfish-oriented techniques like casting small crankbaits, float fishing, and dropshotting. It's an astounding panfish rod and can cover a wide range of techniques. Casting and retrieving small plastics is effective year 'round, but it can be especially effective during the late-spring and summer months when fish are living in and around weeds. That's when small paddletails like the Eurotackle B-Vibe really dominate. These are great imitations of baitfish and can be fished at variable speeds and still provide a ton of action. I typically pair these up with 1/32-to-1/16-ounce jigs, but occasionally bump up to a 1/8-ounce jig in deeper water. Depending on the day or body of water, I either want my lure to be ticking the tops of the weeds or just off the edge of the weed line. It often takes some experimenting to find out exactly where the fish are located within a given weed patch. In the last few years, I have grown to favor micro braids in most situations. The micro braids allow for smooth, long casts as well as increased sensitivity. Oftentimes the higher visibility braids (white, greens, yellows) are great because you can see when fish grab the bait on the drop. People often worry about the lack of stretch with braid and crappies because they have such soft mouths. When paired with the right rod, like the PFS70LXF, this is not an issue. The rod's SCII carbon blank has the ideal backbone to soak up those head shakes and keep the fish pinned, and the lightweight stainless-steel guides on these rods stand up to braid well.
Walleye – John Balla
The St. Croix Legend X 6'8" medium power, extra-fast action (XLS68MXF) is my favorite rod for most jigging techniques, but especially snap jigging. First thing is the feel of this rod; it's so well balanced in the hand, unmatched by any other in my opinion. Balance is the key to fishing the lure the exact way it's intended, because in most forms of jigging the rod becomes a real part of the presentation. St. Croix builds an extra-fast tip better than anyone, and that action is the most sensitive in terms of bite detection, period. A St. Croix extra-fast tip gives feedback to the angler quicker than any other. This is critically important when fishing highly erratic and snapping motions which cause slack line. Detecting and feeling slack-line bites is made easier with this rod; you simply miss fewer bites. The blank-through reel seat combined with the Torzite guide rings creates next-level sensitivity throughout the blank. That's why the XLS68MXF is my weapon of choice when aggressively triggering walleyes in weeds. I typically use bullet or fish-head-style jigs rigged with thin, paddletail plastics. Simply choose the right weight of the jig depending on your depth. Try 3-4" plastics early in the year or match the forage of the lake you're fishing. I prefer a Daiwa Ballistic LT 2500 spooled with 12-16-pound Sunline SX1 braided line, then add an 8-10-foot leader of 12- or 14-pound monofilament line connected to the braid with an FG knot. The mono helps slow down the jig's decent a bit and creates more lift on every snap of the rod. Look for weeds with broadleaf cabbage, which is a walleye magnet. Long casts are preferable, and the 6'8" length of this rod helps greatly in that department. Position the rod at a 45-degree angle to your line, immediately reel up slack, and quickly sweep the rod forward 4-6 feet. Pause and use this first sweep to see how long it takes to reach the weeds and make a mental note. Reel up slack and sweep again, letting the jig fall to just catch the tip of the weeds. Repeat this all the way back to the boat. Be aggressive. You'll be amazed at how the walleye respond to a darting bait above their heads. Be prepared to catch anything that swims in those weeds, not just walleyes, but bass, pike, perch, and rock bass as well. Medium-light power and slower rods aren't suited for the tension and water resistance that's created with the snap or the sweep of the jig and plastic. Also, you need some power when a hooked fish takes a dive down into the weeds. It's so important to fish through the scattered tops of the weeds. Choosing too heavy of a jig or oversized plastics reduces the effectiveness of the technique as well. When it comes to snap-jigging hungry and aggressive walleye in weedy cover, I feel the best rod for the job is a 6'8" medium power, extra-fast action model, and for my money, that model in St. Croix's Legend X Series is the top performer. But St. Croix builds technique-specific walleye rods in many different series, and I use them all. Most walleye anglers are going to find everything they could want or need in a walleye rod in St. Croix's popular Eyecon Series. These are high-performance technique-specific rods that give walleye anglers the upper hand in any situation at an attractive price, so they can afford to buy several rods and be ready for any presentation the day demands.
Musky – Rob Manthei
St. Croix's Mojo Musky Series rods deliver all the performance and versatility musky anglers need at a competitive price. St. Croix makes more expensive musky rods, but I really like this series, and I know a lot of other musky anglers who do, too. They're physically comfortable, strong as nails, and take the abuse that lots of other models can't. The 8'6" heavy power, fast action MJM86HF is my favorite all-arounder. Like the other Mojo Musky models, it's got a really comfortable Winn grip, and I can work a variety of lures with just this one rod… ripping' rubber, twitching large cranks, and burning bucktails… anything between 3 and 8 ounces, which covers a lot of musky lures, this rod will do it all. I match my MJM86HF Mojo Musky rod with a 400-size reel and 80-pound Seaguar Threadlock line. My leaders are a mix of fluoro for most lures and single-strand wire when I'm throwing rubber. Resist the temptation to use reels that are too big or too fast. If musky anglers would stop listening to the internet and start listening to their guides, they'd catch a lot more fish and stay a lot more comfortable while they are doing it.
Musky – John Kleczewski
I love my 8'6" heavy power, fast action Legend Tournament Musky rod (LMC86HF). St. Croix calls it the 'Sling Blade' and it's super versatile for normal size topwater baits, blade baits, and dive-and-rise jerk baits. The other thing I have noticed is how well fish stay pinned with this rod during battle… the backbone, the way the rod loads up… it's perfect, and has been a great stick for myself and clients. The Premier 'Rubber Rod' – which is a 9' extra-heavy power, fast action model – is my go-to for not only bigger rubber, but our larger Cannonball and Cannonball Jr. topwaters, too. This rod makes casting these big, heavy baits a lot easier, and they're designed to hold up against the stresses involved in casting lures up to 16 ounces. And man do they have the backbone to drive hooks home into a big fish. Balance and ergonomics are often overlooked by anglers, but these are critical factors that should be evaluated when picking out a musky rod, especially longer, heavier models. You have to keep your lure in the water to earn success in musky fishing, and that means casting for long periods. St. Croix nails the factors of ergonomics and balance as they relate to angler comfort. Take the hybrid handle design on the Rubber Rod. What would you rather have pushing into your side all day long, hard cork or softer EVA? St. Croix knows the answer because their designs are driven by the needs of anglers.
Salt – Rob Radlof
We target fish from five pounds to over 50 pounds with ½-ounce to 6-ounce baits.  If I have to pick one rod to fish from land or boat targeting striped bass that could throw most of the baits we use it would be the Legend Surf 8' medium power, moderate-fast action (GSS80MMF) spinning rod. It can handle smaller swimming plugs to 3-ounce topwater baits, and I've landed fish over 50 pounds on this rod with ease. I usually rig it with 30-40-pound braid depending on the lure I'm throwing and a 40-80-pound leader. If this versatile rod has a niche, it's throwing large topwater spooks. Its moderate-fast action works the bait with east but it has plenty of power to handle larger bass. 
Salt – Joe Sanderson
I would carry a 7'0" medium power, fast action spinning rod – specifically the Mojo Inshore JIS70MF. 
It is a great all-around rod that can be used in the wind, as well as for sight casting. It has enough power to catch big redfish but is still finessey enough to catch trout with their softer mouths – the two species we fish for most often here in Texas. I love to sight fish, so this is the perfect setup for me. I pair it with 20-pound straight FINS Windtamer braid, which is the best braid that I have ever used while fishing at the coast. It's engineered to cut through the wind and works really well with this setup. I put it on a 3000-size spinning reel and go to work. I don't mess with leaders, because most of the time fish aren't that picky and that extra knot is just a weak point. People often use too heavy a jighead when sight casting in shallow water. Sure, it casts well, but with this setup, even in strong wind, you don't have to worry about backlashes like on a casting rod.
Salt – Tom Rowland
The Legend Tournament Inshore 7' medium power, fast action spinning rod (LTIS70MF) is the most versatile rod in my arsenal for the types of fishing I engage in most often. It is designed for 3/8 to ¾-ounce lures and 8-17-pound line, which is in the wheelhouse for redfish, snook, permit, tarpon, bonefish, barracuda, offshore yellowtail, snappers, mahi, and also freshwater bass and exotic species. This versatile rod is a great tool for sight fishing all of these species with good accuracy. The handle is the perfect length for casting control and it fights fish well. I pair this with a Daiwa Certate reel and spool with Daiwa J Braid. I tie a double uni to the fluorocarbon leader and then directly to the hook, jig or lure. When sight fishing, I notice many people using a leader that is too long. If the knots are going in and out of the rod while casting it causes the presentation to be off the mark. I use a two-foot piece of fluorocarbon for most sight fishing applications and this is a good leader length to maintain accuracy. I actually think the thin, olive color braid is less visible to the fish than the 30-40-pound fluorocarbon, so a short leader does not bother me and always catches plenty of fish. An accurate presentation outfishes a sloppy one every time. 
At St. Croix Rod, we make it our mission to serve anglers with an expansive selection of rods across a wide span of prices that give them the upper hand and elevate their experience in any fishing situation. Browse our distinct rod series to find the individual models that best suit your specific needs. Visit your nearest St. Croix Dealer or our Guide Center for additional help and information.