Hardwater Alert!
November 13, 2019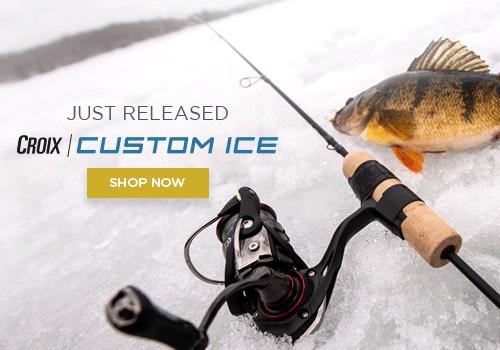 St. Croix Expands Croix Custom Ice Series
The ice speaks. Can you hear it? The creaks, pops and moans resonating from lakes across the northern reaches of the ice belt are creeping ever southward, building ice and providing the welcomed platform from which anglers will perform a new season's worth of wintertime wizardry. It's an exciting time, full of anticipation.
There's never been a better time to be an ice angler. Today's technology delivers superior products that help ice anglers stay more comfortable, find more fish, and make presentations that catch more fish – all of which combine to make the sport of ice fishing a whole lot more fun. And at the business end of it all is St. Croix Rod, the family-owned, American rod manufacturer that's been providing passionate anglers with the Best Rods on Earth® for over 70 years.
For the 2019/2020 ice season, St. Croix is proud to expand its advanced line of Croix Custom Ice (CCI) rods – available right now – with even more selections for the discriminating angler. New models in the expanded 13-rod CCI series include the ultra-unique, 32", medium-light power, extra-fast action Perch Seeker (CI32MLXF); the 36" medium-light power, fast action Spoon Hopper (CI36MLF); and the 36" medium-heavy power, fast action Trophy Taker (CI36MHF).
The CCI line features carefully engineered rod blanks as diverse as the specialized techniques they serve, including Solid Carbon (SC material), Solid Glass (SG material), Tubular Carbon (TC material), Tubular Carbon / Tubular linear S Glass (TCG material), and Tubular Carbon Fused to Tubular linear S Glass through a unique, proprietary manufacturing process (TCFG material). Designed and handcrafted in Park Falls, WI, Croix Custom Ice rods feature REC recoil guides with black pearl finish, split-grip super-grade cork handles, and a 5-year warranty backed by St. Croix Superstar Service. Retail prices range from $130-$160.
St. Croix pro and ice aficionado, Joel Nelson, speaks to everything that makes the new 32", tubular carbon, extra-fast CCI Perch Seeker unique. "The cool part with the Perch Seeker is that it's a hybrid that hasn't really been seen before—I describe it as a cross between a power-noodle and a dead stick rod. It's a medium-light power rod and still has the extra-fast tip, yet it fishes stiff enough that you can use perch-sized, small walleye-sized, or trophy crappie-sized baits. It's not just a perch rod; it does a lot of things really well. It's something anglers will use if they're fishing the perch factories—your Winnie, your Leech—but also the sloughs of the Dakotas. It's a tool anglers will love for walleyes and big crappies. This rod is versatile and truly unique. There's no noodle-style rod out there with a strong base section that fishes to the middle like this new Perch Seeker does."
Minnesota guide, Tony Roach, is an advocate of hole hopping – or ice trolling, as he calls it – when structure fishing for walleyes throughout most of the ice season on his home waters of Mille Lacs and other nearby lakes. "The new 36" CCI Spoon Hopper (CI36MLF) is the ultimate ice trolling rod for walleye anglers on the move. It is the ideal rod for fishing light spoons, and a must-have item for not only walleye anglers, but for hole-hoppers chasing down big crappies as well," Roach says. "It's got a dynamic blend of carbon/glass tubular construction, which makes it exceptionally light and responsive. The medium-light power and fast action tip allow the angler to have total control when fishing the 1/8-oz spoons preferred by so many anglers. I am a hole hopper, always on the move in search of the next strike. Along with the 36" medium power, fast action CCI Outside Eye (CI36MF) rod for slightly heavier spoons, the Spoon Hopper is my new go-to rod when traveling light and fishing fast."
The sect of ice anglers who consistently hunt big fish employ gear that excels both in making big-fish presentations, as well as fighting trophy specimens to a rewarding outcome. St. Croix pro, Christi Holmes, is one of those anglers. The Maine resident operates on waters harboring lake trout and pike, including specimens weighing over ten pounds. These trophies come with some regularity, especially when selectively fishing with bigger baits. "The new CCI Trophy Taker (CI36MHF) is perfect for hauling big lakers through the ice in Maine," says Holmes. "The 36" length combined with medium-heavy power and a fast tip strikes a great balance in terms of power, control and shock absorption when battling strong fish. Its tubular carbon construction is extremely lightweight and results in a highly sensitive rod that's a joy to fish. The Trophy Taker drops heavy lures and works them vertically really well and has more than enough backbone to make solid hooksets and lift fish over ten pounds with ease."
Indeed, each Croix Custom Ice rod is uniquely designed and engineered to exceed the expectations of the most demanding ice anglers. Pick one or more of these exceptional 13 rods up this season and feel what you've been missing.