Meet Our Machinery
November 13, 2019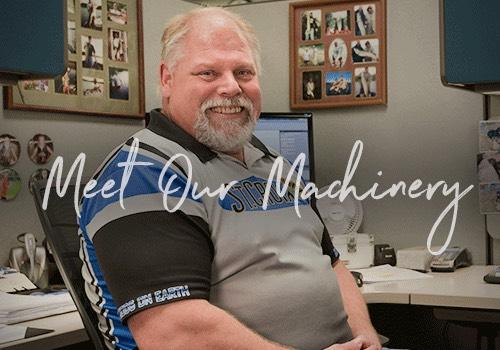 St. Croix Rod Employee Spotlight: Al Mohr
For a full-time turned part-time musky guide, working at St. Croix Rod has been a "dream job," says St. Croix Accounts Receivable Manager, Al Mohr. "The folks I work with, they've become my family. I live at home with two black labs, who I love, but they're not much for conversation," says Mohr, who actually met his wife inside the walls of St. Croix Rod's Park Falls headquarters. "It's nice to have a job to come in to and have folks to talk to and be part of the fishing industry on numerous levels."
So what does an Accounts Receivable Coordinator do? In his role, Mohr handles getting statements out and answering any questions customers have about invoicing and bills. "The job's a lot more fun that people might think," says Mohr, who enjoys regular contact with St. Croix customers. "It isn't all about money," he adds. "The job is great opportunity to connect with customers about our products… and sometimes I get to glean a little fishing intel, too."
For Al, every day is different. "I've been in my role for 19 years and I love my job. I can't wait to get to work every day. Every phone call is unique to itself. It's the same job, but every day I come in and it's something different. It's fun knowing what I have to do and figuring out how I'm going to take care of business that day."
Mohr recalls immediately hitting it off with the Schluter family. "My first interview here 19 years ago took five minutes in Paul Schluter's office. Then we walked out into the store and started talking fishing and fishing rods. Lo and behold, two days later I received a phone call and they asked me when I could start. I literally told them I could be there the next day. I'm glad I showed up when I did so I could take the position. And through all of that, I ended up meeting my wife Lisa here at work, too. So my St. Croix family became real family," he says. "In addition to being a wonderful person, she's an avid musky fisherman, too, so it has worked out really well!"
Due to the nature of his job, Mohr has worked closely with the Schluter brothers over the years. "Of course, Paul, Jeff, and Dave were all invited to our wedding," he says. "Like I said, it's like family here. If I ever had anything I needed to speak to Paul about regarding accounts – even personal things – he was always right there. We used to go out and fish once a week back in the day. We worked very close, and the Schluters have been a big reason why I never even considered going to work anywhere else."
Mohr says it's been a lot of fun to be a part of the company's growth over the years and to be part of numerous improvements, including changes to workflow and infrastructure.
"I literally started off taking notes in a three-ring binder on paper. I would walk in and sit with the controller daily and we would go through all the accounts," he says. "Now, on a computer, what would take you several hours takes a fraction of the time. So, the updated computer system has been great. It's just amazing how much we've grown, not only with the sheer number of rod models, but the technology behind the rods and the technology that helps us run the business and better connect with our customers. This growth has been a long process and it's been a lot of fun to be a part of."
Mohr remains an avid outdoorsman who fishes muskies every chance he gets with his wife, Lisa, and still guides part-time as time allows. In line with his passion for musky fishing, Mohr attends many musky shows on behalf of St. Croix. "I still get to work some of the musky shows, which gives me the opportunity to talk fishing with anglers like myself, so I get to keep up to date on the new products and materials and spend a lot of time with customers face to face," he says. "That's really nice."
When asked if he had a favorite musky stick, Mohr was quick to answer. His favorite St. Croix musky rod is the Legend Elite Musky LEM90MHF, which likes for throwing smaller baits, especially on Canadian trips. "The LEM90MHF helps me cover a lot of water with minimal effort. The days can get really long and I like to have some energy left when I get back to the lodge to have a couple cocktails and tell some fish tales," he says.
Nearing his lunch break and the quick run home to stoke an outside wood -burning furnace, Mohr's parting words focused on the excitement of the upcoming year at St. Croix. "It's just fantastic to be part of the company that builds The Best Rods on Earth®. I'm definitely looking forward to the year and years ahead as growth continues and we can continue to create products that give anglers the upper hand. We have a great team in place, and I feel really good to be part of that machinery and fortunate to work in my role."
If you are coming to northern Wisconsin, we'd love to meet you and provide you with the opportunity to Meet Our Machinery. Call us at 800.826.7042 or email us at factorytour@stcroixrods.com to schedule a factory tour. Learn more at https://stcroixrods.com/pages/factory-tours.