Angling Currents
Redfish Frenzy
October 12, 2021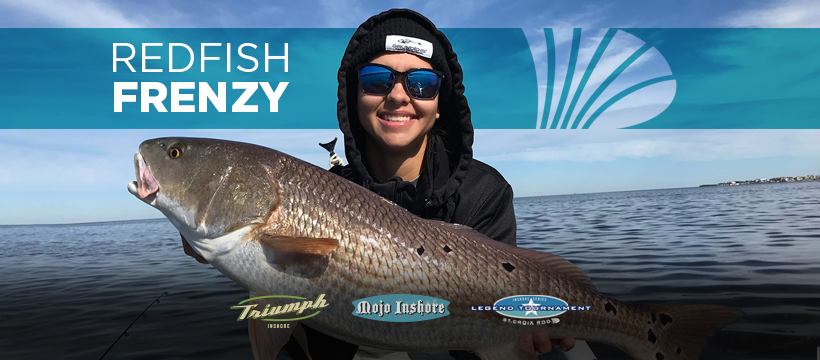 Some of the best fishing of the year in the Southeast and Gulf Coast regions begins in October and continues throughout the winter months. Bull reds? Yep, they're on the hunt at the southern end of the Red Coast, prowling the passes, inlets, and marshes for shrimp and other bountiful fall bait that's pushed into warmer shallows. Slot fish? Of course, they're here, too, feeding like mad. No doubt, it's a special and exciting time for redfish anglers. Let the frenzy begin.
 
We asked top redfish experts, Steve Lessard (Louisiana), Joseph Sanderson (Texas), Guillermo Gonzalez (Texas), and Justin Carter (South Carolina) some specific questions about where and how they are fishing reds right now and throughout the coming weeks. Their answers and insights are sure to prove helpful for any angler looking to experience more fun and more success in pursuit of fall and winter reds.
 
Q1 - What factors are influencing where and how you are fishing redfish now and through the coming weeks and months?
 



Steve Lessard - Fall is my favorite time of year for redfish for two reasons; marsh redfish are chasing shrimp, and giant bull reds will be schooling in the passes.
 


 
Joseph Sanderson - Here in Texas, it's all about the bait – shrimp, specifically. The redfish are moving up shallow to feed-up for winter. There are more shrimp in the marsh this time of year than any other, so the redfish are keyed in on them more than any other bait. Reds like to sit at the mouths of small creeks as the tide moves and let the shrimp funnel out to them. On slack tides, they will push super shallow right against the bank and you will see shrimp popping in front of them.
 


 
Guillermo Gonzalez - Prevailing winds tend to shift in Texas in the fall, creating clearer water in the marshes. Shrimp activity also increases in the fall. This makes fall my favorite time to target redfish with sight-fishing techniques.
 


 
Justin Carter - Tagging studies by the South Carolina DNR have shown that until they mature and head out into the ocean, most of our redfish rarely range more than a quarter-mile throughout their juvenile life. That means you'll find them in the fall and winter in the same places you found them in spring and summer. Once the mullet run ends, our bull redfish move back offshore. That's happening now, but the smaller resident redfish are schooling up in the shallows, not only to feed – there's a lot of shrimp in the creeks – but mostly to protect themselves from marauding porpoises. Since the mullet are gone, the porpoises are setting their sights on redfish. We've got tremendous sight-fishing opportunities for slot reds and some up to 35" right now. At the low end of the tide, It's mainly sight fishing. The water is clearer, and shallow-water anglers are better off to pole the flats rather than use a paddle or trolling motor. Stand in the boat, slowly poling the edges of the oyster bars and look for signs of fish – either wakes, surface rolling, or mud clouds. After the tide turns, anglers can follow fish through the deeper cuts heading up toward the grass flats. At the top of the tide, the water rises into the thick grass flats and the sight-fishing is over.
 
Q2 – What kinds of areas are you fishing?
 
Steve - Weather and tide influence when and where I'll be fishing in a normal year, but the effects of the devastating hurricanes here in Louisiana have really changed the landscape. On a calm, slow-to-medium tide with light winds, I'll be in the passes moving around key spots like rock jetties, points and humps. I'm looking for bait on the surface and below, but sometimes I find the actual redfish school itself and man is that a sight on the fish finder.
 
Joseph - I am fishing from the middle of the Texas coast from Port O'Connor to Port Mansfield. I am targeting the same types of areas in all locations – shallow, grassy drains where the shrimp are most prevalent and concentrated.
 
Guillermo - I like to target fish in the tidal marshes of the upper Texas Coast. Marshes with wigeon grass, oyster reefs, or both tend to be the most productive. 
 


 
Justin – During late fall and winter I like to target a lot of mid-tide flats – especially those with oyster mounds or sandbars between them and the main creek. Redfish concentrate in these in these isolated, shallow areas because they are better protected from the dolphins and also because the dark, ultra-shallow, muddy bottom warms up faster than the surrounding, deeper waters.


 
Q3 - What gear are you using to earn success?
 
Steve - Hurricane Ida really tore up our southeastern Louisiana marshes and that has impacted the fish and how I'm fishing them. A lot of times it's a very low-energy bite – almost like a cold, winter bite. Swimming jigs and grubs is working best in these conditions. This is full-contact sport out of my Hobie kayak, so I'm usually power fishing with ½-to-1-once Owner saltwater jigs and six-to-eight-inch grubs. My go-to setup Is a St. Croix Mojo Inshore or Triumph Inshore 7', heavy-power, fast action spinning rod (JIS70HF or TRIS70HF) with 50-pound braid.
 
Joseph - This is the best time of year to sight-cast to redfish, and I like a 7', medium power, fast action rod for this purpose. Specifically, St. Croix's Mojo Inshore (JIS70MF) with a 2500-3000 size spinning reel spooled with 20-30-pound braid is just the ticket. I'm fishing shallow in clear water, so I'm throwing super light baits that are subtle and land softly.
 


 
This setup is perfect for that in all wind conditions. Also, this is my favorite time of the year to fly fish for reds with shrimp imitations. Depending on the conditions and the size of the fish, I'll present these on a seven- or eight-weight St. Croix Imperial Salt rod with a floating line. These rods load up fast, so I can avoid multiple back casts that can easily spook fish in clear, shallow water. If the fish doesn't eat, I can quietly pick up the line and fly, then easily make another accurate presentation with a single back cast.
 


 
Guillermo – I'm often sight fishing in clear water with a flyrod or spinning gear. On the fly, I prefer a seven-weight Imperial Salt flyrod for making short, quiet presentations with shrimp or crab patterns. For spinning and casting gear, it depends on whether I'm wading, fishing from a skiff, or my kayak. Generally, a 6'8" to 7' medium-light action rod is ideal for casting the small, weedless, rootbeer-colored paddletail swimbaits and small, bucktail flat-headed jigs (bonefish jigs) I usually prefer to throw. The St. Croix Triumph Inshore TRIC68MLMFSG casting rod has a slightly shorter handle that makes it a great choice for wading and kayak fishing. Its medium-light power is deceiving; I find it plenty powerful for reds up to 30 inches. If I'm targeting bigger fish more consistently, I'll move up to a medium power Triumph Inshore, Mojo Inshore, or Legend Tournament Inshore casting rod. Again, I'm talking about fishing clear-water, shallow marshes – not jetties or deeper inlets where you might need or prefer a medium-heavy or even a heavy power rod.
 
Justin – Most often I like to fish a soft plastic lure like a Z-Man DieZel Minnow on a 3/16-to-1/4-ounce TexasEye jig head or for colder conditions a TRD on a 1/6-to-1/8-ounce jig head. Whenever blue crabs are still around, they present an excellent bait option. I'm usually fishing a 7', 7'6," or 8' spinning rod. The longer rods add distance to your casting range, and that helps you stay farther away from the fish. I like medium-light rods, which help you to make soft presentations with your lure.
 


 
There are plenty of great and applicable choices here in St. Croix's Triumph Inshore and Mojo Inshore series. I also scale down the size of my fluorocarbon leaders and make them considerably longer. All these details add up and allow you to stay with a school of fish for an extended time without spooking them all away. I use braid for my mainline and a four-to-five-foot 10-pound fluorocarbon leader. This ensures that redfish aren't looking ahead of my lure and seeing my braided line just 12-inches away. This water is crystal clear, and these fish are wary, so I want to take every precaution I can to avoid spooking them.
 
Q4 - What techniques or presentations are you using and why? 
 
Steve – Aside from swimming jigs and big grubs in the inlets, I use a second and even more exciting technique, which is calling them up on the surface with a small tuna popper or a four horseman-style popping cork. For these techniques, I like a long-casting 7'6" medium-heavy power Mojo Inshore (JIS76MHF), Triumph Inshore (TRIS76MF), or Legend Tournament Inshore (LTIC76MHF) rod with 30-pound braid. When I can find cleaner water and shrimp, I'm getting back to doing more topwater sight casting. In a normal fall without all of this hurricane devastation, this is another go-to presentation that's highly effective and tons of fun.
 
Joseph – Personally, I'm sight casting 100% of the time. I find that a 1/16-ounce jig head with a small, shrimp-colored plastic – or a shrimp pattern when I'm fly fishing – will get the job done with a good presentation on a non-nervous fish every time.


 
Guillermo - Fish are aggressive but spooky. Again, think small and subtle, not big, bold or clunky. Simply letting the bait exist in their line of sight will get their attention. If they don't eat on the first shot, try it again. They'll often eat the second time.
 
Justin - I use plastic baits that have a lot of action without having to move them quickly – again, something like a Z-Man DieZel Minnow, Streak, or PaddlerZ – and I always use the scented baits or at least add something like Pro-Cure because scent plays a big part in how redfish feed when it's cold. Realize that these mud flats the redfish are schooling up on to avoid the porpoises are largely devoid of active life, so anything that moves does so very slowly along the bottom. Fast-twitching a jerkbait or topwater lure may work in warmer weather or in deeper water, but it tends to spook fish on these shallow flats in the late fall and winter.
 
Q5 - How long will these bites last in these areas?
 
Steve – In Louisiana, we'll typically have great red fishing all winter long. Northern anglers often lament cold fronts, but down here they can concentrate reds in the deeper holes that remain warmer than surrounding waters. And they always seem to be hungry when they are stacked together like that.
 


 
Joseph - We can sight cast to redfish year around, but the best time is the fall. Really, from the middle of September to the middle of November is prime time on the Texas coast. October is my favorite month to be chasing redfish here.
 
Guillermo - The clearer water typically lasts through the winter, but the hottest sight fishing lasts through the end of November in my experience. 
 
Justin – Our bull reds are gone once the mullet run is over, but fishing for good numbers of smaller reds remains consistent throughout the winter. Just don't expect them to chase the artificials like they would in the other seasons. You need to present them at a much slower pace. As the weather gets colder, cut and dead baits work well for anglers wanting to set up ahead of fish. Some days, you can still find bull reds not too far offshore.
 


 
Q6 - Anything else you'd like to share about the fall redfish frenzy?
 
Steve - A few things to add concern time of day. The best time for topwater is obviously anytime you find a fish blowing shrimp out the water, but morning is usually best. Sight fishing is best when the sun gets higher up overhead. Try to keep the sun to your back for the best spotting conditions. Fish deep and slow with plastics during the cold snaps.
 
Joseph - We see our average size of fish in the marsh really increase during this time of year. We are mainly targeting upper-slot (25"-28") fish with some oversized fish thrown in there. We tend to catch more big bulls in the passes during the summer, but the flats bite is incredible this time of year. 
 


 
Guillermo – This is by far the best time of the year to target redfish anywhere on the Texas Coast. Make sure you are fishing with a good pair of polarized glasses, keep your distance, and be sure you have the skills and proper equipment to make accurate casts.
 
Justin – Kayaks are made for winter fishing here in South Carolina and many other areas because they allow anglers to slip into the shallow areas and pockets that redfish are using to avoid predation. I can get my kayak out onto a mud flat with no one else around and have an entire school of 100 fish to myself.
 


 
Also, I already talked about the importance of stealth as it applies to bait selection and maintaining distance, but always remember to cast only to the edges of the redfish schools – and that doesn't always mean to the lead fish. Once you start playing this game you realize you can get their attention from a lot farther away than you might originally have thought. Be patient and avoid spooking the school, because then it's over.
 
No matter where anglers are headed along the Red Coast between Virginia and Texas, the coming weeks and months will provide some of the best redfish opportunities of the year. Take our pros' advice and make the most of them by fishing the proper areas with the right gear and presentations at the right time.