Angling Currents
Adventures in Angling Travel
October 20, 2021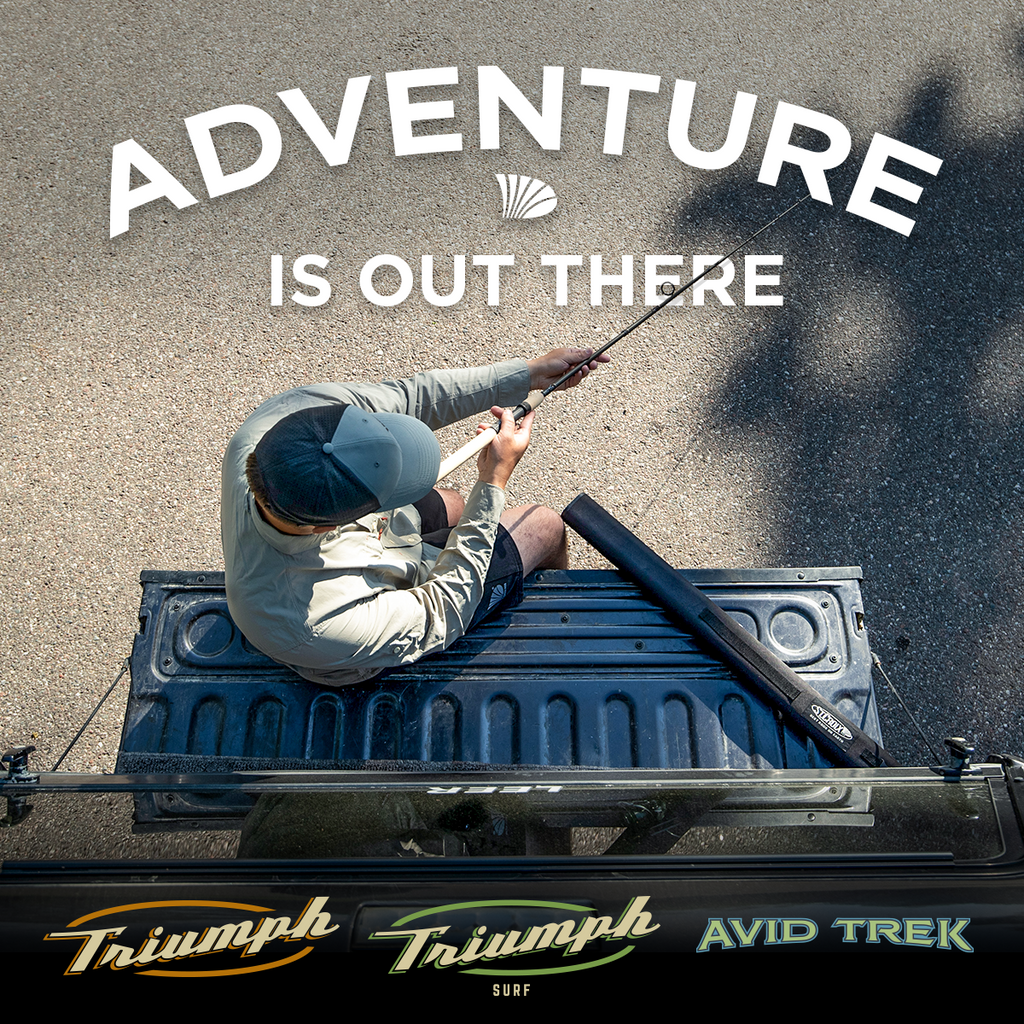 Angling passion has no geographic boundaries. Once the fishing bug bites, it's always there – an itch that needs to be scratched whenever and wherever possible. Sometimes that means dedicated angling travel to a specific bucket-list destination. Other times it simply means being prepared to fish wherever your routine travels take you. In either case, packing your own quality gear ensures you're prepared to make the most of your angling adventures.
 
"You can make an easy catch anything/anywhere setup with just two or three rods," says angling vagabond and FLW tournament bass pro, Troy Lindner, whose go-to travel-rod arsenal consists of a three-piece St. Croix Avid Trek medium-light power spinning rod, a three-piece Avid Trek medium power spinning rod, and a four-piece St. Croix Triumph Travel medium-heavy power casting rod. "For the majority of freshwater fishing, you can target a lot of species… bass, trout, salmon, walleye, pike, panfish, you name it... with just these three rods. I try to keep things simple and pack as light as possible," he adds. "I'll spool braid onto three matching reels then pack a variety of sizes of fluorocarbon leader material so I can be ready for any presentation or opportunity."
 
Lindner, well known for his foreign and domestic angling adventures, recently took a road trip from his home in Minnesota out to Seattle, then down to Utah. "I stopped at many places along the way, shore fishing and venturing out on my kayak," he says. "There are so many hidden gems across the Northern Plains, mountains, and high deserts from North Dakota to Washington. I consider this area one of the last frontiers of unspoiled fishing in America." Lindner mainly targeted all species of trout along the way, but also hunted bass, walleye, and even tiger musky.
 


 
"The Triumph Travel four-piece casting rod (TCR66MHF4) was great for jigging walleyes and big trout," says Lindner, who snap-jigged VMC MoonEye jigs in current areas, and vertical jigged Rapala Flat Jigs in deeper water. "This baitcasting rod is such a versatile model and can accommodate many different presentations like crankbaits, jigs, topwater, and swimbaits. It's my go-to travel rod when a bait caster is needed. For spinning applications, the Avid Trek medium and medium-light power models are my favorites and I typically use them for trout, bass, walleye, and more. Finally the Avid Trek casting rod (ATC66MHF3) is great for throwing bigger swimbaits in the six-to-seven-inch range, like an Arashi Swimmer. Both of these medium-heavy travel casting rods (TCR66MHF4 and ATC66MHF3) can also handle very big fish," Lindner reveals. "On this most-recent trip I was snap jigging for walleye and accidentally got into a paddlefish. Paddlefish are filter feeders, so this was a lucky catch. The line must have wrapped over its bill, as it was hooked in the mouth. The Triumph Travel TRC66MHF4 helped me land the biggest freshwater fish of my life!"
 


 
Lindner says swimbaits see consistent use almost anywhere he travels, because they catch almost anything. "So many times, I'm fishing new water and often from shore. A small three-inch swimbait matches well with a 1/8-ounce or ¼-ounce jig and It allows me to cover a lot of water, both horizontally and vertically. I used this setup on my medium-light and medium power Avid Trek spinning rods and caught many species of fish. For kayak trolling, the Avid Trek medium-light worked best. I was using 1/8-ounce or ¼-ounce VMC bullet weight on the braided line, then a barrel swivel connected to a light, fluorocarbon leader terminated with a Luhr Jensen Bang Tail inline spinner. It's a deadly trolling setup that works anywhere you need to get deep with a small lure to target trout. It's a lot easier and a lot more fun than pulling small spinners on heavy bottom bouncers."


 
Lindner says multi-piece rods are a necessity for angling travel, but it's the performance of St. Croix's multi-piece rods that differentiate them from any other multi-piece rods he's ever used. "St. Croix's newest travel models combine the multi-piece construction necessary for travel with next-level performance. The sensitivity and strength of these multi-piece rods are the best on the market. I've tried out many different companies' multi-piece and collapsible travel rods; nothing compares to St. Croix Triumph Travel for overall value and Avid Trek for performance," reports Lindner. "The more sections a rod has, you would usually lose sensitivity. But you can fish the new Avid Trek series side by side against a one-piece and not know it's a three-piece rod, and the four-piece  Triumph Travel rods offer similar performance at an incredible value. I've taken Triumph Travel rods with me on numerous trips around the world to Canada, China, Japan, Thailand, Netherlands, France, Austria and Switzerland. I've never broken one of these rods in transit or fishing, and they have performed flawlessly. And if you plan on fishing in the surf, be sure to check out the St. Croix Triumph Surf Travel series of rods."
 
As a touring bass pro with a penchant for trout, Linder says he'd be remiss if he failed to mention St. Croix's multi-piece Trout Series rods. "These rods have been awesome for small stream and river shore fishing when paired with a 1000-size spinning reel," he says. "You can even cast wooly buggers with them – no need for a fly rod – and they pack down small and easily fit into the side pockets of my backpack. I've carried them along on many mountain hikes and caught hundreds of trout with them." Lindner says he's excited about the new, redesigned Trout Series rods St. Croix announced at ICAST earlier this year. "They've improved the performance of the entire series and expanded it to include even more two-piece models and some additional all-new three-piece Trout Pack models that are really going to expand options for traveling trout anglers like me," he says. "They are going to be available to anglers next month."
 
Virginia angler, Tyler Brill – aka YouTube's Fish Hawk – regularly shares his love of fishing with his more than 100K subscribers, as he chronicles both local and far-ranging angling adventures of all sorts. He most recently traveled to the streams of Western Virginia to fish for wild rainbow and brown trout, as well as the Outer Banks of North Carolina to target speckled trout, red drum, and bluefish.
 

- https://www.youtube.com/watch?v=NOKvZLA6Tro
 
"Inline spinners are my confidence bait for stream trout," Brill says. "They imitate wounded baitfish or minnows swimming downstream in the current and tend to draw aggressive strikes. I typically wade upstream, casting upstream as I go and reeling the spinner back downstream to me." In Western Virginia, Brill was casting his 1/8-ounce Roostertail spinners on six-pound fluorocarbon line with the St. Croix Triumph Travel 6', light-power, fast action spinning rod (TSR60LF4).
 
"In the Outer Banks, I used soft plastic swimbaits," Brill reports. "Speckled trout, red drum, bluefish and other species all feed on fish, so swimbaits are one of the top lures for inshore saltwater fishing. We searched for points and drop offs and casted our lures alongside them. We targeted grassy areas, which attract baitfish, crustaceans and other types of food that predator fish feed on. I was fishing the Avid Trek 6'6", medium power, fast action spinning rod (ATS66MF3) with a ¼-ounce jighead and a Z-Man DieZel MinnowZ swimbait."
 


 
Brill was impressed with both St. Croix models. "Both the Triumph Travel four-piece rods and Avid Trek thee-piece rods performed great and were a joy to fish with," he says. "These handcrafted rods are very well made and incorporate high-quality components. They fit together snugly with low-profile ferrules and do not come apart like some other multi-piece rods I've used in the past. The rods have great action and sensitivity. I was able to detect subtle bites with both rods and they both cast very well. The guides are very sturdy and strong, the cork handles feel great, and I really like the travel case the Avid Trek comes in. It has a hard outer shell with padding inside to protect the rod during travel."
 
For Brill's go-to trout fishing, he says the Triumph Travel TRS66LF4 has earned the distinction of being his new, favorite travel rod. "It's lightweight and perfect for trout. It also breaks down into four pieces so it requires very little room to pack. For a high-performance fishing rod, it's also very affordable, which is an important aspect almost any angler considers when purchasing a fishing rod."


 
Growing up in Duluth, Minnesota, just steps away from the largest freshwater lake in the world, Grant Sorenson says Lake Superior has taught him numerous life lessons. "Mainly respect and how powerless we really are compared to nature," he says. The lake challenges you; it makes you think and be aware at all times. As in life, if you get too comfortable you are putting yourself in danger."


 
When he's not braving the open waters, Superior Angling founder Sorenson is often out on the road, guiding fishing customers or creating fishing content while chasing steelhead, brown trout, and coaster brook trout in the Northern Minnesota and Wisconsin tributaries and near-shore waters of Western Lake Superior. Long hikes through thick brush, woods, and over rugged terrain are part of the game.
 


 
"Having a rod that can break down is imperative for long treks into the bush where you are climbing under and over fallen trees, up cliffs, and across rivers. It's simply not feasible with a longer one-piece or even a two-piece rod," Sorenson says. "The stereotype is that multi-piece rods are low quality, lacking sensitivity, comfort, and control. That may be true for many multi-piece rods but is not the case with St. Croix. The three-piece Avid Trek allows me to keep my rod cased and protected until I'm ready to fish, and it truly performs like a one-piece rod. What I mean by this is that there are no dead spots at the connection points that usually kill sensitivity in other multi-piece rods."
 
Sorenson employs a variety of presentations for the lake-run salmonids he pursues but chucking small casting spoons is a bread-and-butter technique. "Spoons are a good way to fish a lot of water quickly and pluck off the active fish," he says. "They cast far and you can work them at different depths. In deeper pools that hold fish in the lower river sections, I also drift fish with spawn or yarn flies beneath a float."
 
Sorenson describes the 7'6" medium power, fast action St. Croix Avid Trek (ATS76MF3) as "the Swiss-Army knife of fishing," and an ideal tool for the angling situations he most often faces. "Aside from the utility associated with its three-piece construction, it's a perfect match for 3/8-ounce to ¾ ounce spoons and most drift-fishing situations. I pair it with a 3000-size Daiwa spinning reel and 12-pound braid with a fluorocarbon leader and I'm ready to target and battle just about anything. When you put forth the effort to get into the bush and to your favorite fishing hole, you need your gear to perform. At some times of the year, just one bite can make or break your day and you need to capitalize when it happens. Avid Trek gives me that ability."
 


 
While the Avid Trek ATS76MF3 is an ideal rod for Sorenson's typical pursuits, he says it's also a fit for most of his other angling travel as well. "I spend a lot of time on the road, traveling to different destinations for various species. From Florida salt to Canadian rivers, I like to do it all. The Avid Trek goes with me everywhere because it's extremely versatile. It's rated for 8-17-pound line and casts a variety of different lure weights very well. It also has the power to handle large fish, whether that's a feisty ten-pound steelhead or a 40-pound tarpon. If you are considering buying just one travel rod, this would be the one I'd recommend."
 
Near or far – wherever anglers travel – fishing opportunities abound. You just may want to check out some of the exciting waters our experts have mentioned herein, but certainly heed their advice and be prepared to take full advantage of your own fishing-travel opportunities by having the proper gear. That means quality multi-piece rods that pack down for easy travel by land, air, or water, and perform flawlessly for a heightened angling experience once it's time to wet a line.