Angler Profile
The Young Guns of Bass Fishing
March 23, 2020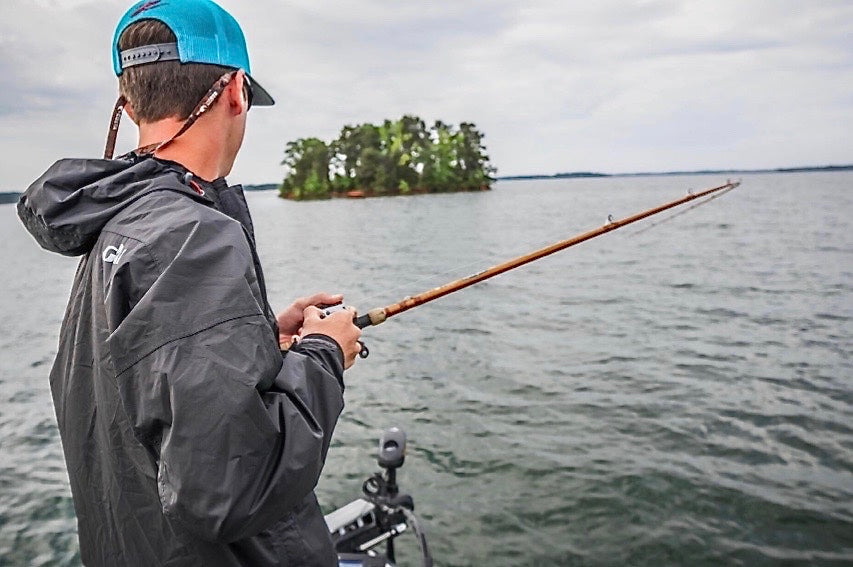 Angler Profile: The Young Guns of Bass Fishing
The growth of high school and collegiate angling programs across the country is a positive trend in the fishing industry. Thanks to the work of countless schools, organizers and individual volunteers, the trend is giving additional welcomed visibility to bass fishing in the younger age demographics. St. Croix Rod and other companies are helping to accelerate and support this growth, too. In addition to providing sponsorships to individual high school and collegiate anglers and teams and sponsorships to tournament organizers, St. Croix also offers a Scholastic Program, which allows high school and collegiate club anglers to purchase St. Croix rods at a significant discount.
This month, we profile a few of the "young guns" of high school bass fishing.
Marietta Bassmaster Carter Koza
Marietta, Georgia-based Carter Koza is a 17-year-old junior who fishes for the Marietta Bassmasters. The son of a tackle shop owner, Carter has been involved in fishing since he was a young child and has fished in school tournaments since eighth grade. "I've fished my entire life pretty much – my dad fished tournaments ever since he was a little kid, too, so he got me involved. He runs a tackle shop, so I'm pretty much surrounded by fishing all the time. I go to school, then to the shop, and the rest of the time I'm fishing," says Carter.
"I've been using St. Croix rods from the beginning. Last year I was added to the pro staff and it's been a great experience. The thing that's been so great is the support I get from everyone at St. Croix—the relationship has been like being part of a family. Everyone at St. Croix is super nice and you're not just a number."
Carter is a big fan of St. Croix's popular Bass-X casting and spinning rods. "They're great rods with models for pretty much all the techniques I fish and are priced very affordably for anyone to get into really great rods at a real-world price," remarks Carter.  
Koza uses other St. Croix rods as well. "I'm also a fan of the Legend Tournament Bass casting and spinning rods and the Legend X casting and spinning models, plus I've been using the moderate action  Legend Glass Series – specifically, the 7'2" medium power Cranker model (LGC72MM) for crankbaits and the 7'2" heavy power Rip-N-Chatter model (LGC72HM) for chatterbaits. My favorite in the Legend Tournament Bass line is the 7' heavy Dock Sniper (LBC70HF), which I use for Texas-rigged baits and pitching docks with jigs. I use the 7'4" heavy Legend X (XLC74HF) for Carolina rigs and heavier swim jigs. Those are my go-to models, but I use a lot of different St. Croix rods."
As far as his tournament standings, Carter's done well. "I fished with my sister (Lee Rose Koza, who fishes for Carson-Newman University) last year and we won Angler of the Year. The year before that we got second, and my freshman year I won Angler of the Year, too, so our performance has been pretty good," offers Carter. "This year, my partner Paul Marks and I won the tournament on Lake Hartwell for the FLW Open for high school and qualified for the National Championship this June in La Crosse, Wisconsin."
Brainerd's Bassin' Boys: The Bahr Brothers
Halfway across the country in Brainerd, Minnesota live the Bahr Brothers, high school senior Kyle and junior Tyler. The two have been involved in high school fishing since seventh grade as members of the Brainerd Warriors bass fishing team. "We've been involved with team for going on five or six years, since the team originated," says Kyle.
"Fishing for the team has been just out-of-this-world. Before, we just loved to fish and always had a passion for it, but with the fishing team it brought up so many more opportunities we didn't even know about. Being in seventh or eighth grade, we really didn't know what tournament fishing was and when we discovered it, the fit was ideal because it gave us the opportunity to improve our skills tremendously. Every opportunity through the fishing team has just been a blessing and if I could recommend high school bass fishing to other kids I'd tell them to do it and not blink an eye," says Tyler.
They also feel fortunate to have grown up and live in the Brainerd, Minnesota lakes area, which they credit for helping their development as anglers.
"Like I tell my friends who live out of state, Crow Wing County has so many lakes. Seems like everyone I know lives on a lake. So we've got endless options. Just being in Brainerd, it's kind of a fishing-industry mecca. You have the Lindners here, Babe Winkelman, and lots of fishing-related companies. We visit the Lindners a lot. We're close to their organization. Just having the opportunity to network with fishing legends and those in the industry, it's definitely helped us in our development as tournament anglers. You really don't have that anywhere else, where you can meet these big names in the industry and learn so much. And we have all these different bodies of water and they all fish differently. Okay, so I want to go practice throwing a Carolina Rig – you can go to lakes A, B, or C. Now, I want to go practice throwing a chatterbait, you've got another bunch of lakes to do that. Growing up in this area has done much to help us increase our skills as tournament anglers, that's for sure," remarks Kyle.
As far as equipment, both Kyle and Tyler fish a lot of Bass-X rods, carrying a locker full of different models for techniques from crankin' to flippin' and pitching docks.
"We use a lot of the Bass-X and Mojo Bass casting and spinning rods. They're absolutely some of the best—it not the best—rods you can get in their price range on the market," says Kyle. They're built rugged for tournament use, and a lot of anglers who haven't tried them don't realize how sensitive they are. "A lot of the techniques we use for bass fishing are a reaction game, and you're feeling every bump, regardless if you're fishing fluorocarbon or braid."
"I like to use my 6'8" medium, extra-fast Bass-X (BXC68MXF). I really like that rod for swim jigs, jigs, jerkbaits, and topwaters. It's extra-fast tip is perfect for all that kind of stuff," says Tyler.
"Probably my favorite rod in the Bass-X line would be the 7'1" medium-heavy, fast action (BXC71MHF). I can use it for lipless crankbaits, my square bills, my Texas rigs, my jigs… it's a versatile rod I can use for just about anything," says Kyle.
Tournament-wise, the two brothers have a solid history of top performances and are getting ready for the National Championship this summer in La Crosse.
"The first three or four years we did really, really well," recalls Kyle. "We've won a lot of tournaments and placed in a lot of top 10s. The year before last year was probably our best year yet. We finished 18th in the World's Tournament on Pickwick, third place in the state tournament here in Minnesota, and numerous first place and top 10 finishes spread across Minnesota. Last year was a bit tougher, we ended up 49th at Nationals and didn't have as many Top 10s, but we're hoping this year turns out better at Nationals. It's my final year so I've got to put my head down and do good this year. It's my final hoorah!"
The two brothers are quick to sing the praises of their relationship with St. Croix and the support they've received along the way competing in numerous tournaments.
"Working with Rich and the crew at St. Croix has been just great. It was instant chemistry. Bringing people together with a common goal is really special and has been a blessing. And they've treated us like family. Every time I see them it's like we've known each other for years and years. It's been an amazing experience," says Tyler.
Illinois Bass Wunderkind Trey McKinney
Based out of Marion, Illinois, 15-year-old Trey McKinney has been fishing bass tournaments since the young age of ten. Unlike Koza and the Bahr Brothers, Trey has not had the opportunity to fish for a school team, so his primary support has come from family and friends. His tournament performance has been solid for such a young angler.
"I've been fortunate to win three junior division national championships, and one year I won the Next Generation Championship," says Trey.
Trey also uses St. Croix's Bass-X rods. "You've got all different of levels of rods at St. Croix, but for a mid-income person you cannot beat a Bass-X rod. If you don't want to pay a bunch for a rod but you still want top performance, Bass-X is the way to go. Really, I use Bass-X rods as much as I use the Legend Tournament Bass or any of the other more expensive models I have," comments Trey.
Within the expansive Bass-X line, the 7'1" medium power, fast action Bass-X (BXC71MF) gets tons of play for all the crankin' Trey does; it's one of his favorite day-to-day techniques. "It's been a real go-to rod for me and has caught countless fish when the pressure's been on," he says.
"On the Legend Tournament Bass side, another go-to is the 7'1" medium-heavy power, fast action rod (LBC71MHF) designed for jigs. I throw a lot of 3/8-ounce jigs with a light hook—it's a tremendous rod for that. St. Croix has all kinds of rods and something perfect for every application."
Trey says it's hard to express how fortunate he feels to work with St. Croix, fish their rods, work as a pro staffer, and represent the brand with their logo on his jersey.
"Working with St. Croix has been a blessing. They're all great people and the support has been unreal. Last year I worked at St. Croix's Bassmaster Classic booth a little bit and it was nuts. Everybody who works at St. Croix is super nice, their rods are the best in the world; words can't really express how helpful they've all been to me. I feel very fortunate for the opportunity, that's for sure," comments Trey.
Carter, Kyle, Tyler and Trey are just a few of the talented and hardworking high school anglers currently working with St. Croix. From coast to coast, there are numerous teams with young, up-and-coming St. Croix ambassadors and pro staff. St. Croix is serious in its dedication to these anglers and their dreams, and the company continues to offer more young anglers opportunities through its Scholastic Program all the time.
If you are an aspiring high school angler and want to learn more about the St. Croix Rod Scholastic Program, please send an email to marketing@stcroixrods.com with the subject line "Scholastic".