Scholastic Fishing Spotlight
November 26, 2019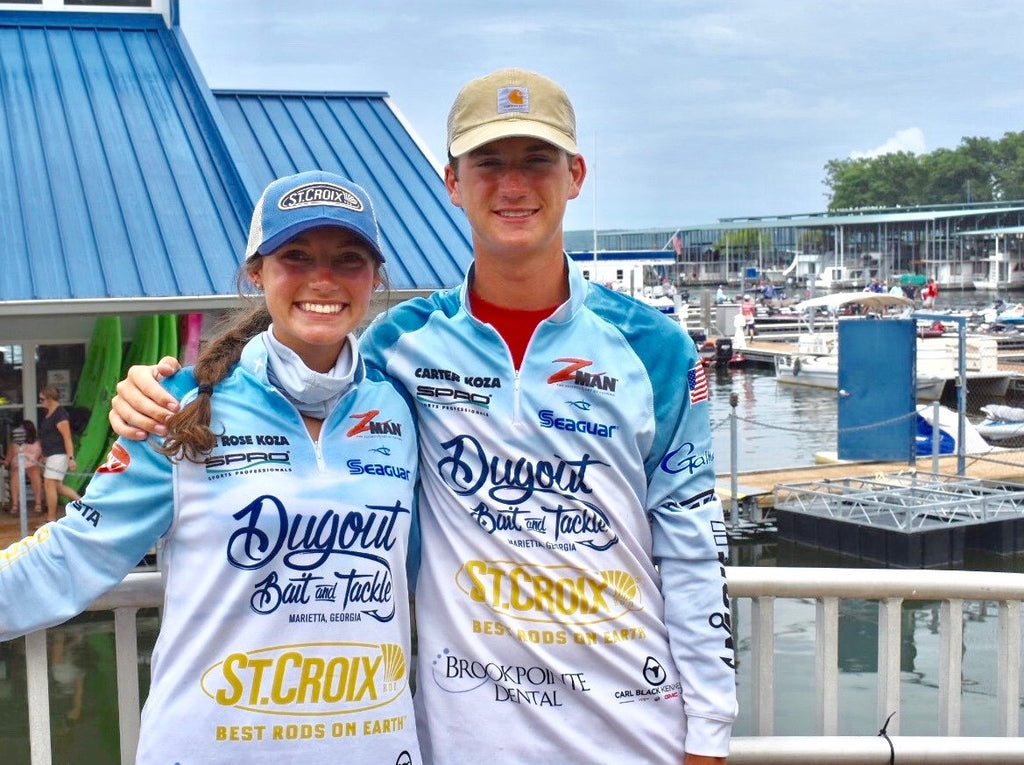 Marietta Bassmasters high school anglers, Carter Koza and Paul Marks, recently bested a field of 95 teams to win the 2019 Bass Pro Shops FLW High School Fishing Lake Hartwell Open. The no-entry fee tournament was held November 2nd and was hosted by the Hart County Chamber of Commerce. The win qualified the duo of for the 2020 High School National Championship being held next summer on the Mississippi River in La Crosse, Wisconsin. Qualifying for the event is a significant accomplishment, as only the top ten percent of anglers at state qualifiers make the big show.
Photo courtesy of FLW
"We only got to practice one day, but we fish Lanier a lot, which is a herring lake a lot like Hartwell, so we stuck with what we knew," says Koza, who found success with his partner fishing Chattahoochee jigs in deep brush piles with 7', heavy power, fast action St. Croix Legend Tournament rods. "We caught a lot of fish; they were mostly 13 inchers, but we were patient and managed enough bigger bites to win with 13-10."
Meanwhile – the same day on the same lake – Carter Koza's sister and previous high school fishing partner, Lee Rose Koza, placed second in the Yeti FLW College Fishing Tournament at Lake Hartwell Presented by Costa with her partner Maddex Walters. The finish qualified the Carson-Newman University fishing pair for the 2020 FLW College Fishing National Championship, scheduled for Feb. 26-28 on the Harris Chain of Lakes in Leesburg, Florida. 
Lee Rose and Walters didn't get to pre-fish Hartwell at all. "Maddex is from Georgia and he had been there (Hartwell) in high school, so we just had to go with what we knew from the past," says Koza, who admits they received a bit of help from their draw. "We drew Boat #2, so we got out early and were able to get to the spots we wanted," she says. Generally, those spots were the deep ends of main lake humps, where the duo fished Z-Man Shaky HeadZ  jigs with Z-man Giant TRD and FattyZ Elaztech plastics on St. Croix Legend Tournament medium power fast and extra-fast action rods. "We had a limit by 8:45, so we started throwing bigger worms and got some upgrades," she says. "Green pumpkin was the key color."
The Future of Bass Fishing
Both outdoor enthusiasts, Carter and Lee Rose come from a fishing family. Their father, Jamie Koza, is a former Chattahoochee River fishing guide, an avid tournament angler and tackle shop owner who passed on the joys of fishing to both kids when they were young. He also taught them a reliable set of techniques.
"Dad has always thrown a lot of crankbaits and it has always been one of our favorite ways to fish," Carter says, "so, it's not surprising that St. Croix's Legend Glass and the new Mojo Bass Glass rods are the rods we prefer to use." The Koza's insist that the St. Croix Legend Glass casting series offers the lightest crankbait rods in the industry; a testament to the linear S-Glass blank each is built around. The new 7'2" heavy power medium action Rip-N-Chatter model in St. Croix's Legend Glass and Mojo Bass Glass lineups is one of Lee Rose's favorites. "I've yet to find a better rod for cranking chatterbaits or rattlebaits," she says. "I'm steadily converting my team members to glass! They can't believe how light and sensitive these rods are, while possessing that sweet, moderate action you need to keep bass buttoned up."
Carter, currently a high school junior, fished competitively with Lee Rose last season, which was her senior year at Mt. Paran Christian School in Kennesaw, Georgia. They locked in a National invite by placing sixth at the Georgia State Finals on West Point Lake last February and went on to compete together in the High School Fishing National Championship.
"I'm still new to fishing and to the industry," says Lee Rose, now a freshman at Carson-Newman University. "I grew up watching my dad and brother fish and decided as a junior in high school to join my school's fishing team. I fished with a different partner that first year and fished with Carter my senior year. It was a blast. Everything flowed, because we had the same kind of style. Dad was our boat captain. It was a cool family deal," Lee Rose recalls. "I hope we can fish as a team again in the future."
Carter would like that, too. He has a great deal of respect for Carson-Newman's coach, Hunter Sales, but says he is keeping his options open.
"My sister and I will always be close," says Carter, who talks to Lee Rose almost every day. "It'd be great to fish with her again in the future, because I know we could go far, but there's a lot of great teams out there and I'm not sure where I'll end up. In addition to their great coach, Carson-Newman's team and program are fully funded by the school, which is a major benefit and makes a big difference for student competitors."
What's Next?
Carter and his partner, Paul Marks head to Lake Dhatuge in Georgia the weekend of Thanksgiving for the next stop on the Georgia Bass Nation tour. "It's a points tournament and a qualifier for the Kentucky Lake National Bass Championship," says Carter, who plans to stay in a camper and commute to and from school during the event. "If it stays cold, it will be a good deep brush pile bite," he predicts. "It'll Probably take 15 or 16 pounds of spots to win there."
As for the 2020 High School National Championship next summer on the Mississippi River in La Crosse? "We have never been on the Mississippi," says Carter, "so it will be a learning experience. But we'll definitely spend some time up there and figure it out."
As for Lee Rose's goals, she wants her Carson-Newman team to finish this season in the top five in the Bass Pro Shops School of the Year. "We ought to easily meet that. We've climbed from 66th place and are currently sitting in 11th," says Koza, who has lofty personal aspirations, too. "My ultimate goal is to be successful working in the fishing industry. In addition to fishing and going to school full time, I work as an intern for the fishing PR firm, Traditions Media, and also help manage St. Croix Rod's social media presence. I want to work on the media side of the industry after I graduate, so I'm very grateful to have the opportunity to be working with these great companies."
Committed to the Cause
There's been a buzz behind high school and college fishing since its inception in the mid-1990s. But recent backing from the nation's largest professional tournament trails has transformed the sport, and sponsors have taken note of the youth movement. Today, many college bass programs have travel budgets for their players, allowances for rods, reels and tackle, and some even provide the use of modern bass boats. Nearly all of these products are donated or deeply discounted by manufacturers in the fishing market.
St Croix Rod is on the leading edge of providing support to high school and college bass angling. It sponsors both the Bassmaster and FLW college fishing programs.
"St. Croix representatives are on-hand at collegiate events to specifically determine the needs of college anglers and build long-term relationships that provide the foundation for future sponsorships," says Lee Rose. "We are grateful to St. Croix and to all the other companies who have stepped up to support high school and college angling. It's exciting to be a part of, and the opportunities are only going to expand."