Meet Our Machinery
Rich Belanger
March 23, 2020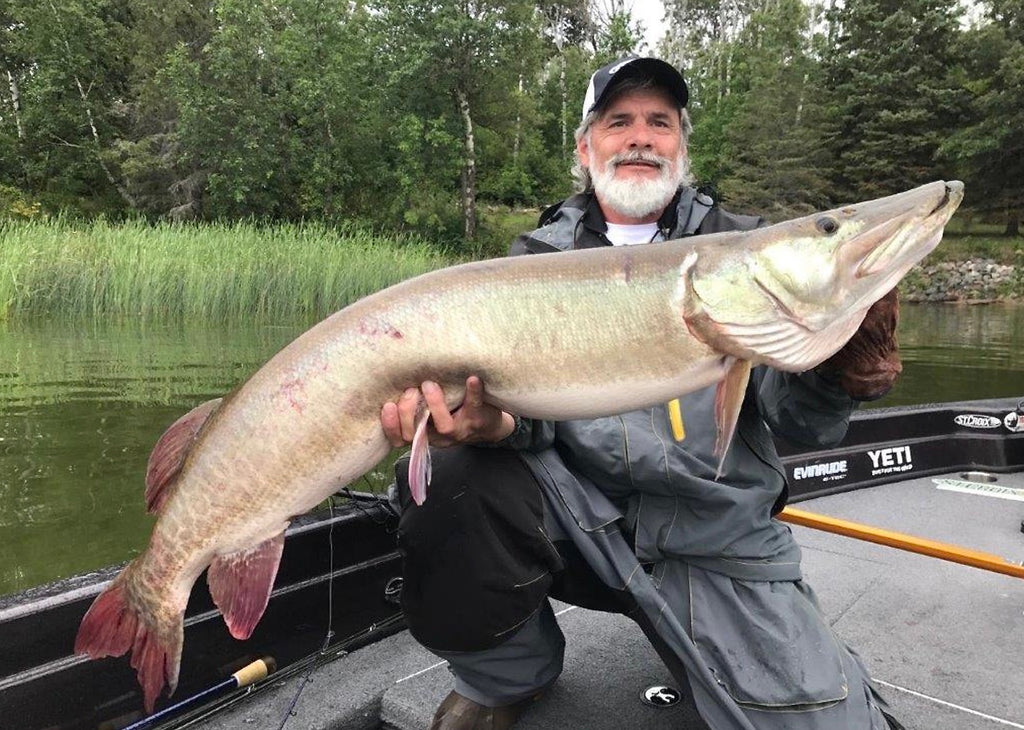 Meet Our Machinery
St. Croix Rod Promotions Manager, Rich Belanger
St. Croix Rod is known for being full of first-class people who are as approachable as they are knowledgeable and passionate. One such individual – known throughout the industry and synonymous with the St. Croix brand – is Promotions Manager, Rich Belanger, now in his 27th year with the company.
A constant fixture at trade shows and other events, the bearded and oft-pony-tailed product ambassador has earned the trust, respect and friendship of countless anglers and industry representatives across the globe. When it comes to questions about anything St. Croix related, Rich Belanger if very much the "go-to guy."
For Belanger, his professional journey all started during childhood when his family introduced him to fishing by family. Everything progressed from there.
"We had a family cabin that's only about 60 miles from Park Falls, and that's where I began my fishing career as a youngster," Belanger recalls. The angling there was the typical stuff… bass, panfish, walleye and pike. Of course, given the location, I naturally progressed into musky fishing. When I came to St. Croix, you needed to be versed in smallmouth, largemouth, pike, musky, panfish, fly, steelhead… even inshore saltwater, so you could understand all the differences in our models. A lot of those early years with the company were spent learning those different fisheries to have a better understanding of exactly what we were making and selling. Of course, 27 years later, people seem to think I have a pretty good understanding of our rods and what they do," Belanger says with a smile.
The story of Belanger's hire is also interesting. Thirty years ago he was working in retail for Joe's Sporting Goods in St. Paul, Minnesota when he met the Schluter brothers at the Northwest Minnesota Sports Show. The company's booths were literally across the aisle from each other.
"Working the show for ten days at that time, I got to know the guys from St. Croix pretty well in those days. We were all close to the same age and hit it off pretty well. Since I had been born and raised in Bloomington, I took them around to different restaurants and we spent a lot of time in the evenings socializing," Rich recalls. "Funny thing though… I thought they were St. Croix sales reps. It was quite long time before I discovered I had been hanging out with the actual owners of St. Croix!"
With nothing other than a retail job holding him in the twin cities, Belanger mentioned to the Schluters that they should let him know if they ever needed anyone in Park Falls. He got a call not too long after that, and the rest is history.
Belanger started at St. Croix as a Sales and Technical Support Specialist and aided the team in communicating and working with St. Croix's sales representatives. It was a job he enjoyed and held for a number of years. Later, Belanger was given the diverse responsibilities of working as Promotions Manager.
"In a nutshell, I've spent the bulk of my career here at St. Croix Rod working with everyone from our reps to expansive pro staff, working on tradeshows and other events, managing exposure through various media, and now I also have the luxury of networking with high school and collegiate fishing teams across the country. But there's been a lot more to it than that, of course. Basically, whenever St. Croix Rod promotions come up I'm involved in some way. It's been a real dream job."
Those who know Belanger know he's a passionate musky angler. Those same people may not realize, however, just how much St. Croix has relied on Rich and leveraged his musky knowledge and expertise over the years.
"I guess it was about ten years ago we needed to freshen up on our overall strategy with the musky-fishing community. I basically took that one on and said, 'I'll do this' and I got my team together and started to look at what was missing, trends, and things like that," Belanger recalls. "With the great teamwork here internally, it wasn't very difficult, although we did utilize a number of anglers from out in the field for their thoughts as well. We really did a company re-launch of musky, so to speak, when we brought out the Legend Tournament series. Then we took that a step further with the promotion of it, getting the rods out there in front of the right people on TV, radio, and other avenues to really push the rods along. Then we brought out Legend Elite, which is still is the pinnacle of musky rods; you cannot find a better musky rod," comments Belanger.  
"That was a really fun project," says Rich, who admits he's ready to personally back off a bit from musky. "It's gotten tough on the body and it's a young man's game," laughs Belanger. "But that's a category that should belong – and does belong – to St. Croix based on where we are and how we go about things. We're in musky land, so St. Croix needs to perform like the category leader. We've devoted a lot of time and resources into that. But going forward, personally, it's time to pick something a little simpler. I'll probably get back to the roots more – into the bass stuff a bit more. I've also got great salmon and steelhead fisheries around here within an hour and fifteen minutes and there are endless opportunities for great fly fishing. Chequamegon Bay and Lake Superior are close, too, and there's lakers, splake, you name it out there. So I'm going to try to button up some of those loose ends. Walleye, too. I've done it all along, but I haven't put the emphasis on it that I've put into musky fishing," adds Belanger.  
When asked about other highlights of his expansive career at St. Croix Rod, Belanger is quick to point out the early years as being some of the most memorable.
"My first three years at St. Croix I actually lived in one of Gordon Schluter's rental cabins on a nearby lake. Those are some great memories. I was fortunate to have spent time with Gordon, who was a real class act. We spent countless hours sitting in lawn chairs outside the cabin with the view of the lake talking about life, business, and all things fishing. I feel very blessed that I had that opportunity to get to know Gordon – the father of current St. Croix owners Jeff, Paul and David Schluter and Pamela Smiley, and the guy who brought the St. Croix brand back to life so many years ago. I feel fortunate to have learned so many things from him," says Belanger.
Another highlight is more recent, and that's the frequent and unparalleled recognition the company has received in recent ICAST New Product Showcase Awards.
"We're very humbled when we win awards at ICAST for best new rods. We've done remarkably well the past five years, but that just means we have to work harder every year to try to maintain that status. That's the number one challenge, staying on top. The journey's fun but then you have to stay there. And it has been a journey."
Belanger is quick to mention that those are just a couple examples and that there have been many other highlights over his 27 years at St. Croix. He says working at St. Croix has been like a family as opposed to just working for a brand, and that each and every day brings some kind of positive experience.  
"Working here is definitely like a family. And the only way to have gotten the company to where it is today is to work it like a family," he says. "So many of us have been here for so long that the factory is really a second home. There have been a few changes as of late, but for the most part the core group is still around. There's no single effort that has gotten anything accomplished around here; it's all been a team effort. We've always looked at that as one of the blessings of this place – the team and teamwork. There's nobody like us out there and it makes us unique in this industry."
If you are coming to northern Wisconsin, we'd love to meet you and provide you with the opportunity to Meet Our Machinery. Call us at 800.826.7042 or email us at factorytour@stcroixrods.com to schedule a factory tour. Learn more at https://stcroixrods.com/pages/factory-tours.