Mojo...Defrosted
August 08, 2016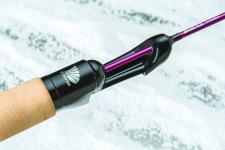 St. Croix expands the ever-popular Mojo lineup, adding namesake ice fishing rods
Park Falls, WI (August 8, 2016) St. Croix has been bringing the Mojo for over a decade. It started with the wildly successful introduction of Mojo Bass. The mojo spread to Muskies; next catfish caught the mojo and now, for Ice fishing 2016-17, the mojo pandemic is spreading north across the Ice Belt.
Mojo anglers are a special breed. They quickly recognize technology and performance, appreciate fine craftsmanship and componentry, and demand it all at a reasonable price. Mojo ICE, like all of the Mojo series, meet and exceed these expectations.
At first glance, the uniqueness of Mojo ICE is evident in its specialized reel-seat and handle section. St. Croix rod crafter, Jason Brunner, elaborates. Ill be honest; the split-grip cork/EVA handle is pretty cool looking. But theres much more to it than that.
The Mojo ICE split-grip handle offers a couple of significant advantages: The reduced mass makes the overall rod weight lighter. The split-grip also provides direct hand contact with the blank, significantly increasing sensitivity, especially for those who use the popular pistol-grip hold. Your hand makes actual contact with the blank. To this, Brunner notes that the contoured and sexy split-grip configuration is exceptionally comfortable in your hand.
Mojo ICEs twist-grip locking mechanism allows the angler to get an exceptionally tight positive lock- down on the reel foot. Likewise, the reel stays clenched tightly and will not work its way loose as often happens with more conventional grips.
Handcrafting, technology and performance dont end at the handle, either. All Mojo ICE models feature precision-tapered solid carbon blanks, boasting equal amounts of strength and sensitivity. The best-of-class blanks are fashioned through a fusion of St. Croixs proprietary design software and classic American handcrafting.
Mojo ICE guides are a story onto themselves. Freeze-up is a common struggle with rank-and-file ice fishing guides. Not Mojo ICE. These focused ice fishing tools are decked with stainless-steel guides to minimize freezingand angler frustration.
The Mojo ICE family is both broad and diverse, to include 10 models spinning and casting built for the unique properties necessary for targeting panfish, trout, walleyes and northern pike. St. Croix has truly covered the gamut of species and techniques with Mojo ICE.
Are you bringing the mojo this winter? St. Croix definitely is
Features:
Precision-taper solid carbon blank.
Premium split-grip cork/EVA handle.
Custom reel seat ideal for all techniques.
Lightweight, stainless-steel guides.
Handcrafted in North America
AboutSt. Croix Rod
St. Croix Rod is a family-owned and managed manufacturer ofhigh-performance fishing rods headquartered in Park Falls, Wisconsin with a 65-year heritage of USA manufacturing. Utilizing proprietary technologies, St. Croix controls every step of the rod-making process, from conception and design to manufacturing and inspection, in two company-owned facilities. The company offers a complete line of premium, American-made fly, spinning and casting rods under their Legend Elite, Legend Xtreme, Legend Tournament, Avid Series, Premier, Wild River, Tidemaster, Imperial and other trademarks through a global distribution network of full-service fishing tackle dealers. The companys mid-priced Triumph, Mojo Bass/Musky/Inshore/Surf, Eyecon and Rio Santo series rods are designed and engineered in Park Falls, Wisconsin and built in a new, state-of-the-art manufacturing facility in Fresnillo, Mexico. Founded in 1948 to manufacture jointed bamboo fishing poles for aMinneapolis hardware store chain, St. Croix has grown to become the largest manufacturer of fishing rods in North America.
MEDIA CONTACT:
Dena Woerner
Traditions Media, LLC
dena@traditionsmedia.com
501-749-4575