Steve Lessard Wins Kayak Championship for USA
December 18, 2016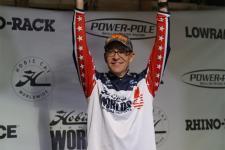 Louisiana-native tops the world's best kayak anglers for a Made in USA crown
Park Falls, WI (December 16, 2016) The most international title in fishing is headed home to America, after Steve Lessard took home his second World Championship this weekend in his home state of Louisiana. Anglers from five continents competed in a fierce field of 49 for a shot at kayak fishings crowning achievement.
Its intimidating, says Lessard. Youve got these guys from around the world coming in with beautiful, hand-painted lures. Theyre fishing with custom made rods and $500 reels, and theyre all super-skilled. A lot of them are multi-species masters, with hundreds of species under their belt.
LEGEND ELITE
Transitioning to redfish in Louisiana is not that hard for them.
To level the playing field, Lessard loaded his kayak with a one-two punch from St. Croix Rods.
The tournament took place over three days, with each angler measuring one red and one trout per day. And with a loaded field, Lessard relied on a variety of strategies and techniques to get the job done, from Carolina-rigging to topwater popping corks. Lessards weapons of choice? A medium-action 76 St. Croix Avid Inshore to reach out and hit big reds; a medium-light St. Croix Legend Elite for cracking finicky trout on topwater.
ST. CROIX RODS
The Legend Elite is perfectly suited for a small topwater lure, Lessard says. The Legend Elite really helps me keep those trout hooked-up. Redfish have a tendency to somehow miss the hook or come off once they get hooked on a treble, but the Legend Elite keeps them on and buttoned up. My first fish of the tournament, on Day One, came off that rod.
But Lessard wasnt only fighting finicky trout and a bevy of international competitors. At this world championship, he was fighting vicious weather from a ripping north wind and rapidly flowing currents that took the marshes out to the Gulf of Mexico at 5 mph.
The wind was horrible on Day Two, he adds. I took a chance and gambled on going south, even though not many people were doing that because the current made it nearly impossible to come back north. And, I could only get so close to the big reds when theyre on a flat thats two feet deep. Otherwise, you start pushing mud. So, I was literally making 100 foot casts to reach the fish. That long rod, the Avid Inshore, really lets you cast the bait out there. And I can set the hook all the way out using a popper on braided line with no problem.
Day Three saw Lessard in pole position, 10-inches ahead of Australias 2013 Hobie Worlds Champion Richard Somerton. But with a 15 degree drop in water temperature, the stage was set for a tough day on the water to bring home the gold.
The pressure was really on then, Lessard tells. I had everybody in the state of Louisiana rooting for me. I had radio shows calling me with sportsmen listening in all over the state. Richard Somerton and I were going head to head. I was trying like heck to defend our home water for the USA, and we were both trying to become the first to win two world championships.
Following an early morning finesse pattern that landed his keeper trout on an extremely slow-rolling swim bait, Lessard ventured out for the kicker fisha bull redto put away the victory.
I saw one on the flats, and I made a long, 80 foot cast to reach him. Then, I started feeding the line out, letting the wind carry my cork into position. I gave it subtle, slight pops and when I got close to where I saw the fish, the cork went under. I guarantee you that I had 120 feet of line out on that 76 rod when he hit. And after a battle that took us from a flat to a ditch to the main canal, I was able to pull him ina 27-inch red. At that point, I almost lost it. I knew I had 46-inches for the day and that Richard would need 56-inches to beat me.
Somerton wouldnt make it. The revered Aussie tallied in 16-inches behind the American, and Lessard took home his second world title.
When asked to compare his Louisiana win with his 2014 title in Holland, Lessard brought it all back home. In Holland, I imagined the pike as redfish, he says. I would imagine myself in a Louisiana Marshand the situation worked out really well for me. Back then, I actually borrowed a three-piece St. Croix travel rod to help me win it.
Mr. Lessard, were imaging a three-pete, St. Croix Rods front and center. Were proud that youre using the Best Rods on Earth