Another champion from St. Croix Rod
August 01, 2016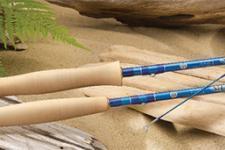 St. Croix's SOLE earns Best of Show in Fly Rod Category
Park Falls, WI (July 29, 2016) Each year, in the sweltering core of summer, fishing industry insiders gather at ICAST an international trade show and exposition that highlights the products and the people that help anglers find and catch more fish. An integral component of ICAST is the New Product Showcase, where innovative products representing 24 different categories compete for the hearts and minds of voters. Capping a spectacular introduction in front of record-setting crowds at ICAST 2016, St. Croix Rod emerged victorious in the Fly Rod Category with SOLE.
SOLE fly rods are completely unique in design and provide a new path to one-piece performance. SOLE is based on a single, slim ferrule concept with its location 28 from the tip previously unheard of. This design provides true one-piece performance while removing much of the difficulty transporting a 9, one-piece rod. In addition, St. Croix has reimagined and re-engineered the ferrule, making tip replacement on the SOLE quick and easy. And not to be forgotten is that SOLE actually comes with a precisely matched replacement tip.
Jesse Simpkins, St. Croix Rod Marketing Director, offers, SOLE is a two-piece rod that feels and performs like a one-piece. The fly rod stands as a shining illustration of design and technology coming together to deliver an outstanding rod to the angler. It will only take one cast to learn that this truly is a rod with SOLE.
Fly rod aficionado, Brooks Montgomery, continues, The SOLE is built on St. Croixs IPC mandrels (essentially the template of the ferrule); it uses super-high modulus SCIV and ART graphite, and St. Croixs exclusive fortified super resin (FRS) makes for the strongest blanks available.
The SOLEs carbon fiber patterns are cut by a computer program which communicates with a cutting table for perfect cuts every time. Multiple laser stations check blank wall diameters, straightness, and alignment along the manufacturing process. SOLE performs so well, you will have to get used to the sound of the backing knot ticking out of your guides on long-distance casts.
St. Croix pro Chad LaChance, host of Fishful Thinker TV, filed this report: When I first picked up St Croixs new SOLE fly rod my first thought was how much difference could refining a ferrule really make? And then I cast itand cast it, and cast it again. The power and control is fantastic, while the smoothness lulls you into casting more and more. Long casts or short, tight loops or lazy rolls, SOLE just begs you to keep casting.
Simpkins closes with this unalienable truth: Despite all of the modern technology used to design and manufacture SOLE, ultimately, its the handcrafting that puts the heart, soul and fishing performance in SOLE.
Key Sole features include:
Integrated Poly Curve (IPC) tooling technology.
Advanced Reinforcing Technology (ART).
High-modulus / high-stain SCIV graphite with FRS for unparalleled strength and durability.
Off-set, slim-profile ferrule design provides true one-piece performance and transportation convenience.
Spare tip section included for angler convenience.
Kigan Master Hand Zero Tangle stripper guides with solid-titanium frames for the ultimate protection from saltwater corrosion.
REC Recoil snake guides provide lightweight, corrosion-proof performance.
Fuji TVS reel seat delivers durable, corrosion-proof performance.
Super-grade cork handle.
Kigan solid-titanium hook-keeper.
Two coats of Flex Coat slow-cure finish.
Deluxe cloth sack with two tip section pockets.
15-year transferable warranty backed by St. Croix Superstar Service.
Designed and handcrafted in Park Falls, U.S.A.
Learn more about SOLE and the rest of the Best Rods on EarthTM and the ways that we build them by visiting us at http://stcroixrods.com/