Earning the 'X'
September 14, 2016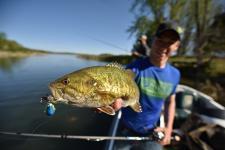 From the budget-minded to hippest millennial, St. Croix's BASS X meets the demands of the bass-centric
Park Falls, WI (September 12, 2016) - X marks the spot. Its the Sharpie scribble on Grandpas composting lake map on the fridge, where lunker largemouth hunker as promised. Its the four billionth Navionics waypoint; that microscopic seam between the point and hump visually referenced by the purple martin house and ranger tower that only you and the bronzebacks know about.
X also marks that immaculate intersection of quality, priceand coolness. And thats why St. Croix Rod stamps a big fat blue X on the blank of every rod in the new BASS X series.
Bass fisherman have been liberated, now able to cross the threshold into St. Croix ownership for a straight-up hundred bucks and a little something for the taxman, of course. Not lost in the value-proposition, though, is the supreme technology and performance imbued in BASS X.
BASS X combines St. Croixs legendary, handcrafted quality with purely-premium componentry. The magic begins with St. Croixs proven SCII graphite blank; not the amalgamation of anonymous carbon fibers found in similarly priced rods. Moreover, the SCII graphite blank gets two baths of Flex Coat finish to add durability and fuel that awesome BASS X mark with extra pop.
BASS Xs guides and reel seat dont come out of the bargain bin, either. Hard aluminum-oxide guides line the train from stripper guide to tip. A Fuji ECS reel seat ensures ironclad connection with the reel while yielding all-day casting comfort.
Speaking of comfortably throwing baits, all 10 casting and 4 spinning models feature sporty split-grips. The supremely balanced configuration not only positions your hands for serious catapulting, but also reduces the overall weight of the rod.
Designed with super-fast tips on some models, moderate deflections on others, bassers will find the 14 models in the BASS X lineup able to cover every technique from dropshotting to slopping to punching jigs through gnarly weed mats.
Put to the cool and competent test, St. Croix put BASS X in the paws of an up-and-coming bass-head, 15-year old Jackson Bailey, member of the Benton, Arkansas bass team. His first impression: BASS X is really lightweight, throws welland I like the looks.
To know that a company like St. Croix built a rod for fisherman like me is pretty cool.
BASS X rods were designed in Park Falls, Wisconsin and are handcrafted in our Fresnillo, Mexico facility. Retailing for $100 - $110, BASS X delivers incomparable value. When paired with a 5-year warranty backed by its Superstar ServiceSt Croix delivers on its goal of affordable performance.
BASS X will be available through the St. Croix dealer network in November.
FEATURES
Premium-quality SCII
Designed and built for bass anglers.
Hard aluminum-oxide guides with black frames.
Fuji ECS reel seat with black hood on casting models.
Fuji DPS reel seat with black hoods on spinning models.
Split-grip / premium-grade cork handle with EVA trim.
Two coats of Flex Coat slow-cure finish.
5-year warranty backed by St. Croix Superstar Service.
Designed in Park Falls and handcrafted in Fresnillo, Mexico.
Retail Price: $100
* New for 2017
About St. Croix Rod
St. Croix Rod is a family-owned and managed manufacturer of high-performance fishing rods headquartered in Park Falls, Wisconsin with a 68-year heritage of USA manufacturing. Utilizing proprietary technologies, St. Croix controls every step of the rod-making process, from conception and design to manufacturing and inspection, in two company-owned facilities. The company offers a complete line of premium, American-made fly, spinning and casting rods under their Legend Elite, Legend Xtreme, Legend Tournament, Avid Series, Premier, Wild River, Tidemaster, Imperial and other trademarks through a global distribution network of full-service fishing tackle dealers. The companys mid-priced Triumph, Mojo Bass/Musky/Inshore/Surf, Eyecon and Rio Santo series rods are designed and engineered in Park Falls, Wisconsin and built in a new, state-of-the-art manufacturing facility in Fresnillo, Mexico. Founded in 1948 to manufacture jointed bamboo fishing poles for a Minneapolis hardware store chain, St. Croix has grown to become the largest manufacturer of fishing rods in North America.