Getting Schooled by Books and BASS
December 06, 2016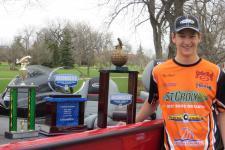 St. Croix young gun is making his tournament bass-fishing mark
Park Falls, WI (date) Test time Are you smarter than a college student? Start by answering the following question:
Q: What were your goals after high school?
A: Starting collage
B: Entering a trade that could become a lifelong career
C: Just wanted to bass fish all day, every day
D: All of the above
Well, if youre anything like 18-year-old Ryan Woodand who doesnt want to be youd be circling DAll of the above.
A risky move choosing to be a professional bass angler, squandering the knowledge gained from the marketing classes at Texas Dallas Baptist University, you say? Not if you know the young Broomfield, Colorado, residents past.

Delving
Before the ripe age of 10, Wood was doing what most any kid infatuated with fishing would do growing up near Denver: Hed head to the spring-fed Rocky Mountain streams and target trout.
But as fate would have it, Woods father got him switching species and involved in a school sanctioned bass-fishing club headed by St. Croix advocate Chad LaChance of Fishful Thinker. And by 2008, the aspiring Wood had won his first tournament, becoming the Colorado State Junior Champion... Well, almost.
According tournament rules, he was too young to accept the trophy. Dang

Fast forward through the past eight years and youll notice a trend. Wood won the 2012 Colorado State Junior Championship, which led to his 2013 Bassmaster Junior Western Divisional Championship victory and then a 2013 Bassmaster Junior World Championship first place. After that, in both 2014 and 2015, he was the Colorado High School State Championship winner. Last but not least, Wood became this past summers 2016 Bassmaster High School National Champion. A nice run, you could say.

Ever since my first win I have wanted to fish bass tournaments professionally, says Wood. It was a no-brainer to join the fishing team in high school; from there the passion has grown even stronger.

And the now fulltime college student is honored to be fishing with The Best Rods on Earth. St. Croix has helped me so much. Everyone, and I mean everyone at the company treats prostaff like family, he adds.
And you can feel the passion of catching fish in every rod they build. Their support is the greatest. St. Croix is allowing me to become the professional angler I want to be later in life.

St. Croix, too, is thrilled to sponsor some of fishings most passionate young gun anglers like Wood.

Because of working with LaChance, Ryan was part of the St. Croix family well before this last Bassmaster win, states St. Croix Marketing Director Jesse Simpkins.

Overall, we want to do more than just be a company that sponsors high school and college teams; we want to be deeply engaged with the athletes, involved with our entire staff. And its more than just allowing them to become better anglers Its about working with them on the business side of the industry as well.

X marks the spot
Like all fishing pros, Wood has his own instinctive approaches to hooking fish when the pressure is on. And St. Croixs new BASS X series offers a technique specific rod perfect for his every challenge, whether conditions call for topwater toads, drop-shotting or pulling cranks past the faces of fish.

Lets hear some of Woods specifics.

Q: What baits did Wood use during the 2016 Bassmaster High School National Championship on Kentucky Lake while fishing super-shallow when most other tournament goers were working deep?

A: Floating jerkbaits
Wood says its the crisper action when jerking with braid and a short, 12-inch leader that makes this rod the 6-foot 8-inch medium-power extra-fast action BASS X spinning rod stand out. It works wonders with suspending bodybaits, as well.
Q: This is Woods go-to when fish are deep and it takes a little finesse to get fish to bite.

A: Drop-shotting
Wood wants a rod to be very sensitive and lightweight for drop-shotting, yet have plenty of backbone. That, and an extra-fast tip to keep fish pinned when being reeled in from the depths. His choice is the 6-foot 10-inch medium-light-power, extra-fast-action BASS X spinning rod coupled with 10-pound-test braid and a 6- to 10-pound-test fluorocarbon leader.
Q: When bass hold tight to timber or are in thick, matted grass, Wood uses these two methods to pull fish out before they can become entangled.

A: Flipping jigs and Texas rigging
Wood says the rods need enough beefiness to set huge hooks home, but still must be light and sensitive. He calls on the 7-foot 4-inch heavy-power, fast-action BASS X casting rod.
Q: This is another favorite of Woods when fish are shallow or feeding just under the surface.
With 15-pound-test fluorocarbon line, Wood says the 7-foot 2-inch medium-heavy-power, moderate-action BASS X casting rod gets the nod. The rod is so sensitive, he can feel not only if the lure is hitting structure, but can even depict the type. What bait is he throwing?
A: Square bill crankbaits. And its the abovementioned crankbait rod that Wood says loads up perfectly to keep fish hooked when they jump.
So, are you smarter than a bass-fishing college student? One last tip from Wood.
Study fishing; read everything you can about catching fish in magazines and online. But then realize you need to get out there and do it. And try to learn something every time out.
Go out with that mindset and youll learn to catch more fish than ever.
Safe to say we have a well-educated tournament bass fisherman on our hands.

About St. Croix Rod
St. Croix Rod is a family-owned and managed manufacturer of high-performance fishing rods headquartered in Park Falls, Wisconsin with a 68-year heritage of USA manufacturing. Utilizing proprietary technologies, St. Croix controls every step of the rod-making process, from conception and design to manufacturing and inspection, in two company-owned facilities. The company offers a complete line of premium, American-made fly, spinning and casting rods under their Legend Elite, Legend Xtreme, Legend Tournament, Avid Series, Premier, Wild River, Tidemaster, Imperial and other trademarks through a global distribution network of full-service fishing tackle dealers. The companys mid-priced Triumph, Mojo Bass/Musky/Inshore/Surf, Eyecon and Rio Santo series rods are designed and engineered in Park Falls, Wisconsin and built in a new, state-of-the-art manufacturing facility in Fresnillo, Mexico. Founded in 1948 to manufacture jointed bamboo fishing poles for a Minneapolis hardware store chain, St. Croix has grown to become the largest manufacturer of fishing rods in North America.
MEDIA CONTACT:
Dena Vick
Traditions Media
dena@traditionsmedia.com
(501) 749-4575