Hot Tips for Ice Fishing
December 12, 2016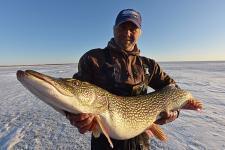 Hardwater Bass
Ice fishing for largemouth bass is sort of an economized version of its open-water counterpart. Virtually microscopic plastic worms, micro hair jigs and spoons, and even scaled-down ice crankbaitseach worked with utmost finesse mesmerize wintertime bass. You cant believe how delicately bass often nip bitsy artificial things that fit into a contact lens. Its why whether youre working a tiny tungsten jig and inch-long Wedgee plastic or a 1/16-ounce Slender Spoon, the right rods a big deal with hardwater bass.
St. Croix has borrowed the concept of a split grip handle from its Mojo Bass open water rods and applied it to ice. Wise move, dudes. Sensitivity reigns supreme at St. Croix, and a Mojo Ice split grip ice rod sports an exposed blank, perfect for pencil-gripping with an index finger. Grab a pair of fingerless gloves and go to work. A 32-inch medium is just right for tungsten jigs and plastic, while the 36-inch MIR36La lightweight gem of a rodis exceptional for working small hair jigs, spoons or downsized swimming lures like Custom Jigs Spins RPM (sort of a secret bass lure). Spool with 4- or 5-pound test micro braid, such as PowerPro Ice Tec, and youll be fishing the most sensitive, fine-tuned bass instrument on the ice.
Icy Walleyes
Stained or turbid waters offer some of the best opportunities to hoist a walleye through the ice. In such locations, a two-rod approach is often the best strategy for stacking walleyes up like frozen cordwood. Devote one rod to an aggressive presentation, like a LIVETARGET Rattlebait, to draw walleyes into your area. The St. Croix Mojo Ice MIRC34MH, paired with a low-profile casting reel, is a great choice for working a rattlebait through the water column. The Mojo Ice MIRC34MH has the power and length that youll need to drive hooks into the bony jaw of a walleye or pike, without the bulk that would lead to fatigue after a day of chasing marble-eyes. Not every walleye that is attracted by the action and sound the rattlebait will strike. However,
you will convert many of those lookers into biters by presenting a live bait through an adjacent hole. Suspend a lively shiner or large fathead minnow beneath a St. Croix Mojo Ice MIR28ML and watch your catch rates soar. The sensitive tip of the Mojo Ice MIR28ML will telegraph every tail flick of the live bait, and the rod length is perfect
for shelter-bound walleye anglers.
Deep Water Crappies
Once the weeds die off in smaller lakes, crappies are typically located and caught over main-lake basins. In large, deep lakes, they tend to avoid the deepest areas and may prefer flats, humps and basins ranging from 20 to 40 feet deep. Crappies are notorious for suspending and can be found anywhere in the water column depending on the conditions. Electronics are a must.
Once winter crappies are located, spoons are great choices for targeting active biters. A 1/16-oz CJS Slender Spoon produces an enticing flutter on the drop and fishes a good distance away from the hole two attributes that can help attract nearby fish into your sonar cone. Due to their larger profile, tipping a spoon isnt necessary when crappies are aggressive, but try a few spikes, a single wax worm or a small minnow until you learn theirmood.
St. Croixs 28 ML Power Mojo Ice Rod Model MIR28ML is the ideal crappie spoon rod. It affords maximum lure feedback and strike detection with a wide variety of spoon weights even in deep water while delivering a satisfying amount of power on the hook set.