Casts Like a Cannon, Bullseyes Flies
June 23, 2016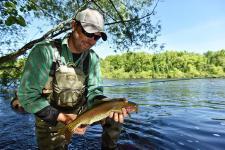 St. Croix's new SOLE: the innovative 2-piece fly rod that performs like a 1-piecer
Park Falls, WI (June 27, 2016) Theres been a battle raging within the walls of fly rod manufacturing plants since the first fur-and-feather flinger was ever created. Nothing to do with friction between the engineers who design them, mind you, but more a war waged between the designers and the rod blanks themselves.
The conflict? The fibers within the blanks wall and the fight to get them perfectly aligned between each section. And what a difference in casting distance and accuracy when those fibers run true.
Take, for instance, the 4-piece blanks that are commonplace these days. Lining up the spline of each section is far from a flawless procedure. And the 2-piece rods fly anglers are also accustomed to? Although aligning splines is easier, theyre still never perfectly placed. Add to that, if you break the tip of the standard 2- or 4-piecer, building an entirely new top section may be the only remedy for its replacement.
By far the best way to have every fiber running true is to manufacture a 1-piece blank. But transporting such long rods would be nearly impossible, even within the roomiest gas guzzler rolling the roads.
But leave it to the innovative design team at St. Croix to once again take the creek less paddled and create the first 2-piece fly rod with its main ferrule reaching within 28 inches of the tip. With that said, let us introduce you to the state-of-the-art SOLE. Its name says it all: the one and only And its built to handle every fresh and saltwater application thrown its way.
Every fiber in the SOLEs longer lower section is arrow-straight, which allows the rod to cast further and more accurately like a 1-peice fly rod, all the while removing the difficulty transporting a full 9-footer. Just remove the slightly over 2-plus-foot top and the rod is reduced to a shade over 6 feet.
Having the lower two-thirds of the rod fashioned of a single, highly-engineered ferrule greatly improves how the blank deflects through the casting process, as well as while fighting powerful fish. Advanced ferrule design also produces clone-quality replacement tip sections if you happen to break one off. As a result, your respawned SOLE will continue casting like the day it was born.
And did you notice the plural use of tip sections? Thats right, each rod comes with two tips; you know, just in case a tarpon or bonefish goes wild while your lines wrapped around the tip, or a steelhead or salmon crush a fly in close quarters, turns tail and zips your tip into a log jam. No need to wait for shipping to get that new top. Fishing excursion saved.
Anybody whos cast the new SOLE literally talks about having to pinch themselves to see if their dreaming or not, says Dan Johnston, fly casting instructor and regional account manager for St. Croix. Because the graphite fibers run so true, the rod casts like a cannon, and the accuracy of those long casts are spot on. Its just an amazing rod. Period.
Built with high-modulus/high-stain SCIV graphite with FRS for unparalleled strength and durability, nine models covering 4- to 12-weight blanksalso created with IPC, ART technologiescover the full gamut for freshwater and saltwater tactics.
Adorned with Kigan Master Hand Zero Tangle stripper guides with solid-titanium frames for the ultimate protection from saltwater corrosion, and REC Recoil snake guides for lightweight, corrosion-proof performance, each guide, including the Kigan solid-titanium hook-keeper, is held steadfast with high-quality thread and two coats of Flex Coat slow-cure finish. And the Fuji TVS reel seat holds fly reels solidly in place while delivering durable, corrosion-proof performance. This, while a super-grade cork handle offers superior grip, yet is easy on the hands.
Retailing at $340 to $360, the SOLE includes a protective, dual-ply mesh sack and carries a 15-year transferable warranty backed by St. Croix Superstar Service.
Designed and handcrafted in Park Falls, Wisconsin, U.S. of A., the new SOLE fly rod series proves St. Croix truly does create The Best Rods on Earth." And the long awaited end to the perfect casting fly-rod war is over.
#StCroixRod
About St. Croix Rod
St. Croix Rod is a family-owned and managed manufacturer of high-performance fishing rods headquartered in Park Falls, Wisconsin with a 68-year heritage of USA manufacturing. Utilizing proprietary technologies, St. Croix controls every step of the rod-making process, from conception and design to manufacturing and inspection, in two company-owned facilities. The company offers a complete line of premium, American-made fly, spinning and casting rods under their Legend Elite, Legend Xtreme, Legend Tournament, Avid Series, Premier, Wild River, Tidemaster, Imperial and other trademarks through a global distribution network of full-service fishing tackle dealers. The companys mid-priced Triumph, Mojo Bass/Musky/Inshore/Surf, Eyecon and Rio Santo series rods are designed and engineered in Park Falls, Wisconsin and built in a new, state-of-the-art manufacturing facility in Fresnillo, Mexico. Founded in 1948 to manufacture jointed bamboo fishing poles for a Minneapolis hardware store chain, St. Croix has grown to become the largest manufacturer of fishing rods in North America.