Behind the Carbon Curtain
June 12, 2016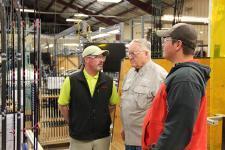 Factory Tours reveal processes behind award-winning rods such as Legend Extreme and Avid Inshore
Park Falls, WI (June 13, 2016) Joey Fransway wanted to celebrate his son Joshs graduation from high school in a memorable way. At the time, who knew the Cincinnati, Ohio pairing would find themselves making memories in Park Falls, Wisconsin, as the first customers to take St. Croix Rods Factory Tour.
Yes, St. Croix extends a hearty welcome to the public to come experience in person how a tradition of handcrafting fuses with technology to create the American-made, Best Rods on Earth.
Meanwhile, back on this maiden Factory Tour, Josh impressed St. Croix staff with his product knowledge. Josh would see a bin filled with reel seats and then identify which rod model that particular accessory would go to, gloated Joey. And because of the visit, Josh now knows how all those parts come together.

But I guess his knowledge of St. Croix rods should really be no surprise. When he was a child, Josh used to watch me, and later help me, build custom rods. And St. Croix was the only brand of blank I ever used.
Nows your chance to experience firsthand the creation of The Best Rods on Earth, and see how progressive and proprietary technologies like IPC, TET, ART and FRS play in concert with homegrown handcrafting. Tours are offered daily, Monday through Friday, June 1st through September 30th, and then Mondays, Wednesdays and Fridays October 1st through April 30th. St. Croix is closed on major holidays. Tours lasts approximately 90 minutes.
Its easy to book a visit at http://stcroixrods.com/resources/factory-tour-details, or email at factorytour@stcroixrods.com or call 1-800-826-7042.
Weve said it before, and well say it again: Not only will you be taking a walk through rod-crafting history, youll also get a glimpse of the future of fishing

AVAILABLE TOUR DAYS:
Daily Monday through Friday: June 1st - September 30th
Monday / Wednesday / Friday: October 1st - April 30th
Closed on Major Holidays
TOUR HOURS:
10 a.m. Daily; Tour lasts approximately 90 Minutes
LIMITATIONS RESTRICTIONS:
Maximum per day attendees 10; Minimum per day attendees 4
No reservation accepted after 3 p.m. the day prior to the tour.
DETAILS:
Maximum may be expanded to accommodate a group that would cause the tour to exceeded 10 attendees. Contact St. Croix for details.
Minimum is the total number needed for a tour, not of a group. If a tour is cancelled, a notice will go out 48 hours prior.
Tour involves standing or walking for 90 minutes.
Tour is wheelchair accessible.
Tour not suitable for infants or toddlers.
No open-toed shoes/sandals allowed.
Protective eyewear must we worn (provided).
No camera or video equipment allowed.
Attendees may be photographed/videoed for promotional purposes.