High
Class Glass Reimagined
June 28, 2016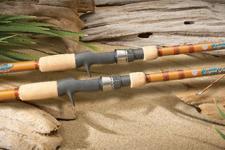 Four new super-premium St. Croix Legend Glass IPC Casting Rods give anglers a fighting chance when feeding crankbaits and other continual motion lures to big bass
Park Falls, WI (June 30, 2016) A savvy group of anglers prefer the unique qualities of glass to graphite in situations where a more forgiving rod is required. Especially when big predators like smallmouth and largemouth bass slash at crankbaits or other lures fished with a steady retrieve. The ideal crankbait rods have a soft enough tip to allow fish to eat without pulling hooks, but plenty of power for ripping lipless lures through the weeds and driving home meaty trebles. And once the fight is on, a competent crankers more moderate action is a great help in keeping hooks firmly locked in a hostile basss maw.
But is glass a thing of the past? Not when the rod wizards at St. Croix take the core properties of glass and lace it with unbridled technology.
New for 2017, St. Croix Rod announces its super-premium line of Legend Glass IPC Casting Rods, a four-rod series born from 68 years of American rod-building know-how and the very best materials and components available. Each of these all-new rods delivers the full benefits of glass in its intended applications, plus the elevated feedback, increased strength, reduced weight and heightened manufacturing quality that are absent in the marketplace. Dont let their traditional, deep-honey finish fool you. The attractive color is a throwback to the days when St. Croix pioneered color-impregnated glass. Neat, huh? Well, thats where the similarity to any fiberglass rods of the past ends.
The Best Rods on Earth begin with the highest quality blank materials and expert manufacturing techniques and processes. These modern Legend Glass IPC Casting Rods feature premium, linear S-Glass blanks built on St. Croix-exclusive Integrated Poly Curve (IPC)-engineered mandrels. Designed to eliminate all transitional points in the rod blank, IPC rods feature smoother actions, increased strength and greater sensitivity, while 100% linear S-glass isalso stronger, lighter, higher in modulus and more dynamic than traditional, woven E-glass. The results are the finest, high-performance fiberglass rod blanks ever created.
Proof that St. Croixs new Legend Glass IPC Casting Rods are worthy of their name; each model is expertly outfitted with top-shelf, task-minded components.
Fuji K Series Concept Tangle Free guides with Alconite rings and polished frames are ideal for super braid, mono and fluorocarbon lines. The sloped frames and rings on these premium guides work to effectively shed line tangles before they can cause problems. A Kigan hook-keeper keeps things tidy, while two coats of Flex Coat slow-cure finish protect all meticulously-administered thread wraps.
Cranking is tough business. Legend Glass IPC Casting Rods are designed to minimize wrist and hand fatigue over extended fishing sessions, courtesy of split-grip, super-grade cork handles and angler-favorite Fuji ECS reel seats with frosted silver hoods. The heaviest-duty Legend Glass model features an alternative Fuji PSS-SD palming reel seat, which places the trigger on the outside of the palm, rather than between the fingers, for extra comfort while fishing extremely deep-diving crankbaits.
Model LGC610MM: 6-10 length, medium power, moderate action. Ideal for making shorter, precise casts with smaller, lighter crankbaits.
Model LGC72MM: 7-2 length, medium power, moderate action. Highly versatile model built to handle a wide variety of crankbaits.
Model LGC74MHM: 7-4 length, medium-heavy power, moderate action. Ideal for use with larger, deep-running crankbaits, including lipless lures.
Model LGC711HM: 7-11 length, heavy power, moderate action. Ideal for the largest, deepest-diving crankbaits.
Weve all heard it and many of us have uttered the words ourselves: How did he possibly miss that with all those treble hooks hanging off it? Well, crankbaits are highly popular and effective lures, but the fact remains that crankbait hookup ratios can suffer due to stiffness. Perhaps its time you owned some crankbait rods that give you a fighting (and hooking) chance. Handcrafted one at a time in Park Falls, Wisconsin, U.S.A., St. Croixs new Legend Glass IPC Casting Rods are super-premium, high-performance fishing tools built like no other fiberglass rods on the planet. With a retail price between $240 and $250 and backed by a 15-year transferable warranty and St. Croixs Superstar Service, its the highest-class glass available to crank in success.
About St. Croix Rod
St. Croix Rod is a family-owned manufacturer of high-performance graphite and fiberglass fishing rods headquartered in Park Falls, Wisconsin. The company offers a complete line of premium, American-made fly, spinning and casting rods under their Legend Elite, Legend Xtreme, Legend Tournament, Avid Series, Premier, Wild River, Tidemaster, Imperial and other trademarks through a global distribution network of full-service fishing tackle dealers. The companys mid-priced Triumph, Mojo Bass/Inshore/Surf, Eyecon and Rio Santo series rods are designed and engineered in Park Falls, Wisconsin and built in a new, state-of-the-art manufacturing facility in Fresnillo, Mexico. Founded in 1948 to manufacture jointed bamboo fishing poles for a Minneapolis hardware store chain, St. Croix has grown to become the largest manufacturer of fishing rods in North America.