Retro is Revolutionary for St. Croix Rods
July 26, 2016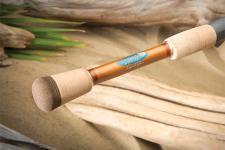 Legend Glass Casting Rods win Best Freshwater Rod Award at 2016 ICAST Show
Park Falls, WI (July 27, 2016)) St. Croix Rod has accomplished the unthinkable. At a time when high-modulus carbon fiber rules the rod arena, Americas beloved rod builder has pulled off an inspiring back to the future performance.
Suddenly, fiberglass is cool again. The proofs in St. Croixs radical Legend Glass series and its statement-making Best Freshwater Rod win at the July 2016 ICAST Show.
The award caps off an amazing run of recent recognition at the annual sportfishing summit, which also included a St. Croix win in the Fly Rod category for its remarkable new SOLE series.
But for the St. Croix staff, votes from media and tackle buyers gave particular credence to the companys conviction: Legend Glass rods perform light-years beyond traditional fiberglass, notes Rich Belanger, St. Croix Promotion Manager. That ICAST voters acknowledged Legend Glass proves their forward-thinking and intelligence in understanding this new emerging rod category. Perceptions of fiberglass are about to change.
The difference, says St. Croix Director of Marketing, Jesse Simpkins, lies in the precision that results from marrying our 100-percent linear S-Glass with St. Croix proprietary IPC tooling. The S-Glass used in the new Legend Glass series is a highly refined fiber. It bears very little resemblance to glass of the past. Its lighter, stronger, and more precise.
When you grip a Legend Glass rod, you immediately note its weightuncharacteristically light for a glass rod, adds Belanger. When you cast and retrieve a crankbait through cover, and set hooks into a big bass, what really strikes you is the rods balance, backbone, and that familiar St. Croix feel factor.
"These are the rods serious crankbait fishermen have been requesting for a long time, says Bassmaster Elite Series pro, Stephen Browning. St. Croix stepped up to the plate and hit one out of the ballpark with Legend Glass. The Fuji K Series guides and super-grade cork handle allow you to feel everything your lure is doing. Without question, these rods represent the new age of crankbait fishing."
Ive been really amazed by the control Legend Glass rods lend to crankbait fishing, says Simpkins. Casting accuracy is remarkable. Ive even used the rod to precisely flip a jigalthough it isnt designed as a flippin rodand to effortlessly snake a squarebill through timber.
Delving deeper into the new glass discussion, St. Croix V.P. of Brand Management, Jeff Schluter divulges additional wand magic. The rodsmiths start with fine S-Glass fibers laid uni-directionally over a scrim material thats blended with a toughened epoxy resin. This refined S-Glass prepreg is precision-cut and expertly rolled on our proprietary, IPC-engineered mandrel, creating a lighter, more responsive fiberglass blank.
With a retrospective nod to the rods cosmetics, Schluter adds: Our desire was to bring the traditional glass appearance (honey-colored blank) forward into todays era by imbuing the blank with a touch of pearl pigment, creating a little pop and sizzle. We complemented the blank color with a retro-looking label to create a modern rendition of a classic look.
Composed of four situation-specific models, St. Croix Legend Glass casting rods employ Fuji K Series Concept Tangle Free guides with Alconite rings and polished framesideal for all line types. Fuji ECS or PSS-SD reel seats with frosted silver hood harmonize with super grade split-grip cork handles and Kigan hook-keepers. All Legend Glass casting rods boast 15-year transferable warranties backed by St. Croix Superstar Service. Retail prices range from $240 to $250.
This award is an acknowledgement of just how far St. Croix engineers and product development team are pushing themselves and new rod technologies, says Simpkins. Were moving into untested categories, where the real winners are our customers.
About St. Croix Rod
St. Croix Rod is a family-owned and managed manufacturer of high-performance fishing rods headquartered in Park Falls, Wisconsin with a 68-year heritage of USA manufacturing. Utilizing proprietary technologies, St. Croix controls every step of the rod-making process, from conception and design to manufacturing and inspection, in two company-owned facilities. The company offers a complete line of premium, American-made fly, spinning and casting rods under their Legend Elite, Legend Xtreme, Legend Tournament, Avid Series, Premier, Wild River, Tidemaster, Imperial and other trademarks through a global distribution network of full-service fishing tackle dealers. The company's mid-priced Triumph, Mojo Bass/Musky/Inshore/Surf, Eyecon and Rio Santo series rods are designed and engineered in Park Falls, Wisconsin and built in a new, state-of-the-art manufacturing facility in Fresnillo, Mexico. Founded in 1948 to manufacture jointed bamboo fishing poles for a Minneapolis hardware store chain, St. Croix has grown to become the largest manufacturer of fishing rods in North America.