The Rewards of Rod Selection
May 29, 2014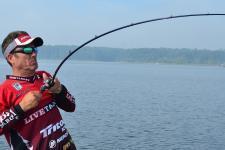 St. Croix Rod's Stephen Browning Busts Shallow Cover for Second Red River Win
Park Falls, WI (May 9, 2014)
When it comes to catching bass from flowing water, youd be hard pressed to find anyone better at it than Bassmaster Elite Series pro Stephen Browning.
Need proof?
How about taking his second title in a row from the Red River out of Shreveport, Louisiana, during the Bassmaster Central Open, for example. After all, its no easy feat getting enough big ol bucketmouths to smack when theyre holding tight to shallow-water structure for a win, let alone two years in a row.
Proof alone Browningwho has won well over one-million dollars fishing BASS, and will now be fishing his tenth Bassmaster Classichas what it takes.
Three unique tournament-winning techniques is what it took for the Hot Springs, Arkansas, resident to weigh in 15 fish for a three-day total of 44.3 pounds: ripping a shallow-running square-bill crankbait, roiling the waterway with a 1/2-ounce spinnerbait and bulls-eye flippin to wood in heavy cover.
The key to getting the bass to strike was making sure my lures were constantly making contact with cover; mainly driftwood lying on bottom in 2- to 4-feet of water on sandy points, Browning gives up.
All three methods of the river masters madness called for manhandling fish once they were hooked, demanding that every rig be harnessed to 20-pound-test fluorocarbon. Each lure, however, was linked to a different St. Croix rod.
Brownings preference for casting any crankbait is the 6-foot 10-inch Mojo Bass Glass Target Cranker a medium power, moderate action casting rod made precisely for those occasions. The 1/2-ounce spinnerbait, on the other hand, was zinged in on the 7-foot medium-heavy Legend Xtreme, while the same series 76 medium-heavy power, moderate-fast action proved perfect for flippin.
What I like about every St. Croix rod is how well they balance in my hand, and, the fact they are technique-specific.
The Target Cranker, for one, has a softer action thats absolutely needed for crankbaits; the rod loads during the strike and you dont have to set the hook like a madman, possibly pulling the lure from the fishs mouth. And the spinnerbait and flippin rods have the leverage that allows me to pull fish free from heavy cover before they are able to turn and take advantage of me.
To win an event in such a place is huge, says St. Croix Rod Promotions Manager Rich Belanger. And to win twice, back to back, is even more so. Were proud to have Browning on our elite team of anglers, representing The Best Rods on Earth.
About St. Croix Rod
St. Croix Rod is a family-owned manufacturer of high-performance graphite and fiberglass fishing rods headquartered in Park Falls, Wisconsin. The company offers a complete line of premium, American-made fly, spinning and casting rods under their Legend Elite, Legend Ultra, Legend Tournament, Avid Series, Premier, Wild River, Tidemaster, and other trademarks through a global distribution network of full-service fishing tackle dealers. The companys mid-priced Triumph, Mojo, Imperial and Rio Santo series rods are designed and engineered in Park Falls, Wisconsin and built in a new, state-of-the-art manufacturing facility in Fresnillo, Mexico. Founded in 1948 to manufacture jointed bamboo fishing poles for a Minneapolis hardware store chain, St. Croix has grown to become the largest manufacturer of fishing rods in North America.