The Rod Files
March 12, 2014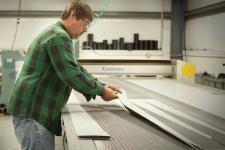 Expanded demand for USA-built rods and Legend Xtreme prompts positive growth
The year was 1964. Bellbottoms, bouffants and the Beatles were all the rage. Martin Luther King Jr. had just received the Nobel Peace Prize. And Cassius Clay had delivered his decisive TKO of Sonny Liston.
On the fishing front, Spoonplugging was hot off the presses, penned by one Elwood Buck Perry. Virgil Ward had won his second National Championship of Freshwater Fishing title. And Gordon Schluter unveiled the redesigned St. Croix Premier, a refined fishing rod destined for all-time greatness.
Exactly fifty years later, Liverpools Fab Four is as popular as ever, while St. Croixs American made rods remain enduring symbols of quality, class and distinction. At the Park Falls, Wisconsin based rod factory, business is booming, and recent expansion efforts have helped boost production and meet the rising demand for all its rods, including the Premier and Legend Xtreme series.
The St. Croix brand continues to grow, and weve noticed an increased demand for our U.S.-built rods, especially the last couple of years, remarked St. Croix V.P. of Brand Management, Jeff Schluter. The past two years, demand was so high we couldnt build enough to keep up.
In 2013, to meet the mounting demand, the Schluter family added approximately twenty new production staff; full-time employees dedicated exclusively to the day-to-day manufacture of St. Croix Rods. The result has been a 30-percent increase in the production of American made fishing rods, including the Premier. It can take months to properly train a new St. Croix employee, added Schluter. Its a real commitment in time and expense, but the result is a quality standard that endures from one generation of rods to the next.
Further demonstrating St. Croixs commitment to its own high standards, a new specialized room was built for the sole purpose of constructing handles for its award-winning Legend Xtreme rods. This climate-controlled Clean Room has been essential in the manufacture of the proprietary Xtreme-Skin grip, which requires intensive labor and highly specific atmospheric conditions. Schluter said the new Clean Room has yielded a four-fold increase in manufacturing capacity. In building the Xtreme-Skin handle, precise climate control and consistent air flow are essential.
To those who visit and tour the classic, now sixty-year-old Park Falls establishment, the rod crafting process appears to proceed like a well-oiled machine. And it surely does. Yet as with any successful business, growing pains beget tough choices, monetary gambles and ultimately, a pure vision.
Schluter: Weve made a long-term investment in the integrity of our brand. That means assuring we supply our ever-growing customer base with premium, American made fishing rods. But it also means maintaining St. Croixs superior quality and craftsmanship at every stage of the rod building process. Quality can never be sacrificed for quantity. On this, we will not compromise.
At St. Croix, were blessed with customers who truly appreciate the quality that comes out of Park Falls. Were extremely thankful to them for supporting St. Croix Rods as well as our heritage of quality American manufacturing for over sixty-five years.