Radical fishing rod evokes 'extreme' performance
July 10, 2014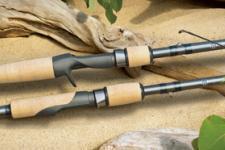 St. Croix's new Avid X series pushes the envelope of rod design
Park Falls, WI (July 11, 2014) To push the outer limits of whats possible; to go well beyond the ordinary, usual or expected; to exist at the furthest ends of the universe.
Few words evoke such tantalizing and spine-tingling imagery as extreme embodied by the X. Think ice climbing, base jumping, volcano boarding, kitesurfing, underwater hockey. In angling, you can travel to the outer edges of the piscatorial planet; hunt golden dorado in Argentina; bare-knuckle noodle for giant catfish in a gnarly river; heck, even hand-line a 200-pound tarpon if the mood grabs you. Or, you can achieve a similar sort of nirvana, simply by clutching and casting one of St. Croixs new Avid X fishing rods.
A seamless blend of innate fishability and avant-garde engineering, the Avid X derives its performance from St. Croixs exclusive high-modulus / high-strain SCIII graphite blanksthe same feather-light material used in the classic original Avid Series. Built with Integrated Poly Curve (IPC) tooling technology, these proprietary St. Croix blanks feature remarkably smooth actions with minimal heft, plus increased strength and sensitivity throughout. Avid X blanks meld utmost performance with unparalleled value.
Equally key to the execution of the Avid X is St. Croixs meticulous guide platforma perfectly calibrated combination of Kigan Z micro-guides that minimize weight and direct line flow efficiency. High-grade Z guides feature resilient zirconia rings with gunsmoke frames. Each is expertly wrapped with nylon thread and sealed with a double coat of Flex Coat slow-cure finish. From stripper guide to rod tip, each Z guide is placed at its optimal position on the blank. Avid X rods are perfectly balanced for incredible casting performance, says Jeff Schluter, St. Croix V.P. of Brand Management. The design features are dramatic and immediately beneficial to anglersnegligible line friction and zero slap, maximized casting and total smoothness throughout the blank.
Further aiding comfort and leverage are all new counterbalanced split-grip handles. Crafted with lightweight, select-grade cork, these customized handles provide a handshake-like fit in your palm. Accoutrements include Fuji reel seats with gunsmoke hoods, as well as a newly designed hook-keeper that secures a full spectrum of lures and hooks while eliminating line-wrap issues.
Designed and handcrafted in Park Falls, Wisconsin, the new Avid X series features 18 one- and two-piece spinning and casting models (all 2-piece models sport St. Croixs exclusive slim-profile ferrules.) With lengths, actions and powers built for extreme bass and walleye anglers, every Avid X (MSRP $200 to $210) is protected by a 15-year transferrable warranty backed by St. Croix Superstar Service. Schluter adds: Wickedits one word that fits the Avid X. As in, wicked good. Extreme? Yeah, but you dont need to jump off a cliff or travel to the far reaches of the galaxy to grip one and grin.
About St. Croix Rod
St. Croix Rod is a family-owned manufacturer of high-performance graphite and fiberglass fishing rods headquartered in Park Falls, Wisconsin. The company offers a complete line of premium, American-made fly, spinning and casting rods under their Legend Elite, Legend Ultra, Legend Tournament, Avid Series, Premier, Wild River, Tidemaster, and other trademarks through a global distribution network of full-service fishing tackle dealers. The companys mid-priced Triumph, Mojo, Imperial and Rio Santo series rods are designed and engineered in Park Falls, Wisconsin and built in a new, state-of-the-art manufacturing facility in Fresnillo, Mexico. Founded in 1948 to manufacture jointed bamboo fishing poles for a Minneapolis hardware store chain, St. Croix has grown to become the largest manufacturer of fishing rods in North America.