The Best Rods on Ice
November 03, 2020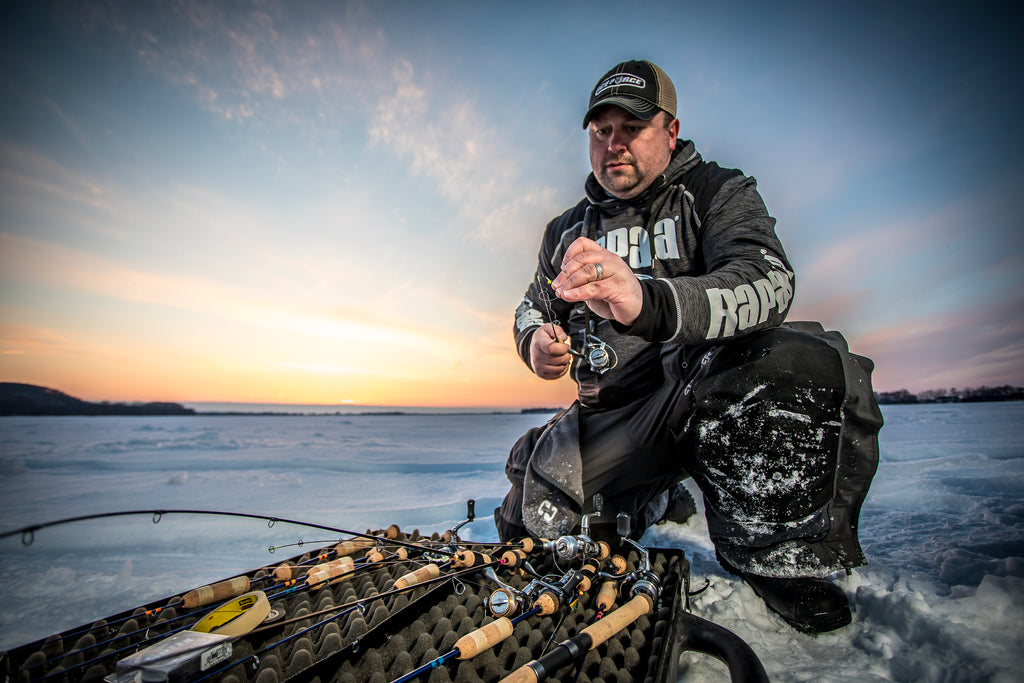 For power-jigging and some other ice fishing presentations, sometimes fast just isn't fast enough
Park Falls, WI (November 2, 2020) – Launched in 2018 and expanded in 2019, the technology-laden Croix Custom Ice (CCI) series is back for the 2020/2021 ice season with three all-new extra-fast models to meet the needs of the most discriminating ice anglers. Headlined by the EYE RAISER – a 38" medium power, extra-fast action rod (CI38MXF) – the expanded CCI series also includes a 30" medium, extra-fast HOUSE ROD (CI30MXF) model and a new 32" light, extra-fast PAN DANCER (CI32LXF) model.
Handcrafted in Park Falls, Wisconsin, the expanded Croix Custom Ice Series now offers anglers 16 technique-specific models featuring unrivaled technology for any hardwater pursuit. Feature-for-feature and dollar-for-dollar, the technology and performance engineered into this pinnacle, made-in-the-USA ice series set the standard – and remain the standard – for hyper-performance ice rods.
"St. Croix is known for making true, extra-fast rod blanks while keeping them durable and light," says St. Croix's Director of Manufacturing and Engineering, Jason Brunner. "We've built lightweight, extra-fast models in our longer, one-piece rods for several years now, and for the past two seasons, we've been applying the same technologies to the extra-fast models in our CCI ice rods. Our pros and anglers have been blown away by how well the new extra-fast EYE RAISER, HOUSE ROD and PAN DANCER rods perform."
Power Jigging Walleyes
Ideal for power jigging with baits as light as 1/8-oz., the new CCI 38" EYE RAISER and 30" HOUSE ROD models are crafted from a dynamic blend of carbon and glass patterns in a tubular construction (TCG), resulting in blanks that are extremely light and exceptionally sensitive, with tip flex for superior bite detection and the power necessary to control large predators.
Minnesota St. Croix Pro, Joel Nelson, has fished both models extensively. "For big fish, increased rod length becomes a real benefit, and the new CCI 38" EYE RAISER recognizes this. The reel seat is a great addition for a full size walleye rod. This 38" medium, extra-fast model is light enough in the tip to handle 1/8-oz. spoons and can easily move up from there.
"The EYE RAISER is simply the best rod I've fished for #5 Jigging Raps," Nelson continues. "You've got three things going for you: length, the right power for walleyes in general, and the extra fast action."
Nelson is especially bullish on the EYE RAISER for covering water with Jiggin' Raps and heavier jigging spoons. "The EYE RAISER is made to be fished fast; it's loud and proud… perfect for fishing for aggressive fish. It's the rod to reach for in the witching hour when it's absolute party time. That's when you should be covering a lot of ground, and this is the exact rod you need that when you're on the best bites on Mille Lacs, Leech, Lake of the Woods, Winnipeg or any of the other big walleye factories."
Nelson dives deeper on the unique, extra-fast action. "Everybody's used to the St. Croix extra-fast action fishing jigs in open water; the quintessential tight and crisp feel that you want for fishing a jig. Well, think of this as power fishing with jigs on ice akin to the open water side of things. Here's an ice rod that gives you the same feeling; you're ripping the bait with that extra-fast tip and knowing what the lure is doing at all times, because you feel it. When covering real estate hole-hopping, you're standing next to the hole more often than you're sitting or kneeling. Standing out next to the hole, most times you have some extra line out and it's often a windy environment. That's another place the extra-fast tubular action is incredibly important because the light weight and sensitivity really gives you an advantage. In those scenarios it's harder and harder to feel a bite. A lot of times you're fishing with gloves so wind, snow, ice, gloves – all that – robs your ability to feel bites. Not anymore. That's where having a rod like the EYE RAISER is so important for feeling these bites."
Nelson says the EYE RAISER's 38" length also plays a key role in hooking and fighting big fish. "The length is important when you load up on a big fish. You've got the hook-setting power with the flick of a wrist, plus the fighting length needed to absorb those big headshakes. And because it is tubular it's got a strong backbone to drill that hook through. Walleye ice fishing baits often have small hooks and walleyes have hard mouths. The EYE RAISER's length, power and action fit the scenario in ice perfectly. It's simply a power jigging machine."
"The HOUSE ROD is really interesting," says Nelson. "We're fishing more out of permanent shelters and portables these days, but are almost always going out hole hopping as well. The 30" extra-fast HOUSE ROD is a shorter version of the EYE RAISER. I's another phenomenal power-jigging rod, and the ideal rod for fishing big walleyes inside."
Shelter fishing remains a critical part of walleye fishing. Whether you're talking portables, a permanent you've had for years, an ice tent or hub, or a really extravagant wheelhouse, walleye anglers will always spend a good deal of time inside the friendly confines. "Angling in a shelter is a recurring theme for walleye chasers, and indoor, close-quarters combat requires the right length rod," Nelson says. "If the rod is too long, you're setting the hook into the roof, melting line on the heater, or putting the tip into the edge of a countertop. In a lot of shelters a 32" rod is still too long. You can fish with a 20" rod inside – those have been pretty standard – but every inch counts when you have a big fish on the line with wide head shakes and powerful tail thrusts. A shorter rod means those big fish can more easily put slack into the line a or leverage a heavy bait out pretty quickly. The 30" HOUSE ROD really hits the sweet spot. It doesn't feel like a tiny, sawed-off wand, and it's not too long that it gets in the way."
Nelson is a big fan of the HOUSE ROD's full-handle design, and  considers it a key component of the rod's overall design and performance. "It's consistent without too many edges, bumps, pickups, or separations. That's why a split-grip rod isn't really great for rod holders. No matter the rod holder, there's just more for a split-grip to get caught on. So the HOUSE ROD is designed to fit well in any holder, or your hand."
In Nelson's mind, the very best thing about the HOUSE ROD is how well it fights fish. "You're able to get in and out of the hole really quickly with this rod. It's perfect when you're busy. When I'm in a fish house I'm setting up other rods, setting up rigs for my kids, I'm outside checking tip-ups, I'm fiddling with propane or gas in the generator. You're constantly going in and out so you want a rod that goes in and out the hole quickly and easily."
Fellow Minnesotan and St. Croix pro, Tony Roach, chimes in on the handle designs for the new CCI EYE RAISER and the shorter, 30" HOUSE ROD. "What I love about St. Croix is it listens to anglers, and a lot of anglers want full cork grips with reel seats on bigger fish rods," he says. "Absorbing those thumping head shakes on heavy braid without worrying about reels moving is important, so having a reel seat on the EYE RAISER was the way to go. And the full-cork grip on the HOUSE ROD was key, too. Whether putting it in a rod holder in a shelter or putting it in a dead stick holder on the open ice, it's a detail that St. Croix engineers could have easily overlooked, but didn't. These two new rods have been built exactly for what anglers need them to do without worrying about whether or not they look like the rest of the rods in the lineup. Isn't that what the word custom is all about?"
Dances with Panfish
Another new CCI rod favored by Roach is the 32-inch medium power, extra-fast action PAN DANCER (CI32MXF). "This split-grip, extra-fast rod is optimal for all sorts of panfish presentations, but especially with jigs and spoons," he says. "St. Croix's SG (solid glass) construction gives the ideal taper for bite detection without compromise to control or hook-setting ability. Any die-hard panfish enthusiast will instantly recognize this new 32" model as a new favorite."
Nelson agrees. "Control is everything in so many panfish presentations, especially with small spoons. The new PAN DANCER delivers so much control, you can even fish this rod standing up in a moderate wind. It's a beautiful rod that's a joy to fish with."
Nelson says the PAN DANCER's generous length works well with its unique, extra-fast action, ultimately allowing the rod to accomplish what others cannot "Most panfish rods are 24", 26", or 28" in length and have a fiberglass tip that tends to get sloppy," he says. "St. Croix's extra-fast action alleviates that issue, and the extra length helps create a better dance on jigs. With plastics and tungstens, you've gotta have good wag. Tony Roach calls it the 'dance', and it's the length of the rod that's critical in getting that dance and that tail wag as the jig drops. Without getting that flicker, there's little reason to fish plastics. There's no slop in the PAN DANCER; it's long and fast enough to offer that seductive jig dance while remaining light and sensitive for bite detection. The rod offers the finesse and control necessary to consistently put panfish on the ice with a variety of popular presentations."
Nelson fished has fished the PAN DANCER both inside and outside. " I was especially impressed with the rod's performance outside. A lot of panfish rods suffer in the wind. It's like when you're fishing a 7'6" rod trolling live bait – wind can rob your ability to detect bites. With the PAN DANCER, St. Croix has successfully designed a rod that doesn't blow around. Everybody loves fishing longer rods on camera and getting that sexy parabolic bend but it can be for show and not for dough; it's form over function. But this PAN DANCER delivers the extra length that's so helpful in finesse presentations and fighting fish, without creating a rod that's sloppy in the wind."
St. Croix pro, Hunter Rudd, brings additional perspectives on the PAN DANCER. "I fish the Mississippi River mostly for perch, crappies, and bluegills through the ice," he says. "I fish outside most of the time and don't use a shack so the line can get iced up but it easily comes through the guides. The neon tip stands out, too, even on those blinding snowy days. With the extra fast tip you can sense pretty much any bite – even super small nibbles – and the backbone of the glass blank is just great. The stray northern, bass, or dogfish is no threat to this rod; I've caught all those species on the PAN DANCER without any issues. I fish spoons, live bait, and some pretty small micro-jigs. All these presentations fish great on the PAN DANCER. Even with micro-jigs, you can feel every little movement. The blank is just phenomenal. I've caught a lot of big perch on it and the rod handled the fish super well. It's an all-around great rod and the first rod that I grab now. Everything from big 'gills to bass, this versatile rod handles everything like a champ."
NEW St. Croix CCI Models
CI30MXF HOUSE ROD, 30", medium power, extra-fast action spinning, Tubular Carbon Glass (TCG) construction / Retail $140
CI32LXF PAN DANCER, 32", light power, extra-fast action spinning, Solid Glass (SG) construction / Retail $140
CI38MXF EYE RAISER, 38", medium power, extra-fast action spinning, Tubular Carbon Glass (TCG) construction / Retail $150
St. Croix CCI Features
Proprietary blank technology built into each model for extreme performance, including Solid Carbon (SC material), Solid Glass (SG material), Tubular Carbon (TC material), Tubular Carbon / Tubular linear S Glass (TCG material), and Tubular Carbon Fused to Tubular linear S Glass (TCFG material)
16 technique-specific models feature unrivaled technology and performance
REC Recoil guides with black pearl finish
Split-grip or full grip / super-grade cork handle
Two coats of Flex-Coat slow cure finish
5-year warranty backed by St. Croix Superstar Service
Designed and handcrafted in Park Falls, Wisconsin, U.S.A.
Retail price $130 to $160
St. Croix Rods handcrafts rods that give anglers the upper hand in ang angling situation. And when it comes to power jigging – along with many other ice fishing presentations – sometimes a fast action just isn't fast enough. We've put our 70+ years of engineering and craftsmanship experience to work in developing the most advanced line of technique-specific high-performance ice rods available today, several of which are built on extra-fast action tubular blanks, and all are made right here in the USA. See what Croix Custom Ice rods can do for your ice fishing this season. Check out all the CCI rods at your favorite St. Croix dealer, or learn more at stcroixrods.com.