Meet Our Machinery
Joel Nelson
November 11, 2020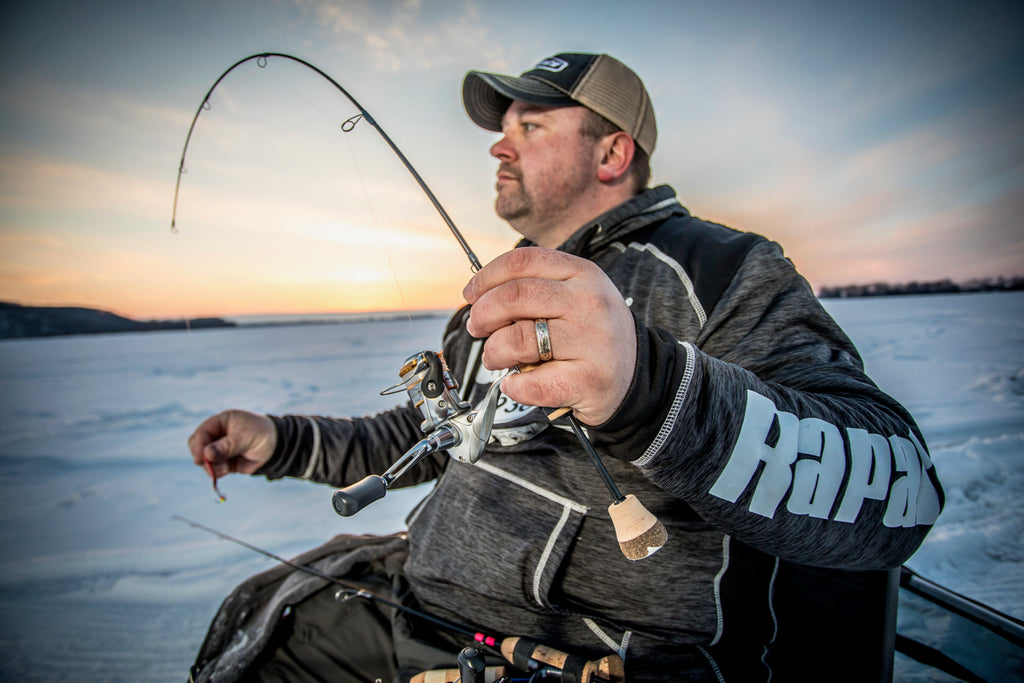 St. Croix Rod Pro Staff Member and Fishing Promoter, Joel Nelson
What's the key to making the Best Rods on Earth®? Some say it's the experience and knowledge St. Croix has earned from handcrafting fishing rods in the USA for over 72 years. Others say it's the result of ownership by the same passionate family for the past 43 years. We say it's largely due to the simple fact that our company has always been – and always will be – angler driven. That means working hard every day to make engagement with anglers a top priority.
St. Croix pro-staffer, Joel Nelson, is just one of those anglers. The Cannon Falls, Minnesota resident has officially been on staff with St. Croix for five years now, but his roots with the company go back over 20 years to a time when he was a freshman at Northland College in Ashland, Wisconsin.
"I was a poor college student in 1997 when I had my first experience with St. Croix," recalls Nelson, who recounts making his first few trips to the nearby St. Croix Factory Store in Park Falls. "I'd go digging through the barrels of B- and C-stock stock rods, scooping up anything I could afford, because it was all so much better than what I'd been using. I remember fishing for suckers on the White River with my first St. Croix rod… someone had slammed the tip in a car door or something and St. Croix had shortened it, stuck a new tiptop on in and put it in the barrel. Suddenly, I could feel every rock and every bite. It was an eye-opening experience. I became an enthusiastic St. Croix fan overnight, and that enthusiasm has grown every year since."
As his fishing universe and notoriety expanded, Nelson pulled no punches about his passion for St. Croix rods. "I expanded my fishing to the big waters of Lake Superior and increased my arsenal of St. Croix rods… for bass, walleye, trout and salmon and also fly fishing. I spent a year after college working for the National Park Service in Yellowstone and did a little guiding," he says. "I came back to Minnesota and fished a lot on the Mississippi River. I had become a passionate angler and I started writing more and speaking up on the internet fishing forums. People were interested in what I had to say. I started doing a bit of TV and speaking at sports shows. St. Croix noticed this guy doing stuff and using their rods.
"While I had been busy learning how to be a better angler and sharing my experiences, St. Croix had been doing the same thing… continuing their drive to improve what were already incredible fishing rods'" Nelson continues. "They reached out to me about five years ago and we formalized the pro-staff relationship we have today."
While communications platforms have evolved, Nelson's current work within the fishing industry looks a lot like what it always was from the start. "It's still a lot of writing and teaching in different formats such as YouTube, TV segments, seminars, podcasts, in-store events, and now in the era of COVID, a lot of webinars," he explains.  "I come from a long line of educators and teaching is the most important thing for me. I have learned so much from other great anglers and feel it's my duty to share those experiences and learning moments because so much has been given to me."
This passion for teaching is exactly what attracted – and continues to attract – St. Croix to Nelson. "Joel is firmly aligned with St. Croix's mission of giving anglers the upper hand," says St. Croix Director of Marketing, Jesse Simpkins. "We do that through our rods and Joel does it through the information, experience and expertise he so freely shares. We have Joel deeply involved in product testing and new product development because of his expertise, but also because he's not a 'yes man'. There's too much of that in the fishing industry these days and in our opinion it doesn't do anglers or the companies any good. Joel doesn't fish competitively, nor is he sponsored by us, so there's no pressure for him to speak anything but the truth. He's a brutal rod reviewer!" Simpkins adds, "but that's one of the things we appreciate most about him."
"I do get involved with product development, testing, comment and review of new rod designs," Nelson confirms. "I have 'nitpicky' things that are very important to me that I know are important to a lot of other anglers as well… guide train designs, handle designs, etc. I'm honored to have St. Croix listen to my thoughts, and it's satisfying because we're working together to create products that improve the angling experience."
When asked about his favorite kind of fishing, Nelson has difficulty answering. "Choosing one would be tough," he says. "If it's just me and my boys, I'd have to say chasing big bluegills and crappies would be near the top of the list. I've always had a thing for big panfish and it was a lot easier to find those special lakes that had them in the past. Panfish as a specialty is increasing in popularity, so consistently finding big ones is becoming more challenging. St. Croix makes exceptional rods specifically for panfish, so telling their story to walleye, bass and musky anglers who have dozens of good rods, but no top-quality panfish rods is one of my favorite things to do. Same thing with ice fishing."
Outside of fishing, Nelson, who is married with 12- and 15-year-old sons, looks like a bit of a Renaissance man. "I'm kind of a jack of all trades," admits Nelson, who says many of the things he enjoys most in life are connected to the four seasons. "I'm a turkey hunter, I work for the University of Minnesota, I'm a mapping nerd, music aficionado, and I love to cook," he says. "I just made a batch of wild plum jelly, because I like to do what's in season. Multi species angling fits in well and I also enjoy travel, especially to fish in salt water."
Nelson loves fishing with his kids, but admits his boys didn't initially share his passions for the activity. "Yeah… so I made some mistakes and found out I was a little too intense! I'd get them out on the water and just assume they had packed warm clothes, snacks, had their gear in order, that they like really liked my music playlist… you know, that they were ready to just catch fish and enjoy a 12-hour fishing day just like I was. Oops! Thankfully, they've gotten better and I have, too. We really enjoy our time out there together now."
Nelson says St. Croix's legacy is one of the factors he appreciates most about the company and its products. "You don't wake up one morning and decide you're going to make good rods," he says. "They already made great rods when I was introduced to the brand in the 90's, and the company's legacy has continued to expand. When I took the factory tour, it really opened my eyes. They are literally building these things by hand… craftspeople making each one from scratch… not stamped out like spacely sprockets. I always knew their rods were great, but after the tour I understood why. Their technologies, materials, design and manufacturing processes, and people make it nearly impossible for me to even think about fishing any other rod. We've grown to have an incredible partnership, and I'm more excited than ever about what's around the next corner for anglers from this great American company."