St. Croix Rod Supports Anglers with New Park Falls Distribution Center
January 12, 2023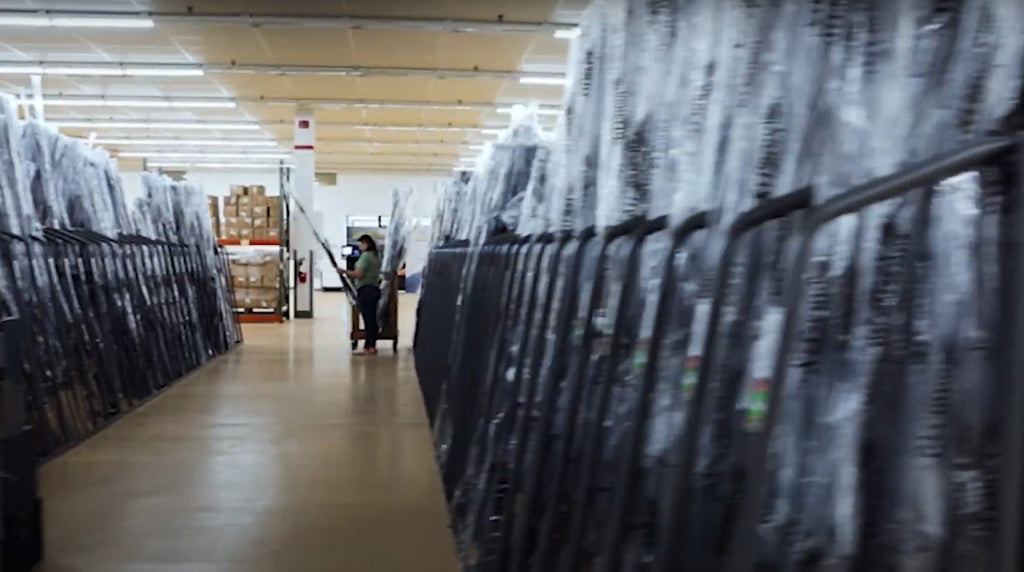 Anglers and dealers receive the Best Rods on Earth faster than ever
Gordon Schluter invested in St. Croix Rod in 1960 and once again in the late 1970's, a time when he and his wife, Irene, could have settled into a comfortable retirement in New Mexico. The company was struggling, and when the people of Park Falls, Wisconsin needed him, Gordon answered the call on both occasions. Throughout the nearly five decades since, St. Croix Rod – under the unbroken leadership of the Schluter family – has served as a touchstone for anglers throughout the world, as well as nearly everyone within the tightly knit community of Park Falls. 
"When the Schluter family interviewed me a few years back, I didn't know how committed they were to Park Falls, so I asked," recalls St. Croix CEO, Scott Forristall. "They told me St. Croix would always make fishing rods in Park Falls, Wisconsin. That's how important the community is to our company and our brand." 
Nearly four years later, St. Croix Rod handcrafts more of the Best Rods on Earth than ever in both its Park Falls and St. Croix South factories. And thanks to centralized warehousing and shipping via the company's new Park Falls Distribution Center, those rods are now getting into the hands of anglers more quickly and efficiently. 
"The team did quite a bit of research and completed an assessment of our warehousing needs," says Alex Ogurek, St. Croix Vice President of Operations. It turns out the 41,300-square-foot building for sale on the South end of Park Falls – formerly a Shopko retail store – had the footprint and location we needed for improved inventory management while supporting an expanded fill rate. It really was a win-win – good for St. Croix and our anglers, and good for the Park Falls community." 
Ogurek says St. Croix assumed ownership of the vacant retail property in February of 2022, then completed the herculean move of its inventory and fulfillment staff over the course of a single weekend last summer. "We moved over a weekend so we wouldn't interrupt service to our anglers," he says, adding that the new Distribution Center – despite currently housing over 100,000 rods – still has scalability. "All rods from both factories come to the DC now – thousands of rods every week – but we still have space to grow. Facilitating that growth in ways that improve service to anglers has been our guiding priority and will continue to govern the operation and expansion of the DC moving forward." 
Ultimately, St. Croix's new Distribution Center benefits anglers through improved inventory management and higher stocking levels, both of which support faster and better order fulfillment. "We used to pick and ship orders right at the factory, but we didn't have much room and the rods were tightly packed in horizontal bins," says Karrie Smith, who leads a team of 12 at the St. Croix Distribution Center. "In addition to having much more space at the new DC, we also now have more efficient vertical bins. The new storage configuration means my team doesn't have to handle the rods as much. Orders are easier and more efficient to pull. We have scanners and tablets that allow us to pull up to ten orders at a time; it's so much faster. We average around 500 orders a day, so it really is an important thing for our anglers. Having the extra space to place more rods in inventory is a very positive thing, too. It helps us get the Best Rods on Earth into the hands of our enthusiastic anglers with fewer delays." 
St. Croix Rod has been a social and economic anchor within the City of Park Falls for 75 years, and the company's new Distribution Center is the latest, outward example of this fact. 
"When building a team to promote and support better service to our anglers, growing from within can offer distinct advantages," Forristall says. "The decision needs to make sense on its merits, but when it's possible, promotion from within helps preserve company culture, which – for a brand like St. Croix where all focus is placed on the angler experience – carries a lot of weight. The fact that we could find, adapt, and use a vacant property that helps us improve our efficiency – right here in Park Falls, the center of our brand's culture and history – is an example of another way of growing from within, and it's something we're very proud of."