St. Croix Technology That Elevates Performance
SCIV+
January 12, 2023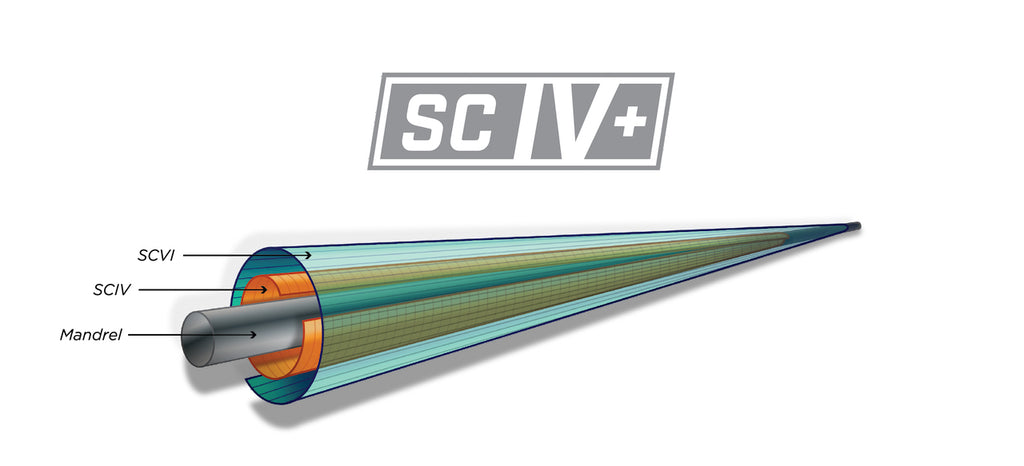 Material: SCIV+ Hybrid Carbon Fiber
Applications: Primary Rod-Building Material
Primary Benefits: Rods That are Lighter, More-Sensitive, Supremely Balanced and Technique-Optimized
Used On: Legend Tournament Bass, Legend Tournament Inshore, Legend Tournament Musky, and Legend Tournament Walleye
What Exactly is SCIV+?
Exclusive to St. Croix, SCIV+ is a hybrid carbon fiber material combining high modulus SCIV carbon and super-high modulus SCVI exotic carbon. The material was first used on St. Croix rods this past year on the reengineered Legend Tournament Bass, Legend Tournament Inshore, Legend Tournament Musky, and Legend Tournament Walleye Series. These materials are combined in proprietary percentages, locations, and combinations when they are rolled onto the mandrels to create each distinct SCIV+ blank. The exact combinations of SCIV and SCVI are based on exhaustive research and testing for each blank's specific length, power, action, and intended technique. 
"By itself, SCIV carbon already delivers extreme lightweight performance and sensitivity," says Jason Brunner, St. Croix Vice President of Research and Development. "When combined with exotic SCVI carbon – which is extremely stiff, light and rigid – we can produce lighter, more sensitive and better-balanced rods that excel in technique-specific applications without sacrifice to strength or durability."
How Exactly Does SCIV+ Improve Performance in Technique-Specific Applications? 
Brand Manager, Ryan Teach, says SCIV+ gives St. Croix engineers the ability to increase rod performance in several ways. "Because SCVI is lighter and stronger, a very thin application of it allows us to use less SCIV material, which has the effect of dramatically reducing overall weight without increasing rod diameter, while also increasing sensitivity. We use our SCIV+ material in conjunction with other technologies like ART (Advanced Reinforcing Technology), FRS (Fortified Resin System) and IPC (Integrated Poly Curve Technology) to ensure maximum strength and durability." 
Most significantly, perhaps, Teach says SCIV+ also allows engineers the ability to dial-in action and weight at any location along the length of the blank. "SCIV+ gives us the ability to produce rods for anglers that have optimal flex characteristics that support specific techniques and presentations much better than any homogenous material could. We make them stiffer here and more forgiving there to produce the exact characteristics our anglers ask for. It also allows us to add or remove weight at different locations on the blank to produce rods that are supremely balanced." 
Many St. Croix rod series offer anglers the benefits of hybrid materials. SCIV+ is the very latest, delivering extreme lightweight performance, exceptional balance, and the customized flexural characteristics to support optimal performance in any presentation or technique.