New Year, New Inshore Angling Opportunities
Part One
January 12, 2023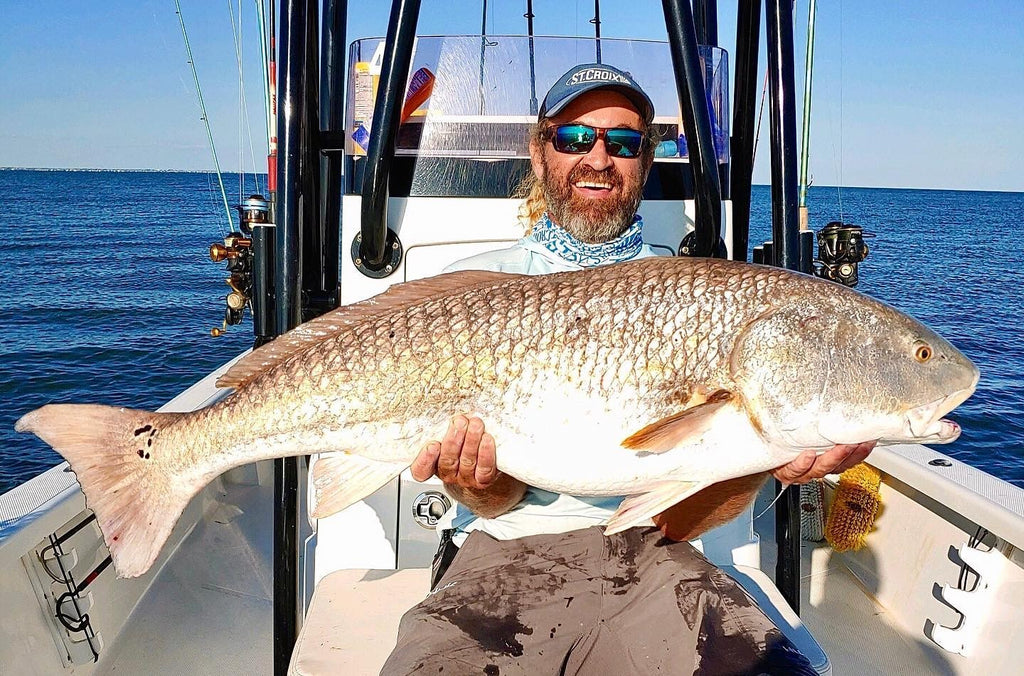 Captain Justin Carter on Atlantic-coast redfish and bonus cobia
Welcome to 2023; it's a new year brimming with angling opportunity. For inshore anglers, that means twelve new months of taking shots at familiar, favored species. But what about others that may not be a part of the regular repertoire? 
Senior Guide at RedFin Charters, Captain Justin Carter plies the inshore and nearshore waters around South Carolina's Charleston Harbor. Day in and day out, redfish are the main attraction, but Carter intercepts a variety of other species throughout a season on the water, including speckled sea trout, tarpon, black drum, flounder, snapper, grouper, sharks, king mackerel, and cobia, to name a few. Captain Justin knows how to make his angling customers happy. The formula? Put the best possible gear into their hands and place them within casting distance of fish that pull hard and are ready to eat – whatever the species may be.
Carter's Redfish Calendar 
"I start the year with redfish schooled up in clear water," Carter says. "We have three rivers flowing into Charleston Harbor and typically they'll be running clear below 55 or 60 degrees, as long as we don't have any heavy flushes." Carter says he often finds winter reds schooled up in groups of 50 to 300 along oyster bars in water with visibility between four and six feet. "The fish are spooky; they can see you and are dialed into what's natural and anything that isn't, so we're usually running 10-pound fluorocarbon leaders and making long casts with small lures like Z-Man TRD MinnowZ and 3" Slim SwimZ… anything with a smaller profile in lighter, natural colors. The bite is often just a subtle pick up." 
Carter says rods need length and fast tips to make long, accurate casts, as well as a high degree of sensitivity to telegraph light bites. They must also have the power to keep the feisty fish away from trouble spots. "St. Croix's new Legend Tournament Inshore rods check every box," Carter proclaims. "Specifically – for winter fishing – I'm using the 7'3" medium-light power fast action ITLS73MLF spinning model. I feel a special connection to these rods. I was a lead tester and have been fishing them for about a year and a half now, well over a year before we decided they were everything they needed to be in the hands of inshore anglers. Like the rest of the rods in this series, the ITLS73MLF is incredibly light and sensitive. Pick one up in a shop and you'll start to get a sense of what I'm talking about, but you've got to put a reel on and fish them before you can truly appreciate them; the backbone they have for their weight is like nothing else I've ever fished." 
When speckled trout are in the mix, Carter says he'll move down to the light power rod (ITLS73LF) in the new Legend Tournament Inshore Series. "It's the ideal rod for bombing light jigs to trout and still has plenty of backbone to handle our average size reds at this time of year," Carter says. "I'm using 2500-size spinning reels with ten-pound fluorocarbon leaders on both these rods for our cold-water clear-water bite that usually last through St. Patrick's Day or so." 
By mid-March, Carter says water temperatures are typically around 70-degrees, and the big redfish schools start to break up and begin feeding on the abundant crabs that are waking up and emerging from the mud. "The fish are hungry, and you can have lights-out fishing, but spring cold fronts present a problem," he says. "Fishing those perfect window days during a warming trend is important. Hit it right and you'll find fish eating on every cast. I start to upsize my lures during this period and find myself fishing a lot of Z-Man TRD HawgZ on FinS Weedless Ned head jigs under a half-ounce in weight. I'll also up my leader to 15 or 20-pound fluorocarbon attached to 20-pound braided mainline. The 7'3" medium-power Legend Tournament Inshore is still my rod of choice, with plenty of backbone for reds up to 35 inches without overpowering those smaller 16-18-inch fish." 
April usually brings the peak spring bite around Charleston Harbor. "Everything is awake and moving around," Carter says. "Peanut bunker are abundant, holdover mullet are active and shrimp start to flood inshore. Topwater baits really come into play at this time, too, along with stick baits for trout. A slightly shorter, medium power, fast action ITLS70MF rod is ideal for both of these presentations." 
As waters continue to warm, Carter says tailing reds provide exciting opportunities for anglers by the end of April and into May, while big bull reds start to show upon the jetties at the same time. "Water temperatures are in that 80-degree range, so when you fish becomes more important," Carter advises. "Mid-day aggression starts to drop off in the warmer water, so fishing early or later in the day can be the best bet. I'm throwing a lot of 4" DieZel MinnowZ, live crabs, and two-and-a-half-to-three-inch live or cut menhaden." 
Tailing reds in the grass continues to be the name of the game throughout the summer. "We're sight fishing to shallow belly crawlers pushing up the creeks and into the grass," Carter says. "They're mostly eating the abundant shrimp early but make a pronounced switch to mullet come July and August. Paddletails and jerkbaits are a lot of fun to fish and get great results." 
Come August and September, the big bulls are spawning, and Carter and company start pitching live baits into the rocks for fish that can exceed 45 inches. "I'm upgrading tackle accordingly and delivering these presentations on the 7'11" medium-heavy power, fast action ITLS711MHF Legend Tournament Inshore spinning rod," he says. "These are heavy, powerful fish that fight like amberjacks out on the reef, so you need big power to control them. The 7'11" medium-heavy is the goldilocks stick here, with ample power that doesn't seem possible in a rod this light in the hand." 
Carter says the redfish bite only gets better as fall progresses. "As the bait starts to push offshore, the fish start to realize they've got to feed whenever they can," he explains. "Artificials are all an angler really needs."
Carter on Bonus Cobia 
Captain Justin says cobia are rapidly becoming his ace in the hole when it comes to putting clients on large, hard-pulling fish. He says he gets two populations, which combine to make cobia catches aboard his boat a spring through fall proposition.    
"Migratory fish show up in the springtime and stick around relatively shallow through the summer.  They're sometimes here as early as late April, but sometimes it's late May," Carter says. "They like to migrate on a southerly wind, almost surfing the waves near the surface, and when that south wind changes, then they station up wherever they can." Carter says he's typically looking for these early cobia in 35 to 60 feet of water, but occasionally closer when they come into the Broad River to spawn. "Sometimes they're on the jetties, too," adds Carter, who says these shallower areas can produce some good redfish, too, which makes for some exciting days on the water. 
Carter says his second cobia bite takes place out in 80 to 120 feet of water as the water starts to cool in fall. "These fish winter in water as deep as 400 feet, but tracking studies show they move east or west based on water temperature," he says. "When water temperatures get below 70 degrees, they typically push out past 120 feet, which is beyond my practical range for guiding anglers, but a warming trend can push them back inside my window." 
Wherever fishing cobia shallow or deep, Carter gets a chum slick going. "Once we have some scent in the water, I'm only using two presentations to target the cobia and other pelagics that show up. I'm drifting live bait in the slick and also pitching lures," he says. 
Carter uses 7'11" medium-heavy power, fast action St. Croix Legend Tournament Inshore spinning rods (ITLS711MHF) for his drift presentations. These are rigged with live free swimmers to tempt cobia, false albacore, mahi, and other species up high. He uses 7'11" heavy power, moderate-fast action Legend Tournament Inshore spinning rods (ITLS711HMF) for his pitch setups, offering artificials to cobia and other eaters that show up in the slick or around the boat. "Our typical pitch baits are 1.5-to-2-ounce jig heads rigged with 7" Z-Man DieZel MinnowZ, hair jigs, or custom 8" 2-ounce articulated feather jigs," says Carter, who caught a cobia pushing 60 pounds on one of his pitch rigs late last fall. "When these fish show up around the boat there's usually just a short window to offer them something," he says. "Fail to keep their interest by putting something in front of their face and they move on as quickly as they showed up." 
Carter rigs similarly on both drift and pitching setups. "It's usually 40-60-pound fluorocarbon leaders and 40-50-pound braid on 4500 or 5000-size spinning reels for pitch rods, and the same setup but 12000-size baitrunner reels on the drift rods," he says. "When we're pitching, we're just swimming the baits or doing a lift and a fall. They'll often take the lure on the fall. These new Legend Tournament Inshore 711HMF rods are the ideal tools for this job whenever big, powerful fish are around the boat. The fast tips on these rods deliver baits into the strike window accurately, and the moderate-fast action soaks up the shock of violent strikes and headshakes when you may only have a short amount of unforgiving braided line between you and the fish. But most importantly, these rods have the power to beat the will of big fish while remaining incredibly – almost unbelievably – light in the hand, so they're very easy rods for my clients to manage. As good as the old Legend Tournament Inshore rods were, this new generation of SCIV+ carbon rods are between an ounce and an ounce-and-¾ lighter, depending on the model. You can feel the difference. The previous series was great, but these are better. Also, I always felt the previous generation Legend Tournaments were a little more powerful than their labeled ratings. These seem truer to their labels. They are accurate, markedly lighter and even more sensitive with powerful backbone across the entire series." 
The best anglers know that fishing is never about what happened last month, last week, or even yesterday; it's about what's happening right now and being prepared to switch gears and capitalize. That means having the right gear – rigged and ready – for not only your target species, but anything else that may swim within casting range. Reengineered to be lighter, stronger and more balanced for elevated fishing experiences with any species along any coast, the expanded series of 19 all-new Legend Tournament Inshore rods exude technical excellence that checks every box. 
Follow Captain Justin Carter on Instagram.