St. Croix Rod Employee Spotlight
Justina Edwards
July 30, 2019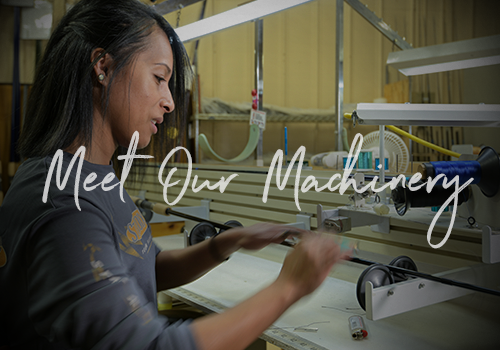 Walk through the doors of the St. Croix headquarters in Park Falls, Wisconsin, and you're never far from a master rodbuilder—artisans like Justina Edwards, whose job it is to wind guides across the many diverse lines of American-made St. Croix rods.
Now going on her tenth year with the company, Justina had a career in plastics technology but says working at St. Croix is unparalleled. "Working at St. Croix is a blast. I like how I feel. I feel like I belong. There's definitely a family vibe. Just being part of that has been a blessing to me," says Justina.
She continues: "St. Croix has been an incredible company to work for. Their messaging to anglers that we manufacture 'The Best Rods on Earth' is something I take very personally. I take pride in my work, and I enjoy teaching others what I do in terms of rod building. St. Croix has given me a lot of great opportunities. Again, it's a blast!"
Justina's craft is winding guides on rods as well as training home guide winders, those people who do rod work from home work stations. She's also traveled a good amount to conduct seminars on guide winding throughout the U.S. "I do travel around the country doing seminars that teach aspiring rodbuilders how to wind. So I've been very busy with that, too. My biggest seminar was in North Carolina, where I did a seminar at the International Rodbuilding Expo with over 100 attendees. That was a great experience."
As far as her day-to-day responsibilities in the Park Falls factory, before the rods get to her winding department they spend time in marking where all the measurements are made for precise guide placement. She and several other winders then line up the guides and put the winding on. Following her duties winding on guides across all the U.S.-made St. Croix rods, the rods then go to a department that performs laser-aided guide alignment. Following alignment, rods go to finishing, inspection, and are then bagged and shipped to the warehouse. 
"It's a great job, and I absolutely love what I do, knowing that I take part in the process that will end up as perfect rods of all types that will help anglers around the world catch more fish," says Justina.
With regard to fishing, Justina says, "I love fishing. I fish for fun. Whatever bites, I'm game. As long as I'm catching something I'm good to go. I do a lot of skipping under docks, and I just learned to do dock shooting. That's all a lot of fun. Right now I'm using the AVID X for dock shooting, which is a rod series that I work on. I also fish with Mojo Bass rods quite a bit. I love to fish as a family and take out my 11-year-old daughter, Elisiana, every chance I get."