LEGENDS OF THE FALL… OR ANY OTHER OPEN
WATER SEASON
September 04, 2019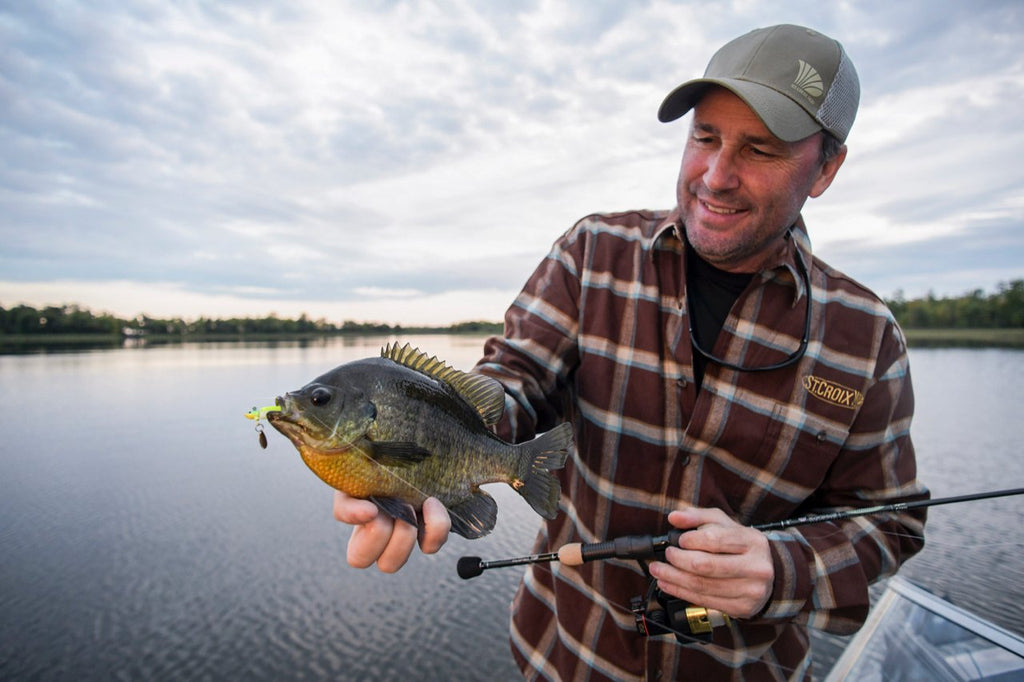 Five new Legend Elite Panfish rods direct premium technology to the pursuit of plus-sized panfish 
 
The all-new Legend Elite Panfish Series features five spinning rods – each designed for extreme sensitivity to detect the subtlest of strikes – combining the lengths and actions needed to deliver lighter baits and lures with the strength and durability required to manage autumn's trophy-sized specimens.  
Panfish species unite anglers throughout the country and beyond through the passionate pursuit of some of the most popular fish that swim. Renowned for the sport they provide on light tackle and prized for their delicacy on the table, crappies, perch, and sunfish serve as the entry point for those exploring fishing for the first time, while also remaining dedicated targets for panfish purists who never abandon the search. 
Techniques for targeting panfish have come a long way since the days of the red-and-white bobber suspending a chunk of worm. Indeed, contemporary panfish hunters now employ dynamic, mobile presentations – applying insights learned from tournament circuits and from the bass and walleye crowd – to target the oversized specimens that other anglers overlook. At the heart of many of these techniques are highly specialized rods designed for extreme sensitivity to detect even the subtlest of strikes. Lengths and actions are varied, as required to present compact baits and lures, while delivering the power necessary to subdue the largest individuals in the school – and even the bigger predator fish who are hunting them as well. 
 Just in time for the fat fish of fall, the artisan rod crafters at St. Croix remind panfish hunters of their new Legend Elite Panfish Series – five new spinning rods that master panfish-specific presentations using St. Croix's entire library of proprietary technologies. Each model is designed and handcrafted in Park Falls, Wisconsin to help crappie, bluegill and perch hunters catch more fish and have more fun, every time they hit the water. 
Legend Elite Panfish includes two ultra-light power, fast action rods that are perfect for approaching shallow, spooky fish with slip bobbers: the 5'6" LEP56ULF and a longer 6' LEP60ULF. 
Two light power, extra-fast action Legend Elite Panfish rods are outstanding choices when casting, drifting or trolling light jigs dressed with soft plastics: the 6'4" LEP64LXF, and the longer 7' LEP70LXF. The sensitivity and extra fast tip of these rods render them uniquely capable of detecting the lightest of bites. 
Casting and trolling very small crankbaits for trophy-caliber crappies has skyrocketed in popularity, as more anglers have witnessed the power and efficiency of this mobile presentation. The Legend Elite Panfish Series includes a 6'9" light power, fast action model – the LEP69LF –  that suits this technique perfectly, as its length and fast action tip help to prevent small crankbait hooks from pulling free from paper-thin crappie mouths. 
LEGEND ELITE PANFISH MODELS 
5'6" Ultra-

Light Power, Fast Action (LEP56ULF)

6' Ultra-

Light Power, Fast Action (LEP60ULF)

6'4" Light Power, Extra-

Fast Action (LEP64LXF)

6'9""

Light Power, Fast Action (LEP69

LF)

 

7'" Light 

Power, Extra-

Fast Action (LEP70LXF)

 
Extreme panfish fan and St. Croix Rod pro, Brian "Bro" Brosdahl, is enthralled by his early experiences with Legend Elite Panfish rods. "Some of my favorite trips every year are the ones I can dedicate to chasing bull gills, slab crappies and jumbo perch," he says. "These fish are the oldest, smartest, and most wary fish in their lakes, and are under the most pressure from anglers. To catch them consistently, I need rods that are not only extremely light and sensitive to cast tiny baits and detect super-subtle bites, but also strong and durable enough to manage the big pike and bass that always seem to be cruising near the biggest panfish in the lake. And that's exactly what I get from the Legend Elite Panfish Series: the Best Rods on Earth® for catching BIG panfish!" 
And while Bro's enthusiasm is compelling, anglers owe it to themselves to experience the panfish powers of these magic wands – each uniquely designed and engineered to exceed the expectations of the most demanding panfish anglers. MSRPs range from $360-$380. Key features include: 
LEGEND ELITE PANFISH FEATURES 
Integrated Poly C

urve® (IPC®) mandrel technology

 

Advanced

 Reinforcing Technology™ (ART™)

 

Taper Enhancement Technology (TET) blank design provides curved patterns for improved 

ac

tion with increased sensitivity

Super high-modulus SCVI graphite with FRS in lower section for maxlmum power an

d 

strength

 

with reduced weight

High-modulus/high-strain SCV graphite with FRS and carb

on-matte scrim for unparalleled

 

streng

th, durability and sensitivity

 

Fuji® Arowana Top™ features a titanium frame and flanged Torzite® ri

ng for maximum line

 

protection

 

Modified guide train featuring Fuji® AT series guides with Tor

zite® rings and titanium frames

 

provide the ultimate guide tra

i

ni

ng for UL-L power             spinning rods

          

Fuji® SK2™ split reel seat for the ultimate 

in lightweight performance and sensitivity

 

 

Anodized, machined-alumi

num wind check and trim pieces

 

Split-grip/super-grade co

rk handle

 

Kigan titanium hook-keeper

 

Two coats

 of Flex-Coat slow cure finish

 

15-year transferable warranty backed

 by St. Croix Superstar Service

 

Designed and handcrafted in Park Falls, U.S.A. 

 
#stcroixrods 
About St. Croix Rod 
Headquartered in Park Falls, Wisconsin, St. Croix has been proudly producing the "Best Rods on Earth" for 70 years.  Combining state-of-the-art manufacturing processes with skilled craftsmanship, St. Croix is the only major producer to still build rods entirely from design through manufacturing.  The company remains family-owned and operates duplicate manufacturing facilities in Park Falls and Fresnillo, Mexico.  With popular trademarked series such as Legend®, Legend Xtreme®, Avid®, Premier®, Tidemaster®, Imperial®, Triumph® and Mojo, St. Croix is revered by all types of anglers from around the world. 
//.