Happy Holiday Deals!
December 03, 2019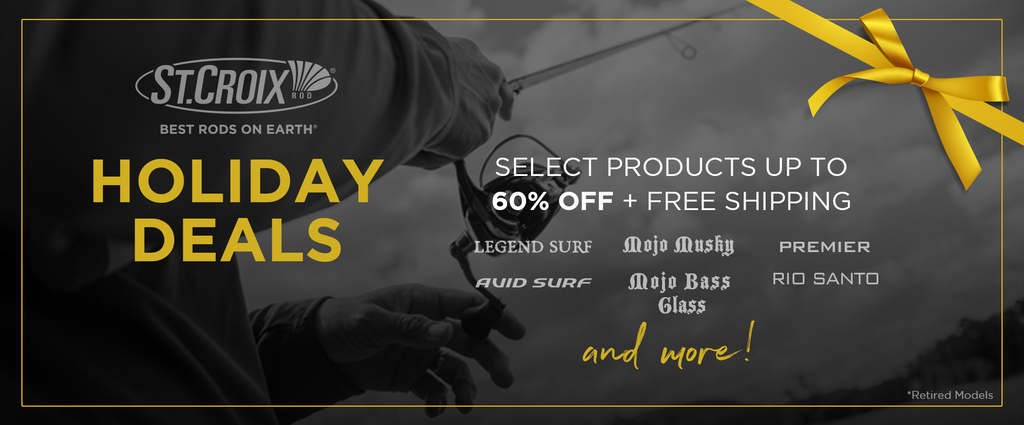 St. Croix anglers are always on the hunt for big fish, but now is the time of year when they are also hunting for big savings. Whether shopping for anglers on your holiday list or taking advantage of the biggest savings of the year to add to your own rod collection, St. Croix Rod has anglers covered with our special two-week Holiday Sales Event, starting this Friday, December 6th and running through the 20th.
It's our way of saying "Thank You and Happy Holidays" to our passionate angling customers, and a sure-fire way for you to make the anglers on your shopping list smile. The fast-approaching online-only sale will offer incredible savings of up to 60% off a great selection of retired St. Croix rods, plus FREE SHIPPING on orders shipping inside the continental US!
St. Croix's Holiday Sales Event will run from 7:00 AM CDT on Friday, December 6th through 10:00 PM CDT Friday, December 20th. Shoppers at www.stcroixrods.com/collections/rod-shopper can take 30% off select Legend Surf, Avid Surf and Mojo Musky rods; 40% off select Mojo Bass Glass and Premier Crankbait rods; 50% off Rio Santo fly rods; and a phenomenal 60% off SOLE fly rods and Avid Carp rods!
Freshwater rods, saltwater rods, flyrods… from trout to tarpon, online shoppers will find phenomenal deals on them all. But don't be late; St. Croix Holiday Sales Event prices are limited to available stock.
#CROIXGEAR
Like the rods? You'll love our lifestyle apparel. Spend $75 on apparel during the St. Croix Holiday Sales Event and receive a FREE Catch & Release Hat!
#stcroixrods