Ice Fishing's New Power Player
Croix Custom Ice Trophy Taker
November 15, 2019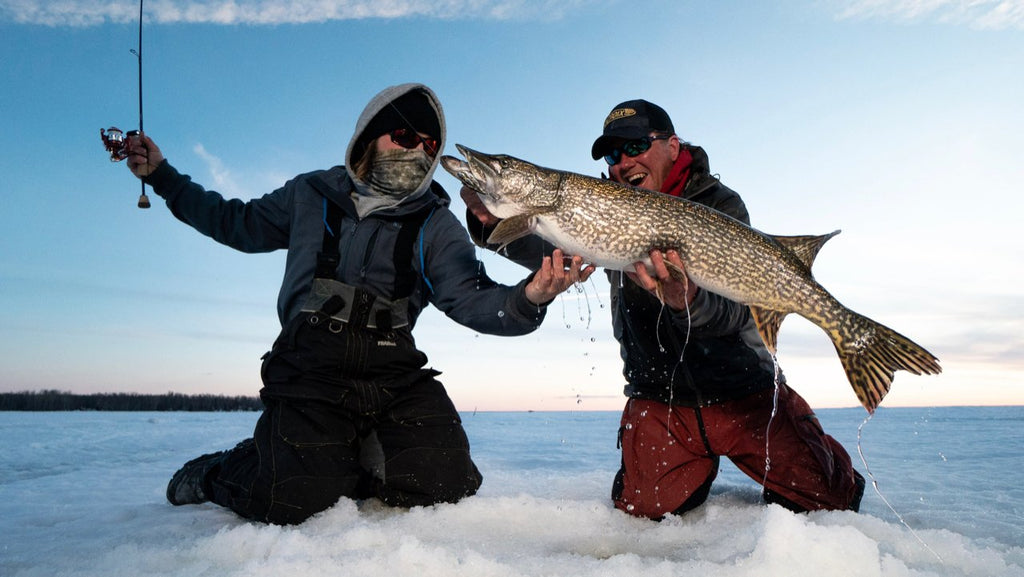 Park Falls, WI (November 15, 2019) – Trophy fish prowling beneath the ice are often hooked when least expected. Such surprise encounters with the biggest fish in the lake are always exciting but tend to quickly turn tense and stressful when the "lucky" angler realizes the limitations of their equipment have put them at a serious disadvantage.
A sect of ice anglers who consistently hunt big fish do their best to eliminate luck from the equation. They employ gear that excels both in making big-fish presentations, as well as fighting trophy specimens to a rewarding outcome.
St. Croix Rod pro, Christi Holmes, is one of those anglers. The Maine resident operates on waters harboring lake trout and pike, including specimens weighing over ten pounds. These trophies come with some regularity, especially when selectively fishing with bigger baits.
For the past two seasons, Holmes has employed the most powerful rod in St. Croix's premium, Croix Custom Ice (CCI) Series, the 42", heavy power, moderate action Apex Predator model. Capable of presenting the heaviest baits and battling the largest pike, musky, lake trout, walleye and Great Lakes steelhead and brown trout, the aptly named Apex Predator now has a worthy new companion – the 36" medium-heavy power, fast action CCI Trophy Taker.
"The new Trophy Taker is perfect for hauling big lakers through the ice in Maine," says Holmes. "The 36" length combined with medium-heavy power and a fast tip strikes a great balance in terms of power, control and shock absorption when battling strong fish. Its tubular carbon construction is extremely lightweight and results in a highly sensitive rod that's a joy to fish. The Trophy Taker drops heavy lures and works them vertically really well and has more than enough backbone to make solid hooksets and lift fish over ten pounds with ease."
St. Croix Rod pro, Joel Nelson of Minnesota, is excited about the new CCI Trophy Taker's benefits for the growing numbers of ice anglers traveling to North America's trophy walleye factories. "For big fish, increased rod length becomes a real benefit, and the new CCI 36-inch Trophy Taker recognizes this," he says. "Anglers are increasingly traveling to Erie when it freezes, Saginaw Bay, Lake Winnipeg and Devils Lake. They're traveling for trophy walleye and lake trout, and short rods put them at a disadvantage with those big fish," says Nelson, who notes that big walleye head shakes can take the bend right out of a shorter rod, especially with heavy baits. "Lake Winnipeg is a good example. You fish a heavy, heavy bait and put any slack in your line at all and you're going to drop the fish. To see a medium-heavy rod that can handle fish like that with a fast action—not extra-fast—is impressive. There's enough bend in it to really keep those big fish buttoned. The Trophy Taker is a rod you can take to the trophy waters and have the highest confidence in its ability to perform flawlessly against ten-pound-plus fish.
Minnesota guide, Tony Roach, is intimately familiar with every rod in the Croix Custom Ice lineup and "loves them all" for their specific tactical strengths. "The name says it all!" says Roach in reference to the new CCI Trophy Taker. "St. Croix built this rugged, 36" medium-heavy, fast action, tubular carbon blank for fishing Winnipeg walleyes, Manitoba pike, Great Lakes trout and backcountry lake trout. My Trophy Takers are set up with 10-lb braid and 10-12-lb fluorocarbon tied to big rattle baits, spoons, and 3-5" plastic paddle tails or tubes. The fast action tip loads up on heavy fish perfectly, and the combination of 36" length and right-sized power ensure your trophy makes it through the hole."
Indeed, each Croix Custom Ice rod is uniquely designed and engineered to exceed the expectations of the most demanding ice anglers. Launched in 2018, the technique-specific CCI series features unrivaled technology and performance to exceed the expectations of the most demanding ice anglers. The blank materials used for this series are engineered specially for ice rods and incorporate five distinct blank platforms including Solid Carbon (SC material), Solid Glass (SG material), Tubular Carbon (TC material), Tubular Carbon / Tubular linear S Glass (TCG material), and Tubular Carbon Fused to Tubular linear S Glass (TCFG material).
The expanded, 13-rod CCI series for 2019/2020 includes three new models: the Perch Seeker, a 32", TCG, medium-light ice rod with an extra-fast tip (CI32MLXF); the Spoon Hopper, a 36", TCG, medium-light power, fast action rod (CI36MLF); and the 36" Trophy Taker, a TC, medium-heavy power, fast action rod (CI36MHF). Designed and handcrafted in Park Falls, WI, Croix Custom Ice rods feature REC recoil guides with black pearl finish, split-grip super-grade cork handles and a 5-year warranty backed by St. Croix Superstar Service. Retail prices range from $130-$160.
#CROIXGEAR
Like the rods? You'll love our CCI lifestyle apparel!