Meet Our Machinery
St. Croix Engineering Supervisor, Gavin Falk
April 25, 2022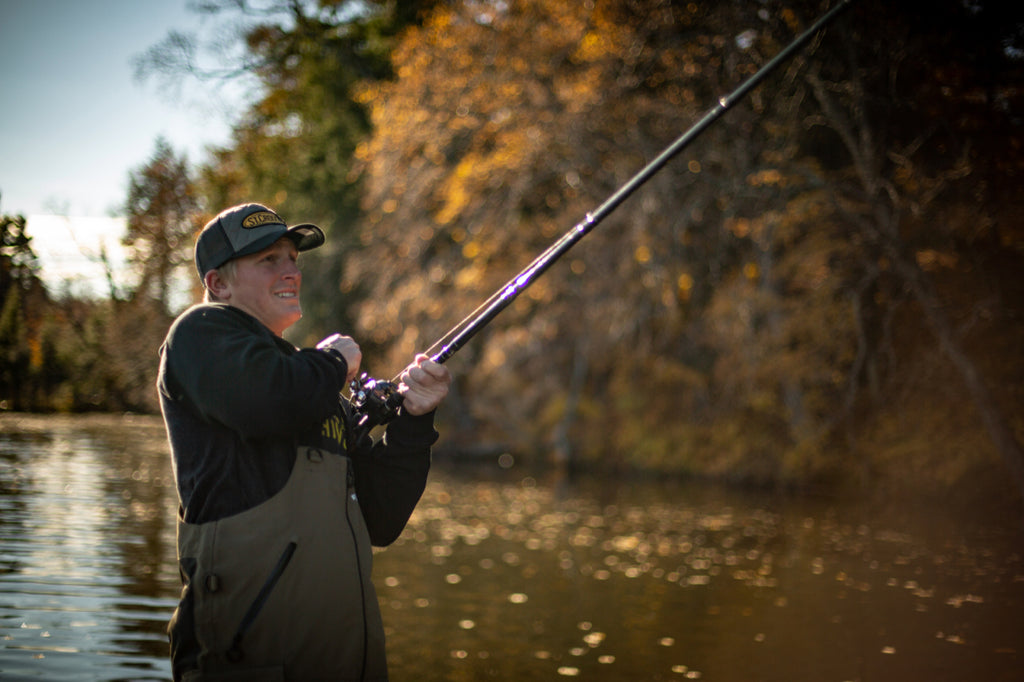 As graduation day approached at the University of Wisconsin-Platteville six years ago, Gavin Falk already had a field service position lined-up. His father mentioned a job opportunity at St. Croix Rod that he'd seen in the local newspaper. "I figured, 'What the heck'," recalls Falk, now in his sixth year with the company. "I applied right away and was very fortunate to be hired into the St. Croix family. I've been working on behalf of anglers, learning, and growing here ever since."
Starting as a project engineer at St. Croix's Park Falls, Wisconsin factory, Falk underwent a crash course in St. Croix's special brand of vertical rod manufacturing, where all elements are controlled in-house. He spent time acquiring knowledge about all the different processes, materials, and components that go into the Best Rods on Earth®. He worked on the floor doing process improvement and learning all the individual jobs and small procedures required to handcraft a high-quality product. It was a lot to absorb at first, he admits, but digging right in proved to be a smart choice. Falk received a promotion to Engineering Supervisor three years ago, an exciting position within St. Croix's Research and Development Team, which finds him evaluating and tinkering daily with the "special sauce" that makes St. Croix rods a preferred choice for anglers.
"My main roles include supervising and directing daily tasks for the Engineering Team, 3D design for new and existing products and developing new 'blue sky' projects utilizing 3D printing to leverage our latest angler-driven design concepts," Falk says.  He works with St. Croix Engineering Assistants, Ed French and Al Murphy, along with St. Croix Vice President of Research & Development, Jason Brunner, on a daily basis. "From a strategic-planning basis, I work hand in hand with Jason to develop new products, testing strategies, and processes for future developments. Both Ed and Al are the support structure for our team, and we rely heavily on them for helping to develop new processes and bring new rod ideas into fruition. With 54 years of rod-building experience between the two of them, there isn't a task, problem, or challenge they cannot meet head on."
Falk says things can change quickly, and his team is skilled in adapting and redirecting. "We're in charge of producing all the rod samples for each year, as well as creating prototypes to be tested for future development, plus any other rod testing that needs to be done," he says. "We build anywhere from 200-500 different prototypes for testing each year." Falk works especially hard at decreasing prototype turnaround time. That, he explains, leads to smoother floor processes that decrease manufacturing lead times. To help improve quality control, he tweaks component designs using a 3D printer, creating variations of smaller parts to see which will be easiest to manufacture, function as designed, look the best, and still able to take a beating out on the water.
Despite the importance of his position, Falk says he's just one of the people behind the curtain working to make sure anglers have the best possible on-the-water experiences with the St. Croix brand and its products. "Everyone within the St. Croix family sees it as their job, goal and duty to heighten or enhance our anglers' experiences," he says. "It's the driving factor that definitely helps push me in designing new ideas that make our products better in some way. If I can somehow add value to our anglers' time on the water, it's always a win in my book."
Like so many others at St. Croix, there's no doubt Falk can fish a rod as well as build one. He says he fishes about three times per week and uses that time to relate specific techniques to possible new rod designs. One of his personal favorites, the Premier Musky PM90XHF, is a good example. "It's the premier rubber rod for musky fishing," Falk says proudly. "It's a 9-foot rod rated for up to 16 ounces, but it's the handle design that makes it so special. Success in musky fishing comes from showing your bait to fish and keeping your lure wet, but casting and retrieving big rubber can be exhausting. The ergonomics, materials, and design of this rod's handle help anglers fish longer with more comfort and less fatigue – ultimately so they can catch more fish." In addition to the Premier Musky Series, Falk favors Legend Tournament and Legend Xtreme Series rods for bass and walleye.
As for working at St. Croix, Falk says he enjoys and appreciates the team atmosphere. "When I started here, I worked a lot with Dave Schluter, our VP of Manufacturing at the time," Falk reveals. "He taught me about designing the componentry, the handles, guide trains and more. I'd take what I learned from Dave and go out and talk with our craftspeople on the floor. Today, every week my team talks with St. Croix Brand Manager, Ryan Teach, about cosmetics, paints and finishes, details, handle textures, and other evolving angler preferences. We talk to V.P. of Marketing, Jesse Simpkins and others on the Marketing, Sales, and Customer Teams, which are in direct communication with our anglers in different ways. I love working trade and consumer shows, too, where all of us get to talk directly with our anglers. There's plenty we need to cover to get things right and keep improving. It's really like putting together a great big puzzle," Falk summarizes. "When you get all the pieces fitting just right, everyone goes home with a really good feeling, ready to take on the next challenge."