Tackling River
Run Spring Walleyes
April 25, 2022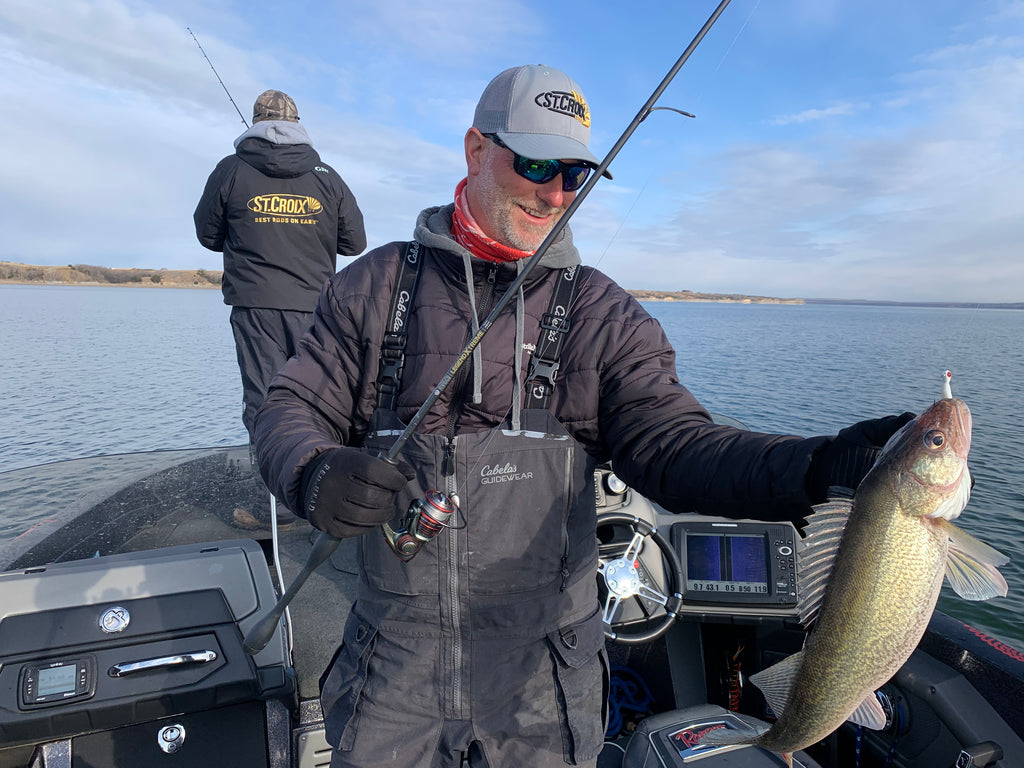 For anglers in the northern portions of the country where ice lingers and spring never seems to fully arrive, ironically enough, one surefire way to keep a line wet is to never put the boat away. As early as February and certainly by March and April there are ample river-fishing opportunities across the Northern U.S., even where most of the lakes are completely frozen. Many fisheries remain open year-round, but the spring spawn and 10-pound walleyes can get anyone fired up to fish, making the early open-water months a favorite nationwide. Legendary river runs on the Rainy, Mississippi, Fox, and Detroit Rivers, among many others, draw anglers in droves for the promise of massive pre-spawn behemoths, with crowded ramps and jammed river mouths to prove it.
It's not always an easy game. Chasing down river walleyes is akin to firing at moving targets. First, you've got a spawn that's dictated by mother nature, and doesn't always progress like clockwork. Prolonged cold spells or warm rains can slow down or speed up the step-wise approach of the spawn – or at least the felt part of it from a bites-and-walleye-angling perspective. That's without considering the big thaw. Some seasons see heavy snowpack that melts all at once, causing flooding throughout backwaters areas and really scattering fish among stumps and root wads. Peak flows are affected dramatically, and savvy anglers are glued to the hydrographs posted by NOAA and predictions from the National Weather Service.
It's a dynamic bite, so tackling the river in chunks of days rather than an afternoon here or a morning there is advisable. You want to be there for the change, or so much of what you do out there just starts to feel random and disjointed. You may bump into fish here or there, without really knowing the "why," making it hard to put together a pattern that holds. Those days turn into "motor days" where you start at one end of the river and go up or down, hitting spot after spot just looking for something good. It's not a bad way to survey the scene and hit fish coming and going, but even two days in a row means you'll be patting your back rather than scratching your head.
Shore Thing
There's more than one way to skin a walleye, and the shore play is an often overlooked way to score with minimal investment, on a number of fronts. Guide and long-time angler educator, Captain Barb Carey, knows walleyes from shore better than most. A Yooper turned Wisconsinite, Carey guides anglers throughout a number of seasons, and focuses on offering women anglers more opportunities to wet a line. "I'm lucky to live close to the Wisconsin River where I can take groups out in boats or spread out on the shoreline during spring bite windows," Carey says. "These days, there are more women catching walleyes from shore than ever before."
Angling from shore is especially prevalent early in the season, where ice keeps existing accesses closed to boats, but the fishing is still prime. For that reason, Barb is a big fan of running long rods to toss big rigs at distance, all while keeping current-swept debris away from the river rigs she uses. "My go to in this situation is any of the longer rods in the MLXF (medium light, extra fast) powers and actions," she explains.  "I love the longer St. Croix Avid (AVS76MLXF) and Legend Tournament Walleye (LWS76MLXF and LWS86MLXF) rods because they make it easier to keep baits high and above debris."
Carey utilizes the rod length to hurl big rigs to areas fish are inhabiting and cover more water but explains an active retrieve also keeps baits from getting hung up. "I'm not snagged up very often," says Carey. "You can't catch fish if your bait isn't in the water, but you can't hook up if you're constantly fouled either."
As for the business end of what's getting bit, Barb focuses on some pretty simple terminal tackle. "I'm running what we call a simple 'river rig'," says Carey.  These systems, which have variations that involve either a sliding sinker, as heavy as an ounce or two, or even a 3-way swivel rig with a dropper weight and leader behind, are worked with live bait on simple octopus hooks back towards shore or left to soak. Crawlers and minnows work to entice spring fish, especially early when water temps are continually brought down by meltwater and ice, but careful attention is needed when determining where to place these baits. Carey says, "When fish are pre-spawn, fish are coming up-current to eat and staying lower along the bottom. Later, as fish spawn and head back-down current, they're higher off bottom and cruising back. You need to adjust your leader length shorter to be closer, and longer, to get those fish coming back downstream."
With this kind of bite, the devil's in the details, says Carey, who utilizes various colors of hooks to entice fish that see a lot of pressure during spring runs. "I'm noticing days where glow, orange, and chartreuse will all catch fish, but on some other days, one of them clearly shines and produces nearly all the fish we catch."  Speaking of details, Carey is a line watcher, who prefers high visibility line types to survey rods in holders that are strewn across the bank. She'll even change bait preference based on water conditions and timing. "When water temps are 50 degrees or less, my preferred baits are magnum fatheads. Then after that, I'm running portions of a crawler for the rest of the way out."
Shore bites eventually give way to Carey hitting the boat with some vertical jigging rods. "I'm a fan of St. Croix walleye-specific Eyecon Series rods for dropping jigs and bait right on top of fish. That newly designed vertical jigging rod (EYS63MXF) has great performance at a price point that makes it accessible to new anglers. When I'm trying to equip customers for their own fishing, many of the women groups I take out would rather own a few rods than one expensive setup. Eyecon allows you to own a few rods that cover several situations, without sacrificing quality or performance along the way." 
Back in the boat, Carey notes how tungsten jigs have changed her fishing. "I'm getting more sensitivity and better bottom contact, so I can feel debris and snags more quickly. I snag less, especially on wood, but more importantly, when the bite is tough, I'm putting more hooks into mouths."  Carey spot locks on pods of fish with lower current, and even puts rods in holders with a simple sinker and minnow "river rig."  "For my customers that have a hard time with vertical jigging, sometimes the simplest setups can catch the most fish that day. Dead sets can offer anglers more lines in the water, and really help me on tough bites," says Carey.  
Pitch to Win
Some of the very best bites of the spring come pitching jigs and plastics to shallow sand and current breaks where big females are preparing to dump eggs. There are many times each spring where pitching those jigs is very similar to bass fishing. Pitching is executed with an underhanded cast that allows the bait to be presented quietly and accurately to high-percentage holding water, often in and around cover. Stealth, accuracy, and vicious reaction-strikes are the goals. Few know the game better than the Green Bay area's own Kevin Pischke, a talented muskie guide who spends springtime chasing river-run walleyes on the Fox and many other nearby rivers that dump into Lake Michigan. Like many anglers in the spring, Kevin's preferred technique is putting jigs and plastics to big females, who describes some days on the water as simply "electric."
"Lots of folks focus on fishing shiver minnows and Rippin' Raps out in the river mouth areas, but I'm often guiding folks that will simply catch more fish and do better with that jig and plastic combination," says Pischke. The focus is often on shallow-water fish that are in as little as five feet of water, and fish that push that far up against shore are usually there simply to eat. "We'll fish those shallows early in the morning or later in the afternoon, and in faster moving water, but when flows reduce, fish can push deeper off the edge in those 20-25 foot depths," says Pischke. "Once we find them, especially shallow, it's time to go to work."
Kevin personally uses – and puts his clients onto a rod that fishes this bite better than nearly all others he's tried – a St. Croix 6'8" Eyecon Snap Jig Rod (EYS68MXF). As the name implies, it works a bit quickly through current and debris, offering length for the cast and an extra-fast action to put hooks to fish fast in a variety of environments. "I need clients to feel bites and small 'ticks' and slack line hits or they won't have a good day with me. The sensation of the rod makes it important to their day, but the blank is especially tough for clients who can fumble or even drop rods now and again. I need a sensitive rod that can still withstand the heavy use we put on them all spring," says Pischke. "That's Eyecon."
Most of Pischke's pitches are short, 30-foot up-current tosses. "We use whatever jig the current determines for us. That can be anywhere in the ¼-ounce range up shallow with less current, to 3/8 ounce or more in deeper edges. Then to tip, we're using a variety of ribbon-tailed and shad-style plastics in pretty visible colors. But the real key is working that jig on a tight line," says Kevin. "The anglers that do well are focusing on lifting that bait off bottom but monitoring the drop as fish hit on that downswing so often."
Kevin is a fan of 15-17-pound braided line varieties with an 8-12-lb pound fluorocarbon leader depending on clarity. "That line setup on this rod is a proven winner, so I don't mess with it much," says Pischke. "After that, the rest is about a good hookset, where I instruct anglers to lift with their arm, not just their hand. Just putting a bend in the tip of the rod won't keep fish on for long."  Pischke also helps clients land more fish with an active reeling technique. "You need two good cranks on the reel at least for a proper hookset, and often more, otherwise they just won't stay pinned. Put it all together and we've got a good day going in the boat," he says.
Pischke realizes, too, that some days simply call for different techniques, and is more than willing to share a few favorite patterns and the rods he uses to fish them. As fish push out into the bay further and settle out at the mouth, he likes to fish Rippin' Raps on the new Eyecon (EYS71MF) which is purpose built for that very presentation. "I also keep a few St. Croix Triumph (TSR66MLF) rods in the boat when we're fishing low flows and shallows with 1/8- and 3/16-ounce jig-and-minnow bites," says Kevin, mentioning, "we do that on a number of days when it's really tough out here." Speaking of, when fish are super negative and you need to finesse a super light bite, Pischke pitches hair. "I'll go way down to light power rods like that Legend Tournament Walleye Finesse rod (LWS7LXF)," he says. "When you have to work 'em, that's the one to have in your hand."
Yet, if there was one rod in the lineup Kevin couldn't do without, it's a 7'6" medium power, fast action St. Croix Legend Xtreme (XFS76MF). "I fish that rod with jigs, shiver style heads, and even lipless cranks," says Kevin. "It's the most sensitive rod anywhere for jigging applications, and even in a fast action it just buries hooks. I like it because I'm fishing for extended scenarios. That grip never hurts your hands or leaves marks after long days on the water – I can fish it for 10-12 hours in complete comfort."
Banging Away
Yet another technique for really beating up spring 'eyes is to get down, deep, and dirty with the heavy current areas that still hold pre-spawn brutes. That's where talented tournament angler, guide, and fishing promoter, Brian Bashore, comes in. Hailing from Sioux Falls, South Dakota, Brian is no stranger to big river systems like the Missouri that find walleyes deep for certain parts of the year. More importantly, Bashore's tournament prowess has taken him to the Fox, Detroit, and Mississippi Rivers, where fast currents in deep water call for one primary presentation; banging bottom with heavy metal.
"On some of these tournament bites like the Detroit River especially, I've got a one-ounce jig tied on all week, and there's just not many rods that can handle that much weight," Bashore explains. With most power and action combinations, anything over ½ ounce for traditional walleye rods has meant a sloppy uptake at the tip, little sensitivity, and even less control, which can be paramount to the technique. "I used that Eyecon Heavy Metal (EYS58HF) rod as soon as it came out and noticed an instant difference in the bites I was getting."
So often, big females hang in 20+ feet of water in these river systems for most of the spring, until they're ready to slide up and dump eggs. "You know what's going on down there when you simply push shallow, slam a bunch of small males, and never see a fish over 20 inches," Bashore says. "That's why we focus on that pre- and post-spawn deeper bite, where fish stay at depth before spawn, then get deep again right after it to go back downstream where they spend the rest of the summer. I've just got more confidence in connecting with a big fish this way."
With vertical jigging, common knowledge has anglers trying to shorten the distance between them and the fish with a shorter rod that keeps line closer to the boat. "There's lots of guys running longer rods to keep baits away from the boat, but if I'm running Mega Live or really any other kind of electronics, with that shorter 5'8" stick I can keep my baits on-screen the majority of the time," says Bashore. "Not to mention, with a stiffer rod in fast, deep water, I'm literally catching three times more fish versus standard medium-action walleye jigging rods, even ones designed for vertical jigging."
Bashore is far from a one trick pony, as different tournaments require a host of other strategies. Back home too, Bashore loves pitching shallow on Lake Francis Case or Lewis and Clark Lake, both impoundments of the big Missouri. "Out there, side-imaging and seeing fish to the edges is super important. I can't drive over and see them in shallow water, as they're tight to the bottom and I just can't cover much underwater real estate then," says Bashore. "For those bites, I'm making long casts, especially when water is super clean. They just won't get near a running main motor in those situations."
For that kind of work, Bashore loves the ultra-sensitive St. Croix Legend Xtreme (XFS610MLXF) for detail work. "I need to run a rod in these settings to impart max action on plastics, yet not worry about throwing off bait if I got to live minnows," says Bashore. "That and the sensitivity is unparalleled. With money on the line, or I'm trying to find fish to guide on, there's just no other tool in my boat that transfers more information back to me on nuances of the bite. I still use electronics to find fish, but the Legend Xtreme does a lot of the heavy lifting from there." 
Parting Shots
River systems can be intimidating to anglers used to launching on lakes or reservoirs without current, but that movement in the water triggers the biggest annual migration of quality walleyes throughout the entire US. It's true no matter where you fish, the spring spawning run is a great time to get bit, for numbers of male fish that congregate, and the big females everyone covets. Even post-spawn, Bashore mentions, "Everyone thinks those fish have the post-spawn blues, but they eat every day. They're simply just on the move downstream." 
The good news is that you've got options, in the boat, or even from shore. Once you've determined your approach, there's a pile of great rods to choose from at a variety of price points to round out a number of techniques. Choose a couple exquisite pieces of equipment to do it all, or several more affordable sticks that cover all the bases; it's really up to you as an angler. Now's the time to tackle spring walleyes, so gear up and get after them with rods that give you the upper hand.