Inshore Now!
November 17, 2020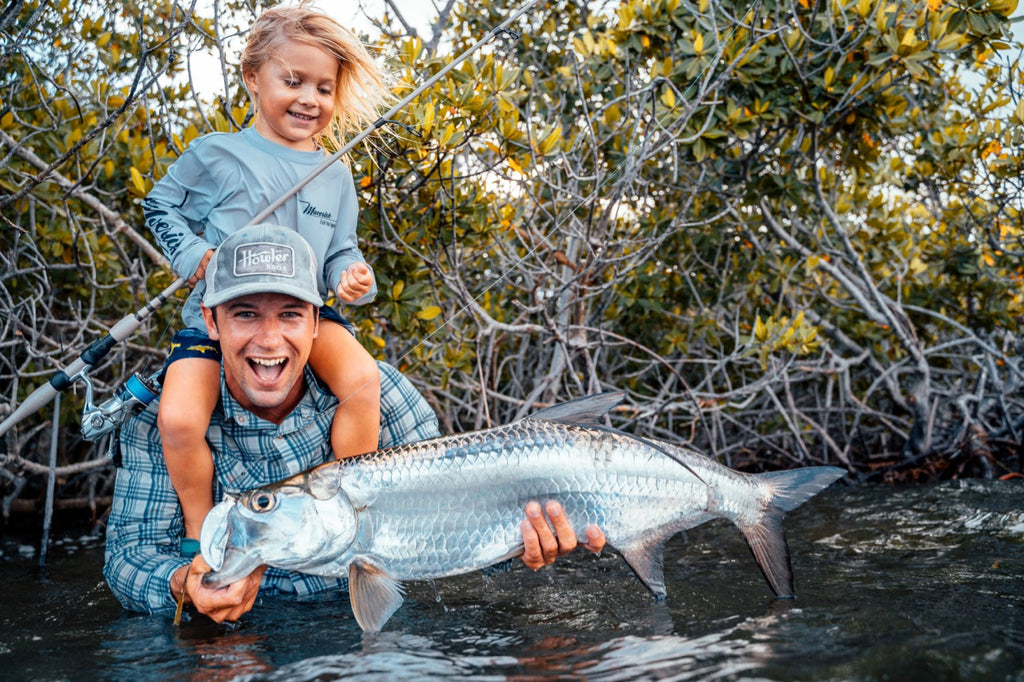 From New Jersey to the Texas Coast, St. Croix pros sound off on epic fall bites happening right now 
Park Falls, WI (November 16, 2020) – Whether you mine the Northeast for stripers, tuna, blues, sea bass and blackfish or hit the southern coast for redfish, snook, sea trout and flounder, the next several weeks will see some wild action on the inshore scene. Are you ready? St. Croix's top pros are, and we've asked them to share a bit about what they're doing to capitalize on the best bites in their respective areas right now.
Northeast Coast
Captain Robbie Radlof is a renowned guide at Waterman Charters out of Barnegat Township, New Jersey. He's one of the best in the game at consistently hunting down big tuna, as well as making a living putting his clients on striped bass, which he says has been about 90% of this fall's fishery so far. Right now, he says the stripers are schooling up in Montauk and Connecticut and are just starting to pass through New Jersey.
"Our striper fishery has been incredible this year and it's only going to get better here in the next few weeks," says Radlof, who adds that new slot limits in New Jersey and New York are adding tremendous value to the recreational striper fishery in the Northeast. "We now have wads of 40"-50" fish coming back through Jersey waters. I've never seen this many jumbos."
Radlof says the bass are primarily feeding on adult bunker inshore. "We're throwing big spoons and metal-lipped plugs with the new 7'9", extra-heavy power, moderate-fast action St. Croix Mojo Inshore rods (JIC79XHMF) on 65-lb. braid with 60-80 lb. leaders," he says. "This is the exact rod St. Croix won the saltwater road category with at ICAST earlier this year, and it's clear why; this is what these rods were designed for… casting large, 2-6-oz. moving baits to big, powerful fish. They've got a unique blend of extra-heavy power to control and subdue jumbo stripers and an ideal medium-fast tip for casting and absorbing those slashing strikes that happen with plugs and swimbaits. I've never used a rod this powerful that has remained so light in the hand and easy to fish."
On days when stripers are keying in on sand eels farther offshore, Radlof switches to the new 7'11", medium power, fast action (JIS711MF) and 7'11" medium-heavy power, fast-action (JIS711MHF) Mojo Inshore rods "These rods pair perfectly with the smaller epoxy jigs we're using in the 1-1/4-oz. range paired with 5" paddletails, as well as the heavier Savage Gear Sand Eel lures, which have been really hot."
Radlof says the New Jersey bluefin tuna fishery has been evolving for the better in recent years, again, thanks to tightened regulations implemented about ten years ago. "We're seeing regular opportunities for 100- and 200-lb. fish that we didn't have just a few years ago," he says, but points out this year has been atypical. "We're getting an impressive biomass of sand eels, which has really helped, but the water got warm this summer and a lot of our tuna just pushed north. We have some resident bluefins around right now, but they are fairly spread out and have been picked over pretty good. We had a great  yellowfin bite in mid-August, and the bluefins should be coming back through soon, headed to North Carolina," he adds. "I'm hoping it won't be too bitterly cold in December when they show back up!" When they do, Radlof says he'll be targeting them with poppers and stickbaits.
Radlof drills down on some additional key features of St. Croix's new Mojo Inshore rods. "The larger, more powerful rods in the series I'm using daily have new hybrid cork/EVA foam handles. The EVA portion in the middle of the handle sits right under your arm when you're throwing those big metal lips and adds some real comfort to the equation. That's also the same section of the handle that makes contact with a rod tube or rocket launcher when the rod are stowed, so it keeps the cork grips from getting worn and banged up. The soft non-marring rubber gimbles on the butts are a huge plus, too," he says. "I'm often running 50-60 miles one way to find the big fish, and that soft gimble holds the rod and heavy reel securely in the rod holders."
South Carolina & Georgia Coast
RedFin Charters captain, Justin Carter, operates out of the rich and diverse waters around Charleston, South Carolina.
"We're just past the mullet run and our bull redfish have moved offshore," he reports. "But the shallow-water speckled trout bite on artificials is really picking up.  Our water temps have dropped, trout have moved past the spawn and are transitioning into shallow wintering areas," continues Carter, who says a couple key factors are contributing to the quality of the trout fishery right now. "Waning daylight is prompting a lot of feeding. There's a lot of shrimp in the creeks, and trout will continue to feed hard with temps mid-50s or higher, which could last into January," he says.
Carter is finding success on bigger trout with topwaters and suspending twitch baits, and well as Z-Man Trout Eye jigs paired with 4" DieZel MinnowZ. Depending on the size of his jig, he's fishing 7', light power (JIS70LF) and 7'6", medium-light power, fast action (JIS76MLF) St. Croix Mojo Inshore spinning rods, and switches to the 7'6", medium power (JIS76MF) Mojo Inshore when throwing spinnerbaits or topwaters.
When the birds show him where they're at, Carter is still targeting 35"-50" beast reds farther offshore with chuggers and 7"DieZel MinnowZ, but the smaller resident redfish are schooling up in the shallows to protect themselves from marauding porpoises, which no longer have access to as many mullet. "Along with the trout, we've got tremendous sight-fishing opportunities for slot reds and some up to 35" right know," says Carter. "It's a really exciting time to be fishing right now."
Cobia represent Carter's ace-in-the-hole, bonus big fish at this time of year. "It's interesting; we have some recent studies – which back up my observations over the past several years – that show our cobia aren't just moving south and north in the spring and fall. They're also moving east and west, and I tend to catch them in 90-120 feet this time of year," explains Carter, who says 30-40-lb. fish aren't unusual. "We see them regularly showing up in the chum slick while drifting on the bottom for kings and little tunny." Carter keeps two Mojo Inshore rods rigged and ready for when Cobia appear: one rigged with a freelined livie on a  5/0 circle hook, and another set up with a white, 10" Z-Man HeroZ jerk bait rigged on a ChinlockZ hook. "That HeroZ is outstanding cobia bait," he says. "They'll hardly ever turn it down as long as there's enough distance between the fish and the boat. The Mojo Inshore 7'11", medium-heavy (JIS711MHF) rod is ideal for both of these presentations."
Florida Keys
"The month of November can be full of great opportunities in the lower keys," says owner of Push It Good Inshore Charters, Scott Brown. "Resident tarpon, snook and jacks are gorging on schools of bait and some of the bigger bonefish and permit are still cruising the flats. As long as water temps don't drop below 75 degrees and winds stay relatively moderate, you can find good numbers of all of them," he says.

Brown touts sight fishing the flats this time of year when conditions are favorable. "I like to pair a 3000 series spinning reel with a St. Croix 7', medium-light power, new Legend Xtreme Inshore spinning rod (XSS70MLF) for presenting ¼-oz to 3/16-oz jigs to cruising bonefish and redfish."

The lower keys flats can be tough at times depending on the weather and conditions, which warrants a lightweight, responsive and super sensitive rod like Legend Xtreme Inshore. "The ability for quick, accurate and subtle presentations is paramount when fishing for pressured bonefish. And when the wind starts blowing and visibility is reduced, that's when Legend Xtreme's unmatched sensitivity really comes into play; you may not be able to watch it happen, but you know when a fish has picked up the jig."
For cruising permit, Captain Scott likes freelining a live crab. "A 7'6" medium-power rod paired with a 4000 series spinning reel is the ticket," offers Brown, who prefers to fish with the new Legend Xtreme Inshore version (XSS76MF), but keeps the incredibly capable new Triumph Inshore version (TIS76MF) rigged and handy for his clients. "These new, handcrafted Triumph Inshore rods are simply amazing, and – in my opinion – offer an unbeatable combination of performance and value."

A big part of the lower keys' appeal is that there's always a bite to be had, even when conditions get nasty. "When the north winds kick up and water temps drop, I like to switch it up to live baiting for tarpon, snook and snappers. This time of year, the tarpon and snook are between 10-20lbs and larger snapper move inshore," says Brown, who prefers a rod that's not too heavy, but has adequate back bone to set the hook and keep fish out of the mangroves. "The 7' medium-heavy Triumph Inshore rods are ideal when fishing medium-sized mullet and large pilchards on 30-40-lb. fluorocarbon," he says. "You have that fast tip necessary to accurately pitch baits close to cover, plus the power required to pull the fish away from trouble." When the bite is really on and the tarpon are cruising , Brown switches from livies to ¼-oz. soft swim baits and bucktail jigs. His preferred rod in these cases is the 7', medium-power Legend Xtreme Inshore spinning rod (XSS70MF).
Texas Gulf Coast
Florida-born Guillermo Gonzalez grew up chasing snook and tarpon in the Biscayne Bay backcountry south of Miami. A transplant to Texas, the 2017 Kayak Angler's Tournament Series (KATS) Angler of the Year travels extensively to fish and compete, but most often finds himself chasing redfish and trout along the Texas coast.
"The majority of our coast is known for sight fishing to shallow redfish, but the marshes are really coming alive right now," says Gonzalez, who believes the increased activity in most areas is primarily shrimp-related. "There's definitely more shrimp in right now, and you can see them popping as redfish move through an area."
Given the natural smorgasbord, one would guess that live shrimp and shrimp imitations are the bait of choice right now. "Shrimp imitations are always going to work," Gonzalez confirms. "But redfish aren't the pickiest fish in the world; in my experience, if a red is going to eat, it will eat about anything in your tackle box." But Gonzalez does choose certain lures that have some well-defined characteristics. When sight-fishing shallow redfish in the fall, he gravitates towards smaller, softer baits that land quietly, and are darker in color. "I'm fishing a lot of belly-weighted root beer-colored flukes, as well as smaller, darker paddletails when sight fishing," he specifies. "Whatever you choose needs to land softly and small tends to win… nothing clunky."
For presenting such baits, Gonzalez is bullish on St. Croix's all-new Triumph Inshore series of rods. "These rods combine incredible St. Croix performance with an almost-unbelievable price, and the entire series has been designed to support the specific regional techniques coastal anglers employ around the country," he says.
"Wade fishing around oysteries, potholes and drains in the marsh is hugely popular along the Texas coast, and many Triumph Inshore models have been designed with this in mind.  These anglers are doing a lot of casting, so the rods are lightweight and crisp with great ergonomics," says Gonzalez, who adds that often means split grips and shorter handles. "They are also using a lot of moving baits, so rods need to be soft enough to keep fish pinned."
Gonzalez prefers the 6'8" and 7' medium-power, moderate-fast action Triumph Inshore models for his style of fishing. "The tips on these rods are perfect," he says. "They're soft enough to make the short, accurate pitches necessary to have success with shallow redfish in the marsh, with the power and back bone required to tame them. He also adds that the 7' medium-light power, moderate action casting rod (TRIC70MLM) has a sweet, parabolic action that coastal Texas trout anglers are flocking to.
St. Croix pro and lifelong inshore angler, Joseph Sanderson is a former collegiate FLW and BASS competitor and current KBF tournament kayak angler. He dives deeper on the new, trout-centric TRIC70MLM. "As Guillermo already mentioned, wade-fishing is really popular down here. if I go wading for trout, I'm really working; popping and reeling in slack and then repeating. A heavy, stiff rod will wear you out. This rod is comfortable to fish all day with," he says, "When wading deep, you can't use your arm; you have to use your wrist. The medium-light rod and shorter handle of the TRIC70MLM really helps.  And since speckled trout have really soft mouths, the moderate action of this rod keeps them hooked up."
Sanderson recently spent a day sight-fishing for reds from a skiff and wading with the 6'8" and 7' medium power, moderate-fast action Triumph Inshore casting rods (TRIC68MMF and TRIC70MMF). "We had calm conditions and clear water, so we were making a lot of medium-distance casts in the 50-60-foot range. Accuracy mattered and both rods delivered with 1/16-oz. jigs and small paddletails," he says, noting that rods also had plenty of power to subdue the 20"-28" slot fish they were catching. "I'm not very conventional about matching rods to big fish," says Sanderson. "I can assure you these medium-power rods will easily handle 30"-35" reds."
Sanderson drills down on Triumph Inshore's varied handle options. "I preferred the 7' version a bit better with the longer, full cork handle because I prefer to cast with two hands, but found the shorter-handled 6'8" split-grip an ideal option for wading. It's rare to find a casting rod that performs with the lightweight jigs and baits I use so much of the time, and both of these rods excelled."
Sanderson and Gonzalez were impressed with the new Triumph Inshore rods from the start. "When I unpackaged these rods, the first thing I noticed was the surprisingly high quality of the cork and their beautiful finish," Sanderson says. "The second was their extreme light weight. These are without a doubt the finest inshore rods in their price range I have ever held." Gonzalez agrees, adding, "the finish, components, balance and cosmetics of these rods are flawless. I never expected to see that in a rod retailing for $130."
Catch Up with Radlof, Carter and Sanderson Live
Want to hear even more about what's happening on the inshore scene right now or ask questions of your own? Join St. Croix pros Joseph Sanderson, Justin Carter and Rob Radlof on Facebook Live @stcroixrods, Tuesday, November 17 at 7:00PM Central.
Watch the recording here