Cyber Monday/Black Friday Preview
November 17, 2020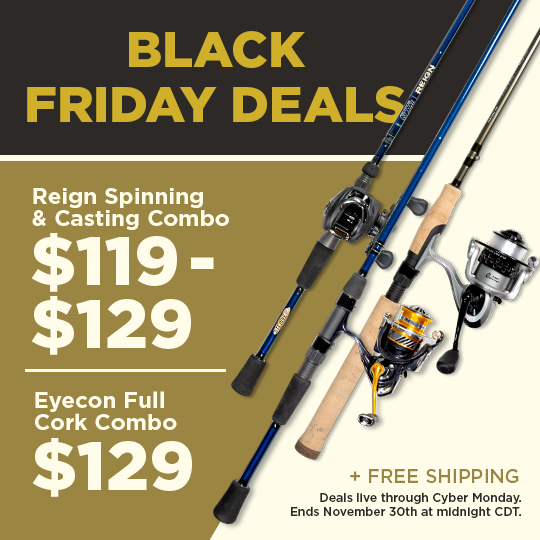 Get Ready to Bury the Barb into Great Savings!
Plan now to enjoy big holiday savings on a variety of select St. Croix rods and apparel during the St. Croix Black Friday/Cyber Monday Sales Event
INSERT BLACK FRIDAY/CYBER MONDAY GRAPHIC
Get ready! The St. Croix Black Friday/Cyber Monday Sales Event starts 7:00 AM CDT on Friday, November 27 and runs through midnight CDT on Monday, November 30. Online shoppers at https://stcroixrods.com/collections/rod-shopper can set the hook on incredible deals on a huge selection of NEW Bayside Blue Reign/Daiwa spinning and casting combos – ideally matched rods and reels for battling everything from perch to pike – along with big savings on dialed-in Eyecon walleye combos.
Choices include eight different one- and two-piece St. Croix Reign spinning rods, each resplendent in the beautiful NEW Bayside Blue color and perfectly paired with a smooth and strong Daiwa Revros LT spinning reel; four one-piece Bayside Blue St. Croix Reign casting rods offered with compact Daiwa CC80 HS LT baitcasting reels; and four distinct full-cork one-piece Eyecon spinning rods matched with a smooth, tournament-grade 5-bearing 2000-size spinning reel. Anglers will save $31 - $41 off retail pricing for each combo they purchase, and SHIPPING IS FREE to the Continental U.S. and Canada. Special deals on great-looking St. Croix apparel will also be offered.
St. Croix's Black Friday/Cyber Monday Sales Event offers will be limited to available stock. When these items are gone, so are the deals, so be ready, act fast and have fun!