How It's Made
Handles
July 17, 2023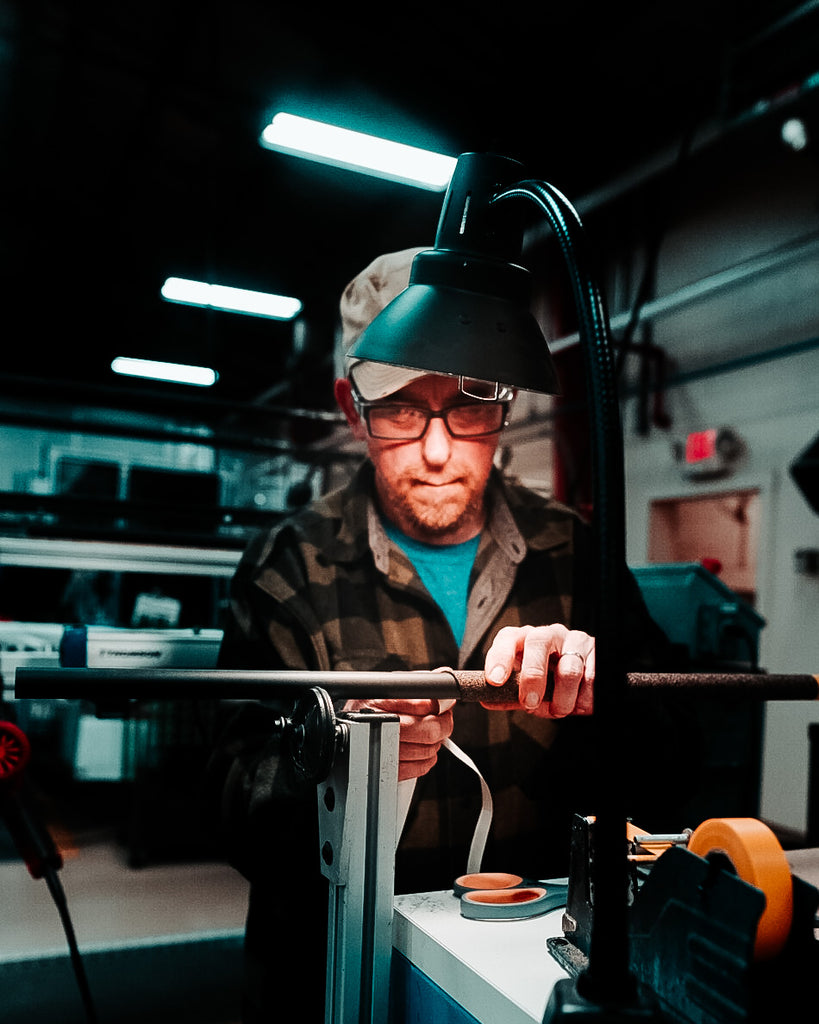 St. Croix delivers the Best Rods on Earth by combining angler-driven research and development, industry-leading design an innovation gained from 75 years of experience, the highest-quality materials, passionate and precise craftsmanship from people who care, and the most advanced rod-manufacturing facilities in the world. All of these things contribute to the pride and satisfaction you feel when you fish one of our rods, but we never assume that's enough. 
Handle design is a key factor is fishing-rod design. While a rod's blank – its materials, length, power, and action – forms the foundation for how it will perform, its handle dictates how the angler will interface with the rod and, ultimately, experience that performance. 
Being an angler-driven company, St. Croix is constantly leveraging angler feedback. Our deep and diverse angling staff – from professional guides and tournament anglers to hardcore fishing-lifestyle enthusiasts – is one of our most valuable resources. We rely heavily on these and other anglers to help increase our understanding of the nuances of how each of our rods are used in various techniques and presentations. This helps or Product and Engineering Teams design handles that maximize both comfort and performance.
Handle Materials
St. Croix uses a variety of handle materials from traditional premium cork and premium EVA, to ultra-durable agglomerated cork, cork composite, carbon fiber, and other proprietary materials like Xtreme-Skin. Many of our handle designs combine these materials. These proven materials are specified on different rod models depending on how and where the subject rods will be used. Comfort, durability, energy transmission, and a rod's target price point are a few of the primary factors that guide these decisions.
Handle Design 
Handle design – its form, dimensions, proportions, and how it blends with the reel seat and blank – is largely dictated by angler trends, meaning how a specific rod will be used. 
"Handle design on a new rod starts with a product brief for that particular rod series," says St. Croix Engineering Supervisor, Gavin Falk. "We're looking at what the rod is and how it will be used, then investigating things like how anglers position their hands when using those techniques. The product brief also considers the price point we want the new rod series to sell at. These factors help us decide the basic handle-design parameters, as well as our options for materials. We come up with preliminary designs and then start testing those designs through production."
Falk says in-house 3-D printing technology has significantly evolved St. Croix's handle-design capabilities. "Once we have a preliminary design, we can print a grip the same day it is modeled," he says. "We build test rods with those 3-D-printed grips and let our team of beta testers fish them. We take their feedback concerning functionality and aesthetics and can quickly make adjustments. We check specs, refine designs, confirm fit with reel seats, then 3-D print the next versions. Once the design has been confirmed, we design accent pieces and build versions with the actual materials. Those designs are then re-tested and confirmed in the field. We repeat the process until everything is finalized."
The handle-design process results in detailed engineering drawings for each specific rod model. Those documents also specify the materials, and procedures – order of operations, gluing, the use of any arboring materials, etc. – for assembling the handles onto the rods on the manufacturing floor. "We source our various handle materials from a handful of trusted suppliers from around the world," Falk says. "These are relationships we've worked very hard to build and maintain. Whether it's cork, carbon fiber, or another material, everything is provided to our demanding specifications, so we know exactly what we're getting."
From the proprietary Xtreme Skin handles found on Legend Xtreme and Legend Xtreme Inshore and the carbon handles on our various Onchor models, to our GRASP-equipped handles on Legend Tournament Musky and select bass-fishing swimbait models, St. Croix is continually innovating handle design for the benefit of anglers. Combining materials – like premium cork, premium EVA, and soft rubber gimble butt caps on select inshore spinning models – is another way that we're pushing the limits of rod-handle design to better support the ways anglers fish. Additionally, new materials like St. Croix's agglomerated cork used on Skandic Ice and new Avid Inshore rods deliver all the benefits of traditional cork but with greatly increased durability.
"Xtreme Skin is designed not only for angler comfort, but also for maximum energy transmission," Falk says. "Similarly, the carbon handles on select Onchor Salmon and Steelhead models are very lightweight and durable but are also easy to keep clean and come in and out of rod holders easily by design," he adds. "GRASP helps anglers fish longer by minimizing wrist fatigue during physically demanding presentations like musky fishing or while casting heavy swimbaits. And we're seeing how our new ultra-durable agglomerated cork material keeps handles looking and fishing like new in demanding environments like those experienced during inshore saltwater and ice fishing."
Introducing TRIGON
St. Croix also carefully considers ergonomics. Ergonomics is a science focused on the study of "human fit" through what's known as anthropometric data – the various measurements of the human body. In the case of St. Croix's handle program, the latest example of ergonomic design comes in the form of an all-new TRIGON handle and accompanying Dynamix reel seat, carefully conceived to improve angler control while decreasing fatigue and discomfort.
"Our unique TRIGON handle recognizes that the human hand does not form a circle when closed, so we're no longer limiting our handle designs to cylindrical forms," says St. Croix Brand Manager, Ryan Teach. "TRIGON features a curved, triangular profile with a rounded inner apex and a flattened top curve to better fit the human hand. The results are a more comfortable grip so anglers can fish longer while exercising increased control to maximize power and accuracy."
Teach adds that St. Croix's use of the word ergonomic in its description the TRIGON handle is both valid and earned. "TRIGON's design is based on actual anthropometric data of the human hand," he says. "We went to one of the foremost experts in the field to make sure we got it right."
St. Croix engineers partnered with renown industrial designer, Paul Richardson of Rise Creative, over the past two years to perfect the TRIGON handle design and accompanying Dynamix reel seat. "TRIGON's inner apex – the triangular point on the lower part of the grip promotes greater hand-to-blank alignment for dramatically improved control," Richardson says. "Meanwhile, the flattened top curve of TRIGON creates greater hand comfort, which ultimately reduces fatigue and supports longer, more comfortable fishing. And the design's benefits are further increased in the way of control when the angler moves his or her thumb to the flattened top curve. The accompanying Dynamix reel seat has been specifically designed to fully support TRIGON's benefits by meshing perfectly with its unique profiles."
"In order to accomplish the aggressive design dimensional points in the TRIGON design, traditional cork forming could not be used," Teach says. "In addition to being ultra durable, agglomerated cork is completely customizable and represented the ideal material to support TRIGON's complex dimensional specifications."
Think of TRIGON as a bionic extension of yourself – the ultimate interface between an angler and their most important tool. The new TRIGON handle and Dynamix reel seat will be introduced this month at ICAST 2023 on St. Croix's popular Mojo Bass Series, which has been updated, refreshed, and expanded for 2024. New Mojo Bass TRIGON rods will be available to anglers at St. Croix dealers worldwide beginning August 1.