Early
Summer Musky Strategies
June 13, 2023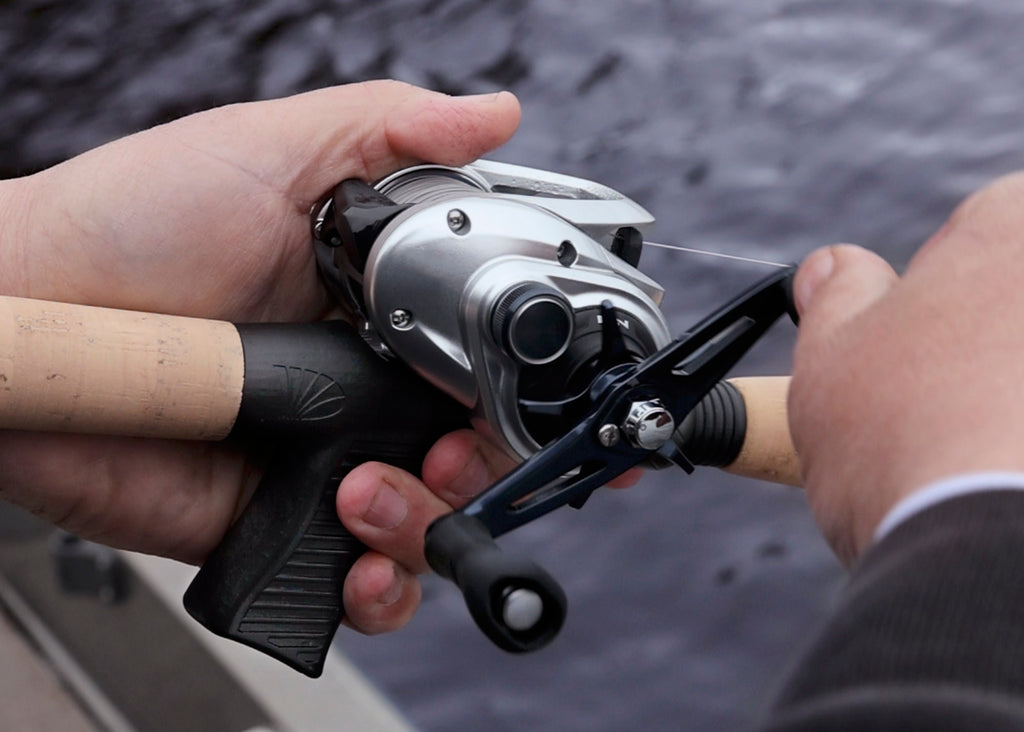 Top musky sticks share tips on finding and hooking more fish during June and July
While anglers in states like Indiana and West Virginia have been targeting Esox masquinongy since ice out, others in key musky states like Wisconsin and Minnesota have been anxiously awaiting their season openers. Musky season opens June 3 in Minnesota and between May 6 and June 1 in Wisconsin, depending on location. 
St. Croix pros Rob Manthei of Wisconsin, Brad Hoppe of Minnesota, and Chase Gibson of West Virginia all make a living chasing muskies. We asked each of them to share their insights and strategies for finding and hooking muskies during the months of June and July.
Rob Manthei, Northern Wisconsin
Rob Manthei has fished the fabled musky waters of Vilas, Oneida, and Iron Counties in Northern Wisconsin all of his life and has guided clients there for 28 years. He says specific strategies at season open depend on the weather and water temperatures. 
"Every musky angler in Wisconsin is at the mercy of our May weather patterns," Manthei says. "In a normal year we'll often have a mid-May spawn here in Northern Wisconsin, but it's been a late spring so I'm expecting we may still have some spawning going on into early June." 
Muskies are broadcast spawners, meaning they pair up, spawn, and lay their eggs in shallow, soft-bottomed areas when water temperatures reach the mid-to-upper-50-degree range. "During a late spring like we've had this year, everything with the spawn tends to happen more quickly once it starts," Manthei says. "The spawn will last from five days to two weeks, then the fish move out of the shallow spawning bays and into adjacent key transition areas. I'll be looking around those shallow spawning bays for any emerging weed growth, wood, or boulders along the shoreline." 
Manthei says the general rule is smaller presentations for post-spawn muskies, but he regularly bucks that trend. "I let the fish tell me what they want," he says. "If I see muskies grabbing my 13"-15" walleyes prior to the opener, that tells me I can come out of the gate with a bigger presentation. Generally, though, I'm sticking to 6"-7" minnow baits and smaller ¾-ounce to 1-1/2-ounce single-blade bucktails. I really like twitching small minnow baits and small gliders in the early days of the season." 
Manthei says an 8' or 9' medium-heavy power rod like the St. Croix Legend Tournament Musky LMTSC90MHF GRINDER or LMTSC80MHF TOP-N-TAIL excels in these smaller-bait presentations. "These Legend Tournament models are well balanced and cast even a ¾-ounce bait a mile," says Manthei, who completes his downsized bait system with a 6.4:1 reel spooled with 65-pound or 80-pound Seaguar Threadlock braid. 
"By late June, I'll typically also start looking to bigger lakes with healthy cisco populations," Manthei says. "A lot of muskies will move out after the spawn and suspend, fattening up on ciscoes. I use side imaging or Active Target on my Lowrance to look for the suspended bait and predators in the first open basins adjacent to the spawning bays. "They're easy to find with electronics, but if you don't have them, just focus on the top ten feet of the water column," Manthei advises. "Most times the bait will only be 5'-9' down, and it may push even closer to the surface in the evening."
Some of the baits Manthei regularly employs in such situations include a Musky Innovations Magnum Swimmin' Dawg swim bait or a suspending, diving crank like the Drifter Triple D or Livingston Rachel. 
"You're basically just using an open-water retrieve with the swimbait; just count it down to your target depth and start cranking steady with some occasional brief bursts with the reel handle," Manthei says. "With the lipped diving baits, you just want to crank it down to depth, then give it a big twitch and pause. Make the bait appear injured." For these open-water presentations with full-sized baits, Manthei casts a heavy power Legend Tournament Musky LMTSC86HF SLING BLADE or LMTSC90HF BIG NASTY rod.
He says the suspended basin bite on the lakes he fishes remains strong through mid-July, although the fish may push deeper depending on temperatures and the thermocline. 
Weed flats and edges also come into play for Manthei by the end of June and the start of July. "The cabbage beds have matured on most of my favorite lakes by then," he says. "I always fish the 7'-to-12' green cabbage beds first, but the coontail will hold a lot of fish once it matures as well." Manthei studies the composition and contours of each bed, looking for prime, predator-holding ambush spots like inside turns, points, and pockets. He may fish big bucktails, large jerk baits, glide baits, or other offerings in and around the weeds, depending on the situation at hand.
Brad Hoppe, Minnesota
Brad Hoppe has owned and operated Musky Mayhem Guide Service in the waters of West-Central Minnesota for the past 23 years and owns Musky Mayhem Tackle with his wife, Carrie. He also hosts Mayhems 10K Casts TV on KOTV, Roku, and YouTube along with co-host Chase Gibson. 
"Musky season opens the first Saturday of June in Minnesota," the St. Croix pro says. "This year, that's June 3, and the spawn should have happened by then. When we get this late but rapid warm-up, spawning usually only lasts for 7 or10 days, so even if it's still happening during the opener, chances are it won't last long." 
Hoppe says he typically looks for two things in the month of June. "As fish wrap up spawning, I'm looking for transition areas close to those shallow spawning grounds," he says. "Those first breaks towards deeper water, early cabbage lines, sand and gravel… stuff like that." 
Like Manthei, Hoppe says he often cuts against the grain of conventional early-season musky thinking and opts to cast big baits. "Right after the spawn, those fish haven't eaten," he says. "So, I'll go big and slow down to offer them a really big and easy meal." 
Hoppe most often finds himself casting giant spinnerbaits like Musky Mayhem Double Cowgirls and Detonators, as well as large rubber baits on a St. Croix Legend Tournament Musky 9'6" heavy power BLADEMASTER II rod (LMTFC96HFT). "I'll slow the retrieve way down on the blade baits and minimize speed and action on the rubber lures as well… really just small hops on a slow retrieve," he says, adding that the full cork and EVA handle and GRASP reel seat on the BLADEMASTER II help to alleviate the fatigue that can otherwise limit efficiency when casting and retrieving such large, water-resistant lures. "This rod is incredibly light in the hand for such a big, powerful stick," he says. "And the ergonomics of the GRASP reel seat and hybrid full-handle design only add to its unique capabilities."
The second thing Hoppe looks for in June is suspended fish. "I always look forward to this, especially with some of my older clients who have trouble casting for long periods of time," he says. "Open-water trolling is very effective in lakes with whitefish and cisco populations during the early summer. The muskies push out after spawning and set up around the schools of suspended bait."  Hoppe says a variety of lures are effective for open-water trolling and often chooses baits based on forage species and the depth where they're located. "We're usually dragging bigger plugs like 10" and 12" Supernatural Headlocks and Matlocks, 13" Grandmas, or 10" Phantom Hex on St. Croix Mojo Musky Trolling rods. These heavy and extra-heavy power moderate action rods are crafted from a hybrid of SCII carbon and linear s-glass, so they are incredibly durable, which is what you need when a big musky crashes a giant plug that's already got the rod loaded up. I'll run the shorter 7' rods as down rods and the longer ones on the planer boards." 
Hoppe says the thermocline starts to develop in many of the lakes he fishes around the beginning of July. "Once that happens, I stop targeting suspended fish, because they often come up to hit the plugs from a little too deep and I don't want to compromise a safe release," he says. "Instead, I'll position the boat in 20' of water or so and start casting to 8'-12' primary break lines. Sideview or live sonar will show you when open-water fish start moving in towards these weed lines, but the transition is usually complete by mid-July." 
Hoppe says baits vary from day to day, depending on the cover, the mood of the fish, and available forage. "If the muskies are hanging deeper, I'll use a Musky Mayhem Grenade," he says. "This is a 13", five-ounce weight-forward tail-bladed spinner specifically designed for fishing deep weed edges. The depth is key; Using my electronics I can confirm where fish are hanging and use other lures like Red October tubes, Cowgirls, Bulldawgs, or Medusas to cover any part of the water column I might need," says Hoppe, adding that he effectively presents all these offerings on the same St. Croix Legend Tournament Musky BLADEMASTER II (LMTFC96HFT) rod. "I'll switch to the new BLUE OX (LMTFC90XHF) model if I'm fishing really big rubber," he adds. 
Tactics change again when the fish disappear completely into the weeds. "Look for the freshest, greenest weeds," Hoppe advises. "Cabbage first, coontail second, and speed up your retrieves. You can downsize your bait when fishing over or through the weeds to lures like Rapid Squirrels, smaller Double Cowgirls, or tubes. Grenades go through the weeds well, too," adds Hoppe, who pairs his BLADEMASTER II rod with a 400- or 500-size mid-speed Tranx reel.
Chase Gibson, West Virginia
Chase Gibson of Bridgeport, West Virginia is a fishing guide, co-host of Mayhem 10K Casts TV with Hoppe, and owner of Muskiebumper Bump Boards. There's no closed musky season in West Virginia, so Gibson starts fishing at ice-out and stays in the Mountain State – also fishing in Ohio – before moving up to Minnesota from mid-July through October. 
"Our West Virginia reservoirs are loaded with shad, crappie and standing timber, so these are some of the factors that make musky fishing here unique," he says. "Our thermoclines set up by mid-June, and muskies will suspend in deep, timbered coves, as well as out in open water." 
Gibson says jigging with Bondy Baits is a staple presentation in June and July. "The 9-foot BLUE OX is a great jigging rod," Gibson says. "Its shorter length makes it easy to maintain control while moving around the trees." 
Gibson jigs with100-pound Cortland Masterbraid spooled on a Tranx 500 high-speed reel and generally follows one of two alternate jigging cadences. "Less popular is the taller stroke," he says. "That means lifting the tip of the rod from the surface of water up to about eye level… maybe a five or six-foot stroke. More often a shorter, faster, snap-jigging technique is most effective. This more aggressive motion moves the rod tip from the surface of the water up to about waist level, then you drop it back down as fast as you can on a tight line. You're looking to just make them eat it… it's more of a reactionary-type strike." 
Which jigging cadence Gibson uses ultimately depends on the fish's activity level. "Using live sonar is very helpful in adjusting your presentation to match the fish's mood," he says.
If jigging isn't working, Gibson will back out and bomb casts into the timber with a black nickel colored Detonator. "I'll start with a medium-fast retrieve and once the lure gets about halfway back to the boat I'll speed up and burn it the rest of the way in," he says. "This gets a lot of follows and they'll usually eat it on the first turn at the boat." 
Gibson says Cowgirls, Medusa, and Bulldawgs work well for timber-casting, too. "A lot of times I'll put an extra 1.5 ounces of weight on the front hook hanger to get those rubber baits down faster and keep them running a bit deeper," he says. "I fish these rubber baits on the Legend Tournament Musky BLUE OX rod and snap-rip them as fast as I can." Gibson adds that a Musky Innovations Dyin' Dog has a great dive-and-rise action that works great when muskies are neutral or negative.
Like Hoppe, Gibson is also a fan of trolling when muskies are suspended in open water and terrorizing balls of abundant shad. "We'll run a planer-board rod, an out rod, and a down rod on each side of the boat and just follow the river channel at 4-4.6 MPH," he says. Gibson runs bucktails with an eight-ounce weight on the leader in front on the down rods, about 8-10 feet down right in the propwash. He prefers Llungen Lures .22 Short crankbaits on the out rods and planer-board rods. 
"Rod choice is a key consideration when trolling," Gibson says. "You're pulling big, heavy lures at high speed, so those rods are already under a significant load before a fish even hits. You need extremely durable rods to stand up to the abuse. St. Croix Mojo Musky Trolling series rods have tons of power and strength with a moderate action that really helps absorb shock and keep hooks where they belong throughout the fight." 
Wherever you're located within musky country, the months of June and July signal game on for pursuing North America's top freshwater predator. Follow the advice of our pros to more fish-holding locations, more follows, and more fish boatside in the net or cradle.