Meet Our Machinery
B.A.S.S. Elite Pro and St. Croix Rod Pro Staffer, Derek Hudnall
January 22, 2020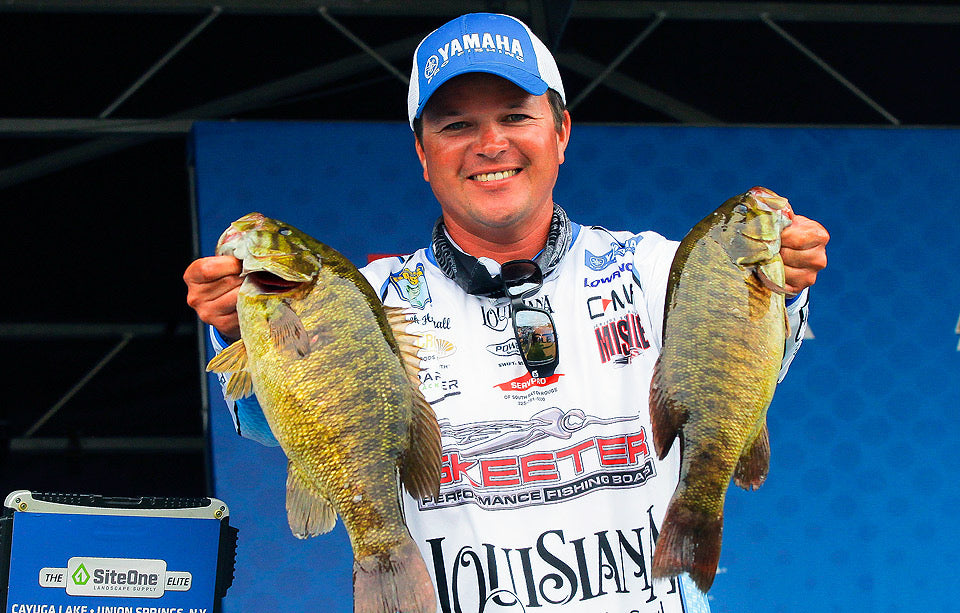 Besides the many passionate employees in Park Falls, Wisconsin, St. Croix's team extends to pro staff who work hand-in-hand with rod developers to help create exactly what anglers need and want for any specific fishing application. One of those key contributors is B.A.S.S. Elite pro, Derek Hudnall of Baton Rouge, Louisiana.
Given his active tournament schedule and hours of experience on the water, Hudnall provides a critical voice on the St. Croix team, especially when it comes to providing feedback on new and proposed product introductions. He knows what tournament-grade fishing demands and has a clear understanding of how certain features and technologies developed for competitive angling can also help recreational anglers become more successful.
Hudnall couldn't be happier in this role, not only singing the praises of St. Croix's products, but also what's it's like working with the company itself.
"It's been a fantastic relationship and one of the best business decisions I've ever made… partnering with St. Croix and everybody there," Hudnall says. "In July, I visited the factory and got to spend a couple of days with everyone in the facility, plus spend some time on the water and that really strengthened the relationship. When you get to talk to everyone there – all the folks behind the product – that makes all the difference in the world."
Hudnall prefers to describe his relationship with St. Croix as a partnership, not a sponsorship. "With St. Croix, it's almost like not working. The old cliché stands true here: 'You never work a day in your life when you do something you enjoy.' It's the same way with the partnership I have with St. Croix," he says. "Everybody is like family. They're all just a phone call away – and everybody you meet is so passionate about what they do, so it's more than a sponsorship, which is a word I don't like to use because it implies handouts. This is a true partnership. There's tremendous value flowing both ways. It's really easy to work with people who not only make great products, but also treat you like family."
Hudnall has his favorite St. Croix rods, but admits he's a fan of the gamut – from Legend Xtreme to the Premier Series – and loves talking about the 32 sets of hands that touch each rod leaving Park Falls and what that really means in terms of quality for anglers of all walks.
"I love all of St. Croix's product lines. They have a level of detail and quality control that's simply unparalleled. But when it comes to day-to-day tournament fishing, most people know I'm a huge fan of the Legend Xtreme. From the time I put the first one in my hand, I just fell in love with them. They have the perfect mix of light weight, balance, sensitivity, strength, and durability that a rod really needs."
Hudnall points out a couple key Legend Xtreme models that have really upped his performance on tour.
"I'm a little bit different when it comes to fishing square bills and spinnerbaits. I like a medium power, but I also like an extra-fast tip. It's hard to find one that's balanced like that – a rod that gives me extreme sensitivity but also provides the leverage and forgiveness I need when I hook into a fish," he says. "I'm also a fan of the Legend Xtreme spinning rods. I absolutely love them for drop-shotting, but I've used them all. I like a smaller profile, light rod for pretty much everything I fish unless I'm punching or flipping, which is when I turn to the Avid X and Legend Tournament Bass Series, both dynamite product lines, too. But for most applications, the Legend Xtreme is just so incredibly light, it lessens fatigue, allows me to be more accurate and delivers incredible sensitivity. It's almost like an electric shock when you get a bite with these rods."
Hudnall recalls last year's Bassmaster Classic, when St. Croix Legend Xtreme rods really made a difference for him.
"We had cold, high, and muddy water on the Tennessee River, and I was throwing a big ¾-ounce spinnerbait with big blades, which I had to reel painfully slow to get bites. And that time of the year, you really have to be cognizant of every cast because a lot of times the bites are really subtle. You're coming over a log or through wood and you often can't feel the bite until it's too late. But I was throwing a 6'10" Legend Xtreme medium power, extra-fast (and I could feel every bite. It takes a rod that has the right balance with that extra-fast tip and still the medium backbone that you need to still get that sensitivity. A lot of guys tend to throw a medium power rod with a moderate-action tip. They think it's going to give them more leverage, but you lose sensitivity and the ability to feel strikes. That's one example that comes to mind where I was really glad I had that rod because there were a lot of bites I wouldn't have felt otherwise."
And Hudnall's thoughts on the upcoming Bassmaster Classic?
"It has the potential to be an absolute slug-fest. Guntersville, especially that time of year, people are going to be highly entertained with the quality of the fishing and competition. Add that it's Bassmaster's 50th Anniversary and having the Classic right there by the B.A.S.S. headquarters, and you just couldn't ask for a better situation," he says.
But this year's Classic is going to be exciting for Hudnall, the rest of St. Croix's passionate following of anglers, and the entire fishing industry for another reason, too.
"St. Croix is making their most significant product launch ever in Birmingham," says Hudnall. "The Legend Xtreme Series – already hands down my favorite rods – are being upgraded to a new level of sensitivity and all-around performance that I struggle to describe. You've simply got to pick up these rods and fish with them to truly understand what St. Croix has created! The new Legend Xtreme Series uses St. Croix's most exotic carbon-blend blank construction, a full carbon guide train, an upgraded second-generation Extreme Skin handle and other refinements to create St. Croix's most sensitive fishing rods ever. I've been fortunate to have been involved in the development and testing of these incredible new rods, and they'll definitely be on my deck and in my hands this season."
Looking forward to the upcoming year and beyond, Hudnall is enthusiastic about working with St. Croix, from fishing the Best Rods on Earth® to providing assistance on the product-development, marketing and promotions fronts.
"St. Croix is more than a sponsor or even a partner; they're family to me. They've made me feel that way from the start, including me in product development to helping me on the road with anything I might need or questions I might have. They're always there. It's really nice to be with a company that understands that value goes both ways," he says. "It's made for a great relationship and I look forward to the future with them."
If you are coming to northern Wisconsin, we'd love to meet you and provide you with the opportunity to Meet Our Machinery. Call us at 800.826.7042 or email us at factorytour@stcroixrods.com to schedule a factory tour. Learn more at https://stcroixrods.com/pages/factory-tours.
#stcroixrods
About St. Croix Rod
Headquartered in Park Falls, Wisconsin, St. Croix has been proudly producing the "Best Rods on Earth" for 70 years.  Combining state-of-the-art manufacturing processes with skilled craftsmanship, St. Croix is the only major producer to still build rods entirely from design through manufacturing.  The company remains family-owned and operates duplicate manufacturing facilities in Park Falls and Fresnillo, Mexico.  With popular trademarked series such as Legend®, Legend Xtreme®, Avid®, Premier®, Tidemaster®, Imperial®, Triumph® and Mojo, St. Croix is revered by all types of anglers from around the world.