Handcrafted with Pride in North America
August 25, 2022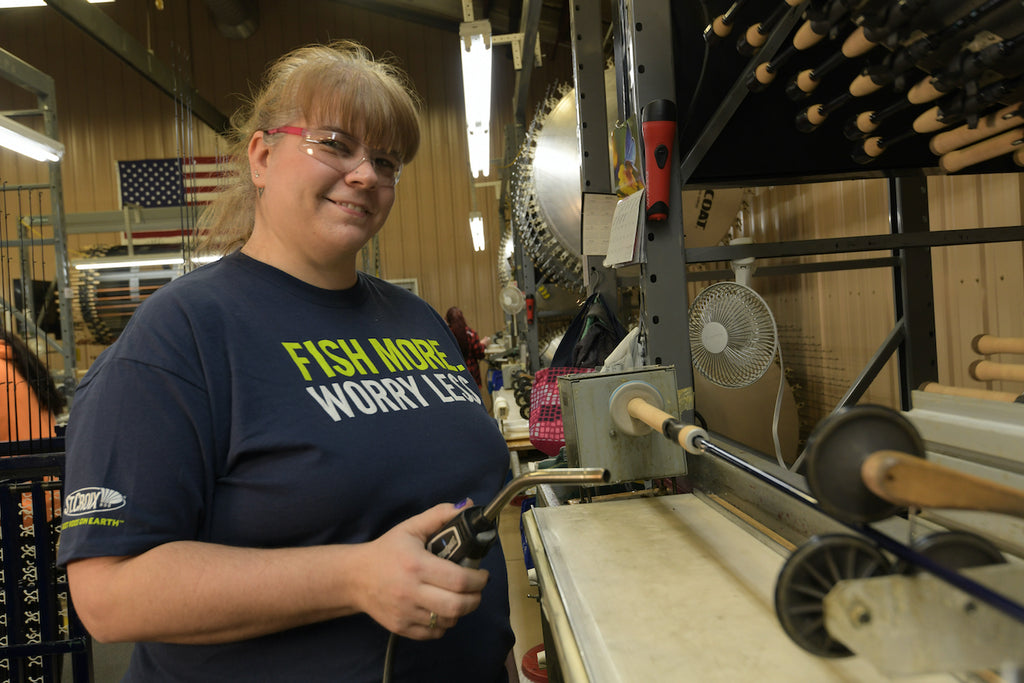 The first two years of this decade have offered our great nation a wealth of lessons. Moreso than ever, perhaps, Americans understand the importance of domestic production of goods. From critical medical supplies to energy to the day-to-day products that support our normal lives and livelihoods, "Made in the USA" has taken on new levels of meaning and importance for many Americans.
As America celebrates its 246th year of independence, St. Croix Rod – owned by the Schluter family for the past 45 years – is taking the opportunity to celebrate its 74th year of handcrafting the Best Rods on Earth® right here in North America in the two most advanced fishing rod factories ever built; St. Croix North in Park Falls, Wisconsin and St. Croix South – a facility owned and operated by St. Croix Rod in Fresnillo, Mexico.
St. Croix South – inclusive of its location, facilities and people – is a critical asset that allows St. Croix Rod to deliver on its mission of helping all anglers maintain the upper hand on the water. St. Croix's state-of-the-art Fresnillo manufacturing facility allows the company to build rods that appeal to a wider range of anglers. Ultimately, it's anglers who win when operational costs are lowered and materials, workmanship and manufacturing processes remain at the same high standard. St. Croix South-built series like Triumph Freshwater and Saltwater, Mojo Freshwater and Saltwater, Bass-X, and Eyecon speak for themselves, all of which enjoy extreme popularity with anglers worldwide. And delivery of these rods is not dependent on container ships coming from overseas.
"Our St. Croix South manufacturing facility is nearly identical to our Park Falls, Wisconsin factory," says St. Croix VP of Operations, Alex Ogurek. "The equipment, technologies, materials and manufacturing processes are largely the same, while the more contemporary layout at St. Croix South allows us to operate at a higher margin of efficiency. The only things that are really different are the sets of human hands forming and adding value to the Best Rods on Earth."
Ogurek reports that while St. Croix has been making rods at St. Croix South since 2006, the company acquired full ownership of the facility in the spring of 2020 "This is a big deal for St. Croix and our anglers, because we no longer have a middleman," Ogurek says. "We now fully run the operations, which has increased both productivity and quality."
Anglers are diverse with specialized rod needs that go beyond the key metrics of length, power and action. St. Croix has consistently proven it can build any specific rod an angler could want or need and craft it with exceptional performance characteristics. But the real victory – for angler and company – comes when St. Croix delivers such a rod at a price any angler can afford and is willing to pay. The company accomplishes this, largely, through a deliberate, vertical manufacturing strategy.
St. Croix North and South are integral to the company's vertical manufacturing strategy, which means owning or exercising increased control over the elements within the value chain. Vertically integrated manufacturing provides significant benefits when it comes to product manufacturing, assembly and supply, including reduced lead times, increased quality, and cost control, to name a few.  
For St. Croix and its anglers, vertical manufacturing means the company doesn't rely on anyone else's rod blank designs or manufacturing; it is free to innovate and consistently deliver rods with unique combinations of technologies, materials, performance and value that improve the angling experience. It also means anglers can expect to receive the highest quality products at a fair price backed by one of the best warranty and customer service programs in the entire fishing industry.
Ogurek makes frequent trips to St. Croix South, where he meets with staff to discuss general manufacturing issues, inventory, production schedules, quality assurance procedures, efficiency improvements and more. "We have a great team in Fresnillo," he says. "If something works especially well in Park Falls, we try to apply the same concept at St. Croix South. Meanwhile, the creativity and problem-solving that happens at St. Croix South results in improvements in Park Falls, too. Regardless of where the idea originates, every change we make is done so with the best interests of anglers in mind."
Ogurek relies heavily on St. Croix South Engineering Manager Rodolfo Tostado (left) and St. Croix South Operations Manager Chuay Mario Rodriguez (middle) to keep operations running smoothly at St. Croix South. St. Croix VP of Research and Development, Jason Brunner shown at right.
"I lead our team of over 200 people to complete production and delivery – on time – of the Best Rods on Earth," says Rodriguez. "Each team member at St. Croix South is keenly aware of the history, mission, and prestige of the brand and takes great pride in crafting these rods for anglers. All of our equipment, materials, and processes are identical to those in Park Falls, but the building here is newer. That's about the only difference," Rodriguez adds. "It's a very nice work environment and our team members love coming to work here."
Back home in Park Falls, St. Croix North continues to produce rods series such as Premier, Imperial, Victory, and the entire Legend family of freshwater and saltwater rods, while also serving as the product-engineering and design hub for all St. Croix products for the benefit of anglers all around the globe.
"St. Croix North is where we leverage angler feedback to conceive, engineer, design and test all new St. Croix rods," says St. Croix VP of Research and Development, Jason Brunner. "We're using materials and technologies in new ways to produce rods that are both stronger and lighter, while constantly evaluating things like angler ergonomics so we can build rods across varying price points that make it easier for anglers to execute specific presentations."
St. Croix VP of Marketing, Jesse Simpkins, says it's an incredibly exciting time to be an angler fishing St. Croix rods. "We headed into ICAST last month with the opportunity to show the fishing industry what we've been up to at St. Croix over the past year," he says. "We introduced an unprecedented number of all-new rod series and models that make it easier for freshwater and saltwater anglers to enjoy better experiences on the water than ever… not for the sake of simply coming out with new rods, but because innovation and improvement are the mandates we're handed by our anglers every day. Our people never relent in their combined mission of producing the Best Rods on Earth, and that was clearly reinforced at ICAST 2022 with our introduction of Skandic Ice, Rift Salt and Rift Jig, Avid Series Walleye, Avid Series Panfish, Onchor, Legend Tournament Inshore, Legend Tournament Walleye, Legend Tournament Musky, Legend Tournament Pike, X-Trek and Sole Fishing Systems, and Legend Tournament Bass GRASP swimbait rods, which was recognized by the industry as Best New Freshwater Rod in the New Product Showcase Awards."
St. Croix employs nearly 400 people, many of whom use their hands to combine the best raw materials and technologies, transforming them into the fishing tools that give anglers the upper hand in any situation. Yes, St. Croix utilizes advanced machines, computers and tooling at both of its North American factories and that equipment has continually evolved over the past 74 years, but it has always been guided and executed by skilled human hands. It's true; at least 32 sets of hands come in contact with your St. Croix rod before it reaches yours, and it takes extreme commitment and attention to detail from all of them to deliver the rods St. Croix anglers expect – rods that elevate their fishing experiences.
Best Rods on Earth is much more than a simple marketing slogan; it's a guiding statement equivalent to a personal, daily affirmation that reminds, encourages and empowers every St. Croix team member – North and South – to be angler driven. Simply stated, an angler's pride and satisfaction with a St. Croix rod is St. Croix's pride and satisfaction as a company.
For St. Croix and its anglers, "Handcrafted in North America" means employing passionate people to transform the highest quality materials into the Best Rods on Earth, classified as such by virtue of their remarkable performance characteristics, overall quality, and ability to elevate any personal angling experience. Whether it's a father and son Canadian fly-out, an inshore adventure, catching bluegills in a farm pond, or competing in the Bassmaster Classic, rest assured that your handcrafted St. Croix fishing rods have been conceived and delivered to give you the upper hand while maximizing your satisfaction on the water.
We've been at it for nearly 75 years now, and the best is yet to come.