Fall Musky Tips
St. Croix pro staffers offer autumnal Esox advice
October 18, 2023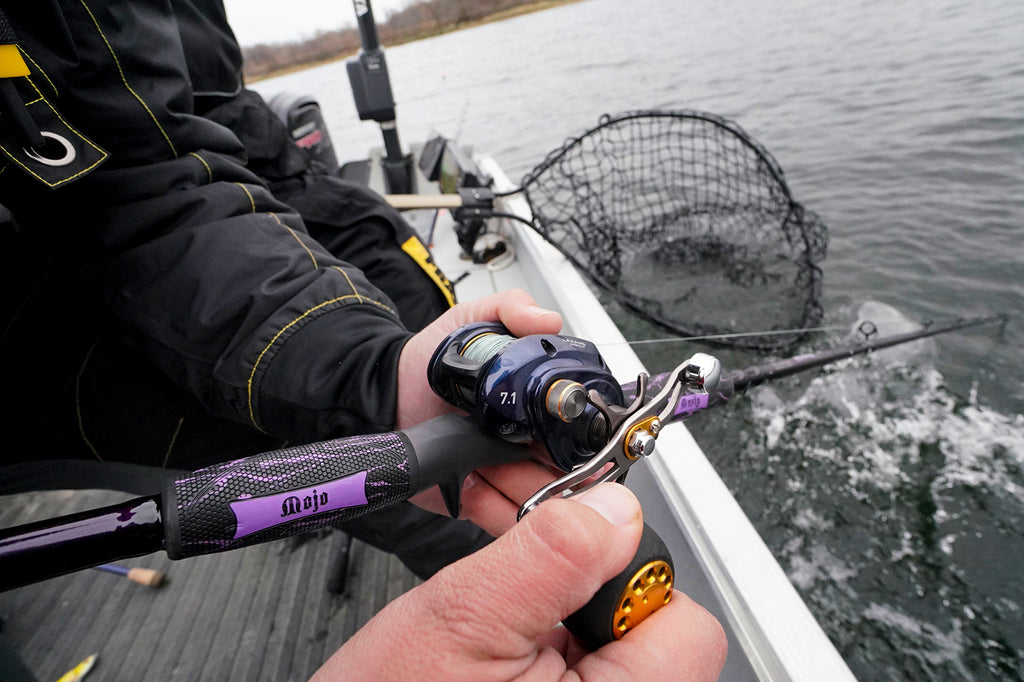 Christina Truppe on Finding Fall Fish
"When fall arrives and water temperatures drop into the low 50's and below, shift your run and gun approach to a more-focused deep-and-slow mindset," Truppe says. "As the water temperatures drop, you'll be faced with shorter days and much shorter feeding windows. Moving your lures and live baits deeper and presenting them more slowly is essential." When Truppe splashes her Lund in a lake in late fall after the turnover, she says she focuses her time and effort on only a handful of what she calls A spots. "Rather than hitting every decent-looking structure spot on the lake, it's much more productive to spend all of your time on A spots at this time of year. These will stand out on most lakes when you look at a lake map and are most often the steepest breaks or deep, mid-lake structure like rock and wood. Areas that have both steep breaks and large rocks or wood can be the best of the best," she says. "Use your side imaging or forward-facing sonar to find the bait concentrations in these areas and the muskies usually aren't far away. I use 8' Musky Mojo Trolling rods for my live bait set ups and 9'6" heavy power Legend Tournament Musky rods for fishing big rubber baits deep and slow.
Rob Manthei on Big Rubber
"When you're throwing big rubber baits in the fall, you're going to need a bigger rod and this is one area of casting where I typically tell people don't worry about the length of your cast; just bomb it out there and cover water," Manthei advises. "This is definitely where you want to start grabbing that heavier Mojo Musky rod in the 8'6" to 9' range. The telescopic one-piece rods like the 8'6" telescopic, heavy power, fast action (MJM86HFT) and 9' telescopic, heavy power, fast action (MJM90HFT) work great. Those are the rods on which I'm throwing a lot of these bigger, heavy rubber baits. And for anglers who don't have a giant rod locker, they can finally start carrying 9-foot musky rods. The 8'6" model collapses to a manageable 7'6" and the 9' models down to 7'10". That's a really slick advantage when it comes to transportation and storage." 
Manthei says while there are many St. Croix musky rods are series to choose from, it's hard to beat Mojo Musky's combination of durability, performance, and value. "Overall, the physical weight of St. Croix's Mojo Musky series rods is exceptional… very comfortable to fish all day," he says. "And they're one of the best values of musky rods out there. With 14 technique-specific models and the quality you get for their price, I don't think Mojo Musky can be beat."
Gavin Falk on Live Suckers
"I look at the offering of live suckers as a value-added presentation most days in late fall," says St. Croix Engineering Supervisor and musky nut, Gavin Falk. "It's one I'll usually combine with casting and retrieving big rubber baits, but it can easily turn into a go-to technique on certain days." Falk says a live sucker is simply the most natural looking and smelling bait a musky angler can put in the water. "It's also one of the easiest offerings for a fish to approach," he adds. "Especially an interested fish that may have followed a lure to the boat but refused to eat it. The secondary presentation of suckers definitely helps to convert some of the more lethargic fish." 
Falk says feeding suckers to muskies is a hoot. "You never know how fish are going to react to your setups. Sometimes it's a cat-and-mouse game with a series of calculated moves and other times it's like watching a full-on horror movie," he says. "I typically run a quick-strike set up under a big float out behind the boat with the bait suspended up higher in the water for boat-shy fish. Then I'll usually also run one or two down rods – depending on the fishing regulations – at different depths. Those rods just go into the rod holders and fish straight down under the boat." 
Falk makes his own sucker rigs but says anglers can buy pre-made wire or fluorocarbon versions at just about any bait and tackle store in musky country. He fishes live suckers on a variety of St. Croix rods – including the company's extremely popular Mojo Musky Series models – but says the 8' heavy power, moderate action Premier Glass Musky Rod (PGM80HM) was made for this purpose. "Some days the higher sucker tends to get hammered and other days the fish want the deeper baits," he adds. "It's always surprising how some days the fish will come up five or even ten feet to hit a bait and other times you have to drop it right down to their face in order to get them to react, but all of this is what makes sucker fishing so much fun. Once they eat it, the Premier Glass rod has plenty of backbone to bury the hook and a moderate action that does a great job of minimizing stresses on the rod, line, terminal tackle, and the angler when a giant fish is going crazy so close to the boat.
Steve Heiting on Young Musky Anglers
"Take a look at the 6'10", medium power, fast action Mojo Musky rod (MJM610MF) – especially if you've got a son, daughter or any other young person in the boat who's been bitten by the musky bug," Heiting says. "This shorter, medium power rod is one that kids can pick up, cast easily with a variety of effective lures, and experience success with. The Mojo Musky 7'2", medium-heavy power, fast action model (MJM72MHF) is another great option for smaller anglers."