Captain Justin Carter on Fall Atlantic
Coast Redfish and Bonus Cobia
October 18, 2023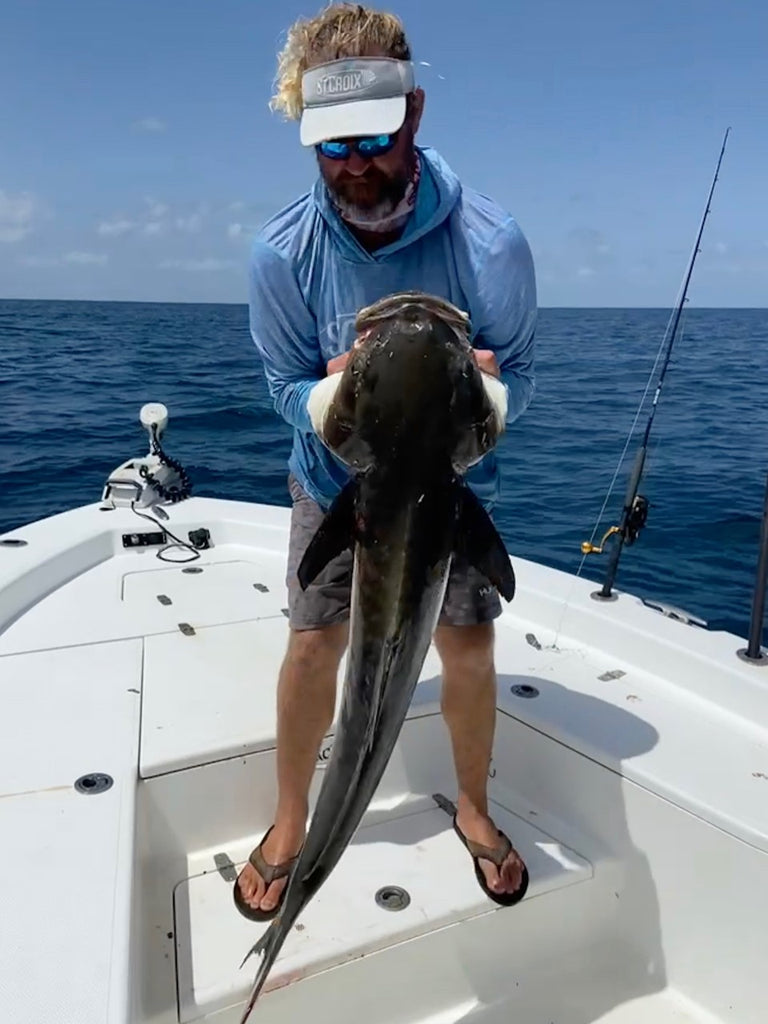 Senior Guide at RedFin Charters, Captain Justin Carter plies the inshore and nearshore waters around South Carolina's Charleston Harbor. Day in and day out, redfish are the main attraction, but Carter intercepts a variety of other species throughout a season on the water, including speckled sea trout, tarpon, black drum, flounder, snapper, grouper, sharks, king mackerel, and cobia, to name a few. Captain Justin knows how to make his angling customers happy. The formula? Put the best possible gear into their hands and place them within casting distance of fish that pull hard and are ready to eat – whatever the species may be.
Carter's Fall Redfish Program
Carter says the redfish bite only gets better as fall progresses. "As the bait starts to push offshore, the fish start to realize they've got to feed whenever they can," he explains. "Artificials are all an angler really needs."
"As much as anglers loved St. Croix's Avid Inshore rods before, they're going to love the new 2024 versions even more," Carter says. "SCIII+ carbon allows St. Croix to make these rods lighter and better balanced, but anglers are also going to notice heightened sensitivity and more refined actions as well, especially in the lighter powered models, which have a lot more backbone now. The biggest thing for me though – aside from those serious improvements – is the new agglomerated cork handles. These handles have held up incredibly well during testing – looking and feeling brand new after well over a year of hard use. Regular cork grips feel great when new but tend to harden over time and no matter how well you take care of them, eventually develop cracks and voids. I also really like the new guide trains and spacing on these new Avid Inshores. In my experience, I'm seeing about 10% greater casting distance and they are quieter than the old guides." 
The AIS73MLF 7'3" medium-light power, fast action Avid Inshore spinning rod is Carter's choice for open-water or shallow-grass-flat redfish. "It's slightly longer for more casting distance with good accuracy," he says. "It's ideal for 1/8-ounce up to maybe 5/16-ounce jigs, light jerkbaits, swimbaits and other finesse presentations, plus it's got incredible backbone for a medium-light power rod… that's what the new SCIII+ material gives you. This is also a great all-around cold-water rod for making subtle presentations and feeling tentative bites . It'll easily handle open-water reds up to 30", and really absorbs head shakes from flounder and big trout."
Carter says he loves the ASIC70MF 7' medium power, fast action casting model for throwing heavier stickbaits and topwaters. "It seems to have a bit more power and backbone than the corresponding spinning model and has a great snap off the tip for casting and animating lures," he says. " It's really well balanced and feels great in the hand. Running a little lighter line, I can throw ¼ to ½-ounce lures. It's got plenty of power to land deep-water redfish quickly to keep them away from the sharks."
Carter on Bonus Cobia
Captain Justin says cobia are rapidly becoming his ace in the hole when it comes to putting clients on large, hard-pulling fish.  "We get a good cobia bite out in 80 to 120 feet of water as the water starts to cool in fall," he says. "These fish winter in water as deep as 400 feet, but tracking studies show they move east or west based on water temperature," he says. "When water temperatures get below 70 degrees, they typically push out past 120 feet, which is beyond my practical range for guiding anglers, but a warming trend can push them back inside my window."
Wherever fishing cobia shallow or deep, Carter gets a chum slick going. "Once we have some scent in the water, I'm only using two presentations to target the cobia and other pelagics that show up. I'm drifting live bait in the slick and also pitching lures," he says. 
Carter uses 7'6" medium-heavy power, fast action St. Croix Avid Inshore spinning rods (ASIS76MHF) for his drift presentations. These are rigged with live free swimmers to tempt cobia, false albacore, mahi, and other species up high. He uses 7'6" heavy power, moderate-fast action Avid Inshore casting rods (ASIC76HMF) for his pitch setups, offering artificials to cobia and other eaters that show up in the slick or around the boat. "Our typical pitch baits are 1.5-to-2-ounce jig heads rigged with 7" Z-Man DieZel MinnowZ, hair jigs, or custom 8" 2-ounce articulated feather jigs," says Carter, who caught a cobia pushing 60 pounds on one of his pitch rigs late last fall. "When these fish show up around the boat there's usually just a short window to offer them something," he says. "Fail to keep their interest by putting something in front of their face and they move on as quickly as they showed up."
Carter rigs similarly on both drift and pitching setups. "It's usually 40-60-pound fluorocarbon leaders and 40-50-pound braid," he says. "When we're pitching, we're just swimming the baits or doing a lift and a fall. They'll often take the lure on the fall. The Avid Inshore 76HMF rods are the ideal tools for this job whenever big, powerful fish are around the boat. The fast tips on these rods deliver baits into the strike window accurately, and the moderate-fast action soaks up the shock of violent strikes and headshakes when you may only have a short amount of unforgiving braided line between you and the fish. But most importantly, these rods have the power to beat the will of big fish while remaining incredibly – almost unbelievably – light in the hand, so they're very easy rods for my clients to manage. As good as the old Avid Inshore rods were, this new generation of SCIII+ carbon rods are between an ounce and an ounce-and-¾ lighter, depending on the model. You can feel the difference. They are accurate, markedly lighter and even more sensitive with powerful backbone across the entire series." 
Follow Captain Justin Carter on Instagram.