Bass Fishing
Winning in 2021
February 01, 2021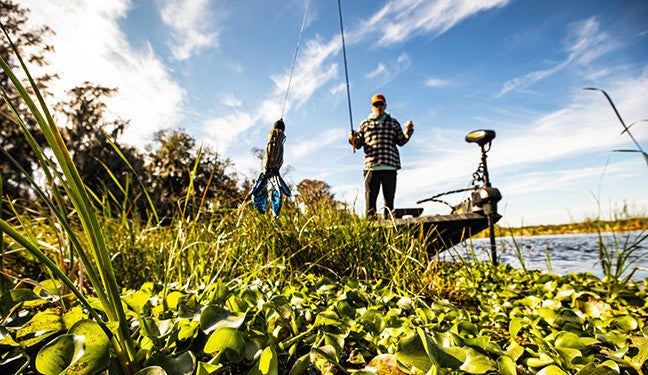 Wherever your bar is, move it higher… St. Croix readies to debut all-new American-made bass-centric rod series that overdelivers on performance and value, made possible with an all-new material
Park Falls, WI (February 1, 2021) – Everyone has goals. When we reach them we win, we celebrate, and then we move on. It's how anyone becomes better.
Some years deliver more wins than others. By most measures, 2020 was dismal, but with enough reflection, anyone can find some bright spots. While the pandemic crippled certain aspects of our lives, it also afforded the opportunity for many anglers to spend more time on the water. If you're among that group, that's a win.
Here at St. Croix Rod, having our production shut down for nearly six weeks in 2020 was devastating in so many ways. But while you were out fishing, we used the down time to take a step back and take a comprehensive look at all our processes. This simply wouldn't have been possible with production ramped up. Ultimately, the investment of time and critical thought helped us identify many new opportunities to improve our brand and products for the benefit of our anglers. More winning.
You see, at St. Croix Rod in Park Falls, Wisconsin, we only win when our anglers win. Whether it's a personal-best big bass, making the podium in a fishing tournament, finally taking the trip of a lifetime, or simply making time to get out on the water during those times when life seems so busy, St. Croix has been helping anglers achieve their goals and celebrating the wins right alongside them for over 70 years.
These angling victories are what motivate us, and why we never relent in our drive to improve the angling experience via better performance, better materials, better processes and technologies, or better value. Indeed, we learned a lot in 2020, and can't wait to show our anglers all the ways they'll benefit in 2021 and beyond.
What's Next?
Here's a start. On February 15, St. Croix Rod will announce the exciting details of a landmark launch for the brand; an all-new bass-centric rod series that will help hard-core bass anglers rack up more wins, however they may be defined. The challenge? Deliver the best technique-specific bass rods on the market between $180 and $250, do it with an all-new material, handcraft them right here in Park Falls, Wisconsin, USA, and make them available to anglers at the time of their official launch in March of 2021.
"Last year's launch of the new Legend Xtreme – our most sensitive rods ever – exceeded our goals," says St. Croix Product Manager, Ryan Teach. "These totally unique and exceptional rods met a very specific need. Despite criticism from a vocal few over the price, the market ultimately confirmed what we already knew. Anglers had specifically asked for this rod. No surprises… we delivered it and they bought it."
While successful in its own right, Teach says the exercise of designing, testing and building the new Legend Xtreme really opened the door to some exciting, wider-ranging opportunities. "We learned a lot about hybrid materials throughout development of the Croix Custom Ice series in 2018 when we played with all kinds of glass and carbon combinations to dial that new series in," he says. "Our Panfish series rods already incorporated SCVI for backbone, so when we added the material in new ways to the new Legend Xtreme SCV blanks, we asked, 'why can't we do this with our softer, angler-favorite SCIII carbon?' That's the progression that set the stage for the all-new series we're revealing on February 15, and we're calling the exciting new material SCIII+."
When combined with IPC (Integrated Poly Curve) mandrel technology, St. Croix's SCIII material is lauded by its rod engineers and anglers alike for its ability to transmit energy. IPC removes hinge points during the layup process, and ART (Advanced Reinforcing Technology) reinforces the transitions. "SCIII is definitely the 'sweet spot' in our materials lineup for lightweight performance, sensitivity and value," says St. Croix Director of Operations, Jason Brunner. "SCVI is too stiff and rigid to build a complete rod out of, but when added in the right amounts in the right locations to other materials – SCIII in this case – we can produce lighter and more sensitive rods that excel in technique-specific applications without sacrifice to strength or durability," continues Brunner, who adds that the precise amount and location of SCVI material in each of these new SCIII+ bass models is determined by the rod's specific application.
"Some criticized us when we launched the new Legend Xtreme, saying all St. Croix knows how to do is build expensive rods," Teach says. "Anyone familiar with our brand and products knows that's not true, and those who don't can simply take a look at our catalog, which is full of the Best Rods on Earth® across a range of retail prices. Now, we're totally shattering what's left of that myth with these incredible new SCIII+ bass rods."
The new bass-specific series will be one of the lightest St. Croix has ever produced, something Teach says anglers will most notice in the Heavy and Extra-Heavy power models. "Rod torque is the feeling anglers experience from a tip-heavy rod," he explains. "All of these new rods are exceptionally  balanced. In the heavier-power rods, we use more SCVI and less SCIII to compensate for the tip weight. All models have been sensitivity tested on our SC Dynamic Analyzer, which helped us determine precise placement and quantities of the SCVI material on each model."
Teach says ART will be used in all of these new bass models. "It just made sense in the pattern layups, but also because rod failure is simply not an option for these rods. Durability is a touchstone of this affordable yet professional-grade series," he says. "We told our pros who beta tested these rods to take them out and try to break them."
All lengths, powers and actions in the new series are tailored to specific bass-fishing techniques. They'll all have the same series name and cosmetics, but each is designed for its specific purpose. "Even the hook keepers are different," says Teach, who hints that the series will include never before seen models for emerging techniques and presentations.
The aesthetics of these new, high-performance bass rods will be all business; blanks are sanded and clear-coated to perfection, but remain unpainted. "We're not hiding anything," Teach says. "These rods are built to perform while also remaining affordable, and leaving them unpainted definitely helps keep the price down. The cool thing is that anglers can inspect any of these rods in the light to see and appreciate exactly how each rod is built."
If you're a bass angler at any level, here's hoping that 2021 brings you more wins. Whatever that means to you, know that St. Croix will be celebrating all of it right there with you. Learn complete details on our all-new technique-specific, made-in-the-USA bass rods offering a winning combination of unheralded performance and angler-friendly value on February 15.