Meet Our Machinery
Jason Brunner & Jesus Mario Rodriguez Guajardo
January 28, 2021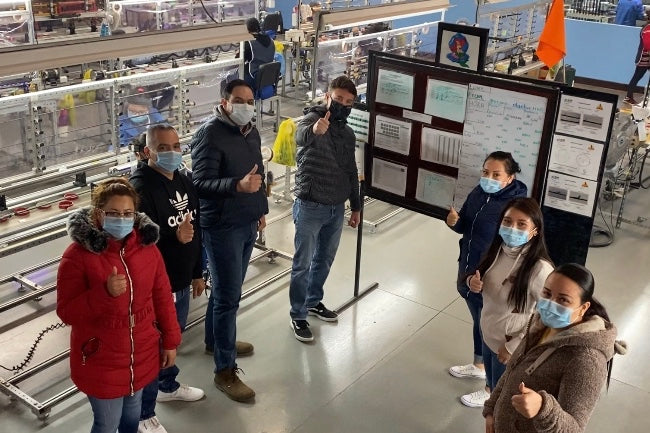 Smooth Operators: Jason Brunner and Jesus Mario Rodriguez Guajardo
Manufacturing companies have a lot of moving parts. At St. Croix Rod, suppliers, raw materials, equipment, design, manufacturing, distribution, facilities and people all mesh together efficiently to produce and deliver the Best Rods on Earth® to passionate anglers worldwide. As one might imagine, coordinating these interconnected systems is no small task. Every St. Croix employee plays an important role in the process, but primary responsibilities lie with St. Croix Director of Operations, Jason Brunner.
Aside from the fact that he's an engineer and his brain is trained to think about systems all the time, Brunner isn't too different than you or me. He's a lifelong angler and hunter, married, and has raised two kids. He's been employed by St. Croix for the past 23 years. Before working at St. Croix, he cut his engineering teeth designing machinery for a window and door company, as well as parts and systems for the paper industry, but he's always had a passion for fishing.
"I started as a rod engineer for St. Croix in 1997," says Brunner, who grew up collecting antique fishing rods just down the road from Park Falls in the small town of Irma, Wisconsin. "St. Croix called me one day and wanted to talk to me about coming to work with them. I had great admiration for St. Croix rods and the company itself, so it all sounded too good to be true. Those were actually the words I used to describe the opportunity to my wife," Brunner recalls. "I just couldn't turn it down. It ended up being one of the greatest decisions of my life, and it didn't take long for my wife, son and daughter to begin experiencing the same pride about being a part of the St. Croix family as I felt."
Brunner's main focus during his early years at St. Croix was largely on blanks and rod design, something he still keeps a hand and voice in today. He progressed to become an Engineering Supervisor, then Director of Engineering and Manufacturing before securing his current job, Director of Operations.
"There aren't too many people out there in our industry who have as much practical experience, knowledge, and expertise in designing fishing rods as Jason Brunner," says St. Croix Director of Marketing, Jesse Simpkins. "The fact that we have one of the world's most talented and recognized rod engineers directing our overall operations goes a long way in helping to explain why the rods we make are so special. I daresay nobody understands our products or our anglers better."
"I do love the design side of what we do here," Jason adds. "Designing something that someone has an incredible passion for is rewarding on so many levels.  Now, it's the same thing on the operations side. My team and I look at how we are going to make and deliver these rods that are known and appreciated by anglers worldwide. We set up and execute the systems that deliver the Best Rods on Earth® in ways that increase pride and angler satisfaction. The Schluter family and our Management Team have always made that the company's top priority. It's a theme that runs through everything we do here at St. Croix."
Over the years, Brunner has contributed much to St. Croix's various technologies that improve the angling experience. These technological breakthroughs – IPC®, ARTTM, FRS, TET and others – increase performance and quantifiable factors like sensitivity, durability and strength across the company's entire lineup. These accomplishments are a great source of pride for Brunner. "Some anglers may not dive into the alphabet soup of our rods; they simply experience the performance advantages," he says. "That's what matters, and I'm proud to be a part of that."
Aside from simply experiencing the joys and satisfaction of fishing St. Croix rods for themselves, Brunner says he wishes more anglers understood that they are the ones driving everything St. Croix does. "That's the longstanding and unwavering position of our ownership – and every team member – here at St. Croix. We will always do what's best for anglers. We don't stretch or create truths. St. Croix is and always will be loyal to anglers."
On the water, Brunner enjoys fishing for just about anything, including bass and musky, but walleyes are his first passion. As one might expect of an angler in his position, he has a special affinity for St. Croix's most advanced rods, and calls out the unique ES70LF Legend Elite as one of his favorite models – especially for vertical jigging walleyes in open water. Weighing in at just 3.3 ounces – even with full cork handles – it's a prime example of what can be achieved when the best available materials, technologies and craftsmanship are lovingly combined. "I just love how crisp and sensitive it is with surprising power," he says. "Some might think it's too soft, but not in my book. It's a light power, fast action rod that gives you pure satisfaction when bringing in a walleye from 30 feet of water. Using a lighter rod for jigging also increases sensitivity compared to a medium or medium-heavy power rod."
In addition to primary responsibility over St. Croix's operations in Park Falls, Brunner's job is comprehensive, meaning he oversees all aspects of operations, including those at St. Croix South – the nearly identical, state-of-the-art manufacturing complex which St. Croix owns outright and operates in Fresnillo, Mexico. At St. Croix South, one of Brunner's most-valuable resources is Plant Manager, Jesus Mario Rodriguez Guajardo.
Rodriguez (Chuy, as he's affectionately known) has been with St. Croix for 11 years and six months. An avid bass angler, he manages and oversees production of the company's handcrafted Mojo, Bass-X, Triumph, Eyecon, Panfish, and Trout Series rods.
"I lead our team of 204 people to complete production and delivery – on time – of the Best Rods on Earth," says Rodriguez. "Each team member at St. Croix South is keenly aware of the history, mission, and prestige of the brand and takes great pride in crafting these rods for anglers. All of our equipment, materials, and processes are identical to those in Park Falls, but the building here is newer. That's about the only difference," Rodriguez adds. "It's a very nice work environment and our team members love coming to work here."
With five boys, Rodriguez has a busy life away from work, but still finds time to fish whenever possible. "I'm lucky to be in a fishing club that includes many great bass anglers, including the current Mexican champion. It's a great place to improve my own fishing, while also receiving information and feedback on our rods from other skilled anglers," says Rodriguez, who often finds the Mojo Bass MJC68MHF in his hands while hunting bass. "It's a really versatile rod that feels and responds great in a variety of fishing situations, but really excels fishing 3/8-to-one-ounce jigs or worm rigs. It's got a fast, accurate tip and feels very sensitive and light for a medium-heavy power rod. It's definitely one of my favorites!"
From a product perspective, Rodriguez says performance advantages and overall quality is what sets St. Croix rods apart. "Anglers simply need to pick up, feel and inspect one of our rods to appreciate it, and when they actually fish with it, that's when they become a St. Croix angler for life." But he believes it's the company's angler-driven philosophy that truly makes St. Croix special. "It's integrity… consistently following through on our promise to make the Best Rods on Earth," he says. "Anglers receive the rods with the performance characteristics and quality they demand and expect… because every person involved on our team makes sure of it. This is our commitment."