Angling Currents
Summer Multispecies Fishing
August 23, 2021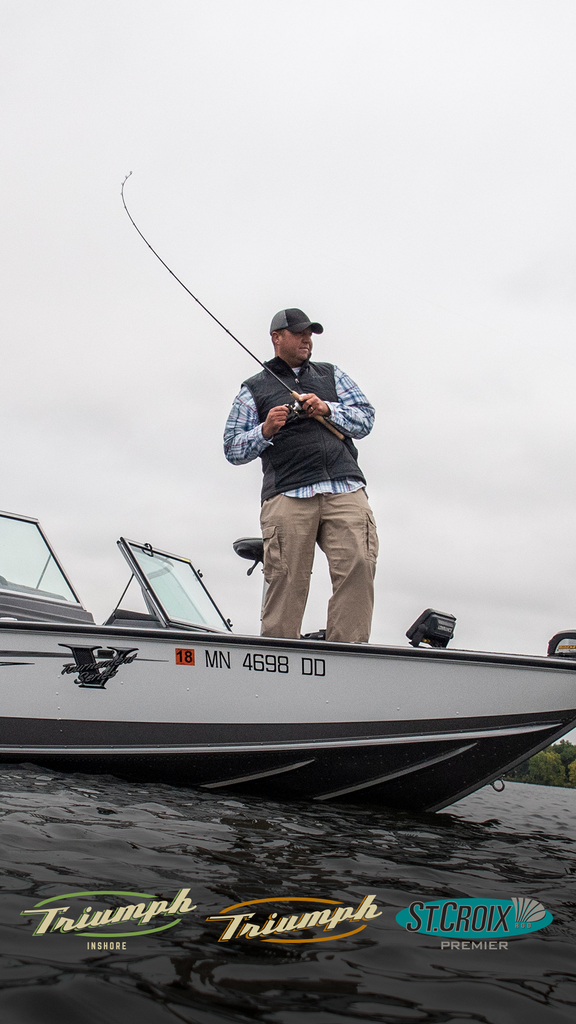 ANGLING CURRENTS: Summer Multispecies Fishing
 

Mention late August or early September in fishing circles and the phrase dog days always seems to come up – usually in reference to tough or slow fishing conditions. Famed Minnesota fishing guide and angling ambassador, Tony Roach, rejects that line of thinking. "I just don't find that to be the case," he says. "In fact, just the opposite is true. In most bodies of water at this time of year, varieties of gamefish species are actually concentrated in big numbers in certain spots. You just have to start looking in different areas. And when you find them you can enjoy fast fishing for a wide range of species."
 
Wisconsin-based angler, author, fishing influencer and founder of Ladies Midwest Meetup, Alicia Thompson, agrees. "There are just as many fish to catch at this time of year," she says. "Anglers just need to realize that late-summer fish can be fussy, so they need to adapt their presentations and locations. What worked last month, last week, yesterday, or an hour ago may not work right now."
 
Roach says offshore humps, deep weed lines, steep breaks and other mid-lake structures with access to deep water are all areas that hold big numbers of fish right now. An easy and effective way to cover water and catch the myriad species using these locations is by casting jig worms or Ned rigs.
 


 
"In late summer I use 3/16 or ¼-ounce jigs tipped with a 4" Senko-style worm or a finesse TRD-style Ned worm," Roach says. "It's a simple but very effective way to catch everything that swims in late August or early September." After marking a concentration of gamefish on his electronics, Roach positions his boat off the deep edge then casts up to the structure – the weedline, ledge, rock pile, etc. – and works the jig back to the boat with a lift and fall cadence. "The key factor is allowing the bait to fall down through the vegetation, or in case of structure, onto the rocks or ledge, then let it fall off of it," he says. "I fish this presentation on a slack line working the jig up and letting it fall, stair-stepping it down the break. The fun part is you never know what you're going to catch on these mid-lake structures. It could be a bass, walleye, pike, or even a big bluegill."
 
Roach most often deploys a 6'6" to 7' medium power, fast action spinning rod paired with 10-pound braid and a 10-to-12-pound fluorocarbon leader for these techniques. "Since most of the strikes come on the fall, I like using the braid for bite detection – a bright color can help because you can often see your line move when a fish picks up the jig – and the fluorocarbon leader, of course, has low visibility to the fish and is more resistant to abrasion from rocks, woods and shells," he says. "You're often pitching, not bomb casting with this technique, so you don't need a lot of rod length, and a fast tip helps with casting accuracy and strike detection. A versatile 66MF or 70MF rod like those in St. Croix's Triumph or Premier Series is ideal."
 


 
When it comes to late-summer multispecies angling, Thompson says anglers shouldn't be afraid to try new techniques and locations. "Of course you can read about and listen to what other anglers have to say – that can really shorten the learning curve – but I have learned so much throughout my years of fishing by simply getting on the water, following my intuition, and giving it my best," she says. "Don't commit to a single technique or even a handful of techniques solely because someone else suggested it's how you should fish. The best anglers are constantly experimenting through trial and error. It's a great way to learn, gain confidence, and ultimately become a better angler."



 
That said, Thompson is quick to share a couple techniques that multispecies anglers will want to experiment with at this time of year. "If you're looking to put a bend in your rod during this late-summer timeframe and don't care to target any one specific species, it's hard to beat a dropshot rig," says Thompson, who spends ample time fishing rivers, often from a kayak. Her other recommendation – although used primarily to target largemouth and smallmouth bass – is a topwater presentation.
 
"I have a lot of success with a dropshot rig throughout the day in late summer for bass, walleye, and pike. These species are often bunched up together in key spots along weed edges and on deep structure. A vertical presentation like dropshotting allows you to present your bait accurately in these high-percentage spots. Instead of casting and hoping your bait passes inside a fish's strike window, with dropshotting you can put it right in front of them and keep it there – often multiple fish at once. It's an excellent presentation anytime fish are deep, packed tightly together, or in a neutral mood."



 
Thompson prefers a shorter spinning rod for dropshotting from her kayak. "In my opinion, a shorter rod is ideal for most kayak fishing. Because you are closer to the surface of the water, I find the reduced length makes it easier to land fish. A 6'6" rod is about perfect for me in the kayak; it makes it easier to net fish and is still long enough to fight them around the front of the boat." Thompson often pairs a St. Croix Premier or Triumph spinning rod with a 2500-size reel spooled with 10-pound braid and a 10-pound fluorocarbon leader. She prefers a cylinder-style dropshot weight at the bottom of the rig and ties a size 2 or 4 VMC spin-shot hook 12 to 18 inches above the weight. She encourages anglers to experiment with different baits when dropshotting based on the forage available where they're fishing, but often opts to nose-hook a 3-to-4-inch soft plastic minnow-style bait in some form of silver, pearl or green pumpkin color.
 
While dropshotting is a great late-summer multispecies technique throughout the day, Thompson says this time of year can produce some exciting topwater bites in the hours around sunrise and sunset – for bass, pike, and even musky. "In the rivers I fish, I like to use poppers like the STORM Rattlin' Chug Bug and a walk-the-dog style lure like the Heddon Zara Spook," says Thompson. "Casting into slack water areas, inside current breaks, over submerged rock, next to wood, and along weed edges with a consistent cadence usually gets the job done but be ready to switch up the cadence if you aren't getting bit. When using a popper, for example, try a pop-pop-pause right after casting near structure or a current break," Thompson advises. "That first pause can be the ticket to getting a fish to strike. If a fish misses the lure the first time, keep going with the cadence that worked; chances are good it will strike again. These same topwater presentations work in lakes, especially on shallow grass flats or in deeper areas where weed growth tops out just below the surface."
 


 
Thompson says a 6'6" medium power, fast action Triumph or Premier is great for topwater presentations, too. "These versatile rods offer plenty of power to fight feisty river smallies in current and are exceedingly manageable in a kayak," she says. "If you want to throw a larger-profile bait or target bigger fish around cover, you might consider moving up to a medium-heavy model like a 70MHF. That'd be a great choice when fishing waters where a lot of pike or musky are present."
 
Forget what you've heard about the dog days of summer. Late August and early September is a great time to get out and put a bend in your rod – especially if you aren't picky about what you'll catch. So, take our pros' tips and advice and adapt them to where you're fishing right now. We'll be back next week with more timely fishing insights, talking late-summer walleyes with those in the know.