Angling Currents
Fall Walleye
August 30, 2021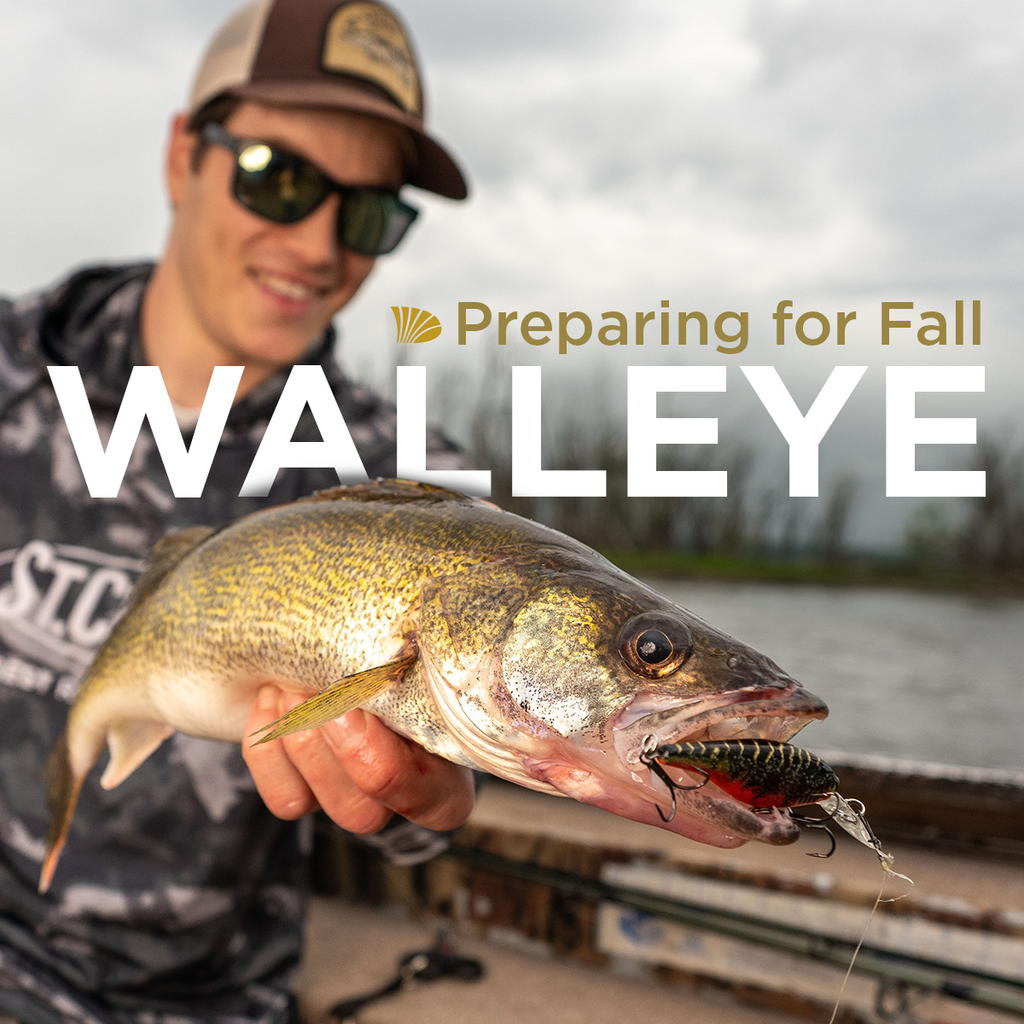 Walleyes are still largely following established summer patterns in most lakes and rivers come early September, which generally means deeper water. Anglers targeting 'eyes should start their searches in all the likely areas, namely offshore humps, deep weed lines, mid-depth flats, and man-made cribs in lakes, and at the bottom of the deeper pools in rivers and streams. But they should also be prepared to search shallower whenever the conditions dictate.
 
"September is a transition time for walleyes," says Minnesota professional angler and fishing promoter, Joel Nelson. "Most lake walleyes will adhere to summer patterns during warm weather, but any early cold snap can trigger pods of baitfish to move to the shallows. The walleyes won't be far behind."
 
Nelson is a proponent of vertical jigging and pitching in these scenarios. His key offerings include simple 1/8-to-1/2-ounce jigheads rigged with smaller plastics, typically paddletails and shad varietals, fished under the boat in the mornings and evenings, and away from the boat during mid-day. He uses two distinct spinning rods for these presentations.
 


 
"For me, a 6'3" medium-light power, extra fast spinning rod is the perfect vertical jigging tool when using up to 3/8-ounce jigs," Nelson says. "The shorter length is ideal for fishing vertically, and the extra-fast tip is extremely useful in detecting bites from fish still in a lazy summer pattern. St. Croix offers this popular model in several of its rod series, including Eyecon and Legend Elite, which are two examples that will appeal to the needs of a wide variety of anglers." Personally, Nelson opts for the Legend Elite model and its extremely sensitive SCV carbon blank.
 
"When fish push shallower – often after a cold snap – and you're pitching farther away from the boat, moving up in length and power to a 6'8" medium power, extra-fast rod gives you a bit of extra leverage, and it'll also handle heavier Fireball jigs up to 5/8 of an ounce," advises Nelson, who says shallower walleyes are often more concentrated. "Big schools of walleyes are typically present in these conditions, so look for 'can't-miss' signatures on your electronics' side-imaging before wetting any baits."
 


 
Wisconsin angler and fishing influencer, Blake Tollefson, agrees, also relying on the 63MLXF for vertical jigging situations. "On several of the flowages and lakes I fish, walleyes and crappies alike tend to congregate on deeper wood where it's available, and man-made cribs wherever they exist." Tollefson says typical depths are from 15 to 25 feet of water.
 


 
"The best way to fish stumps, wood and cribs is usually vertically, because you have better control of your presentation and can reduce the frustration of getting your jig hung up." He says precision is also a factor. "You usually need to be right on the cribs to get bit. Cast and retrieval methods aren't great for this type of fishing because you tend to get snagged. Fishing vertically, you can dial in your presentation and your electronics will guide you."
 
That's a primary reason why Tollefson likes a shorter rod like the 63MLXF. "It lets you control your presentation right in the cone of the sonar," he says. "That's key because using your sonar is extremely helpful for determining what it takes to coax fish out of the wood, as well as keeping yourself from getting hung up."
 


 
Tollefson says a medium-light power rod like the 63MLXF is ideal for presenting a wide range of smaller baits that appeal to both walleyes and crappies. "For walleyes and crappies, a simple jig rigged with a small plastic seems to be best," Tollefson advises. "My all-time favorite plastic for vertical jigging in these scenarios is the Eurotackle Fat Assassin, which I'm usually fishing on a 1/8-ounce jighead. It's a 2" soft plastic bait with a relatively thick profile and exposed ribs that make a ton of vibration. Crappies and walleyes both love it, but if I'm strictly targeting walleyes, there's a decent chance I'll be using a fathead minnow instead." He also uses hardbaits like smaller jigging rap style baits (No. 3 and No. 5) and smaller lipless crankbaits like an 1/8-ounce Eurotackle Z-Viber.
 


 
Tollefson says a 1000-size spinning reel pairs up nicely with a 63MLXF spinning rod, which he most often rigs with 8-to-10-pound braid mainline and a 4-to-6-pound fluorocarbon leader.
 
To anglers pursuing river 'eyes during late summer and early fall, Nelson says water levels play a huge role in finding and catching fish. "Come September, many walleye streams and rivers are at their lowest stages of the year, which usually causes fish to stack up in relatively small areas," he says. "A canoe or kayak float down likely stretches may yield only a handful of fishable spots, but that's not a bad thing. Once you find them, you can catch a bunch."
 
Nelson says river walleyes frequently hold in the deepest water available right now. "You've got to go down and get them, either vertically jigging as you slowly drift through the holding water, or by pitching jig and grub combinations into current seams and other slack-water edges," he says.
 
Nelson employs the same 63MLXF and 68MXF Eyecon and Legend Elite spinning rods on the river that he uses when lake fishing. "These exact same rods and presentations are equally effective at taking river walleyes at this time of year, in addition to smallmouth bass," he says, which can be found "in similar, though usually slightly shallower areas." Nelson says bonus bronzebacks will inhabit more areas – not just the deeper pools where walleyes congregate. "They definitely roam more than the walleyes do right now and aren't afraid to hit a variety of aggressive offerings."
 


 
Nelson describes a 68MXF rod as an "incredible jack-of-all-trades" for throwing inline spinners, topwater baits, and any variety of jig-and-plastic combinations. "All of these presentations will appeal to smallies," he says, "and the 68MXF Eyecon model has the perfect mix of strength and sensitivity to excel in these techniques, along with exceptional durability that makes it an ideal choice for rough-and- tumble rumbles down the river."
 
Whether pursuing walleyes in lakes or rivers throughout the coming weeks, take our experts' advice and start your search in the normal, deeper summer haunts, but be ready to look shallower when cold fronts and other weather changes drive baitfish closer to shore. Fish vertically to concentrations of fish and use your electronics to your advantage. Rig for versatility and enjoy bonus catches of crappie and smallmouth bass to add to the fun.