A TRIUMPH OF ROD PERFORMANCE, DESIGN & VALUE
May 14, 2019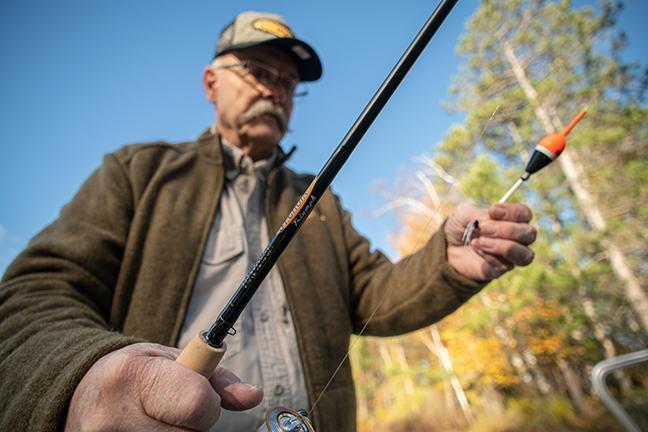 Durably sensitive and powerful, Triumph rods are made for savvy anglers seeking the best in performance and value.
One rod series that truly lives up to its name is Triumph, durably sensitive and powerful rods designed for savvy anglers seeking the best match of performance and value.
40 models allow anglers to utilize Triumph in almost any fresh or salt water pursuit.  And the price? Most models are just over $100, with anglers still becoming the beneficiaries of legendary St. Croix technology and performance.
"Triumph is a really fine fishing series going on its second decade in our lineup, and while we have higher performance rods, Triumph offers a great, high-performing introductory rod for lots of applications. When it gets down to it, Triumph shares some similarities to the Premier—both have full cork handles, SCII graphite, and many similar components—so anglers really have lots of options across both lines to build a large arsenal of specific application rods on a reasonable budget," says Jesse Simpkins, Director of Marketing, St. Croix Rod. 
Adding a Triumph to your arsenal has never been easier.  Shop the St. Croix webstore where anglers can peruse the full line of Triumph standard and travel rods.  Anglers looking for a little assistance in choosing the perfect Triumph for their needs, simply dials 800-728-7042 and speak directly to one of the knowledgeable St. Croix Customer Guides.  If you are in the Park Falls, Wisconsin area, shop the factory store and better yet, if you have time, book a factory tour and watch our Artisans make the Best Rods on Earth. 
Call them gateway rods if you want, but the fact remains that countless anglers rely on both Triumph rods as their primary rods and continue to do so. Why? Ultimately, their design, performance, aesthetics, and warranty far exceed their price point and the rods truly live up to their name.
TRIUMPH FEATURES
Premium quality SCII graphite.
Hard aluminum-oxide guides with black frames.
Fuji® DPS reel seat with frosted silver hoods on spinning models.
Fuji® ECS or TCS reel seat with frosted silver hood on casting models.
Premium-grade cork handle.
Two coats of Flex-Coat slow cure finish.
5-year warranty backed by St. Croix Superstar Service.
Outstanding strength, sensitivity and hook-setting power.
Designed in Park Falls and handcrafted in Fresnillo, Mexico.