St. Croix Rod Customer Appreciation Day Fast Approaching
May 14, 2019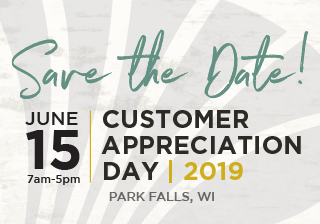 Wisconsin's most popular fishing-related event promises one-of-a-kind special events, discounts, seminars, and more
Mark your calendar now! Wisconsin's most popular fishing-related event, St. Croix Rod Customer Appreciation Day, is fast approaching—and with it one-of-a-kind special events, unique product discounts, seminars, and a whole lot more. The date for the event is June 15, 2019, with doors opening promptly at 7 am.
"St. Croix Rod Customer Appreciation Day has turned into Wisconsin's premier fishing event. I would argue that there isn't anything remotely close to it that compares. So, if you're a St. Croix enthusiast, there's really only one place you want to be on June 15th and that's at Customer Appreciation Day," says Ryan Teach, St. Croix's Factory Store Manager.
Case in point, last year the event attracted 2700 participants despite rain and stormy weather, with visitors commuting from as far as Croatia. "This year we anticipate even more anglers—my guess is around 3000—and we've made a substantial investment and effort to triple our tent size and weatherproof the festivities," says Teach.
So what is it that draws anglers from all points on the globe to Northern Wisconsin for one day of the year? The first is the atmosphere, a celebration of fishing with fellow St. Croix enthusiasts from around the world. Each person who attends is drawn into the St. Croix family and gets to experience something no other rod manufacturer offers on such a personal level. In addition, there's also the fair-like atmosphere with free prize drawings every hour on the hour, free lunch for all attendees, plus unbeatable discounts and sales on all things St. Croix, from rods to apparel and more.
"This year there will be a $69 rod and reel combo—that's a St. Croix REIGN, which is only available here at the factory store and on the web site. We have them in a number of actions, powers, and lengths and all come with a Daiwa Crossfire 1000 or 2500 spinning reel," says Teach.
Besides St. Croix, there are a number of participating partners—from Daiwa to Pure Fishing to Eskimo to brands Berkley, Eagle Claw, Trokar, and many more. Speaking of Daiwa, if you buy a reel at the event it comes with free line. "As far as the other brands, we buy a lot of product and offer it at a reduced rate specifically for Customer Appreciation Day.""
Even though we are getting into summer, St. Croix will also be offering discounts on ice fishing products—from their own ice rods to supporting partner Eskimo's drill-based Pistol Bit augers.
Of course, the event is also one of the rare opportunities to get a discount on select St. Croix rods, the other two opportunities throughout the year being the Wausau Musky Show and the Midwest Sports Show.
The other big attraction to Customer Appreciation Day is the number of free seminars from very knowledgeable pro anglers and experts.
"We added a couple things last that really played out well for our anglers and that's the addition of seminars. This year, we have a broad program of seminars from the Lindners—who have joined us every year—to Captain Barb Carey, who represents Wisconsin Women Fish. It's highly tailored toward every demographic getting out on the water. Another additional seminar we added this year is Andy Hendrickson on how to get kids out fishing, how to get a child to catch his or her first fish—just kind of helpful tips for parents and young anglers to enjoy and discover fishing. The seminars are definitely something a lot of participants look forward to," says Teach. 
In summary, there's really no other fishing-based event that is so community-focused and offers so much all in one place. People from across the country—and globe—have already started booking their hotel. Again, our recommendation? Mark your calendar now to join us in one of the most fantastically diverse fishing-based events the country has to offer!