Midwestern Rod
Builder Tames the Seven Seas
January 10, 2016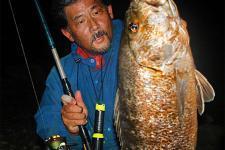 New St. Croix Legend Surf sets high-water mark for surf casters
Park Falls, WI (January 11, 2016) What do a little town nestled in the big woods of Wisconsin and the salty seas have in common? Waves. St. Croix Rod a storied, Wisconsin-based, family-run business is making waves in the saltwater rod category.
Wisconsin? Saltwater?
Dont judge a book by its cover. In this case, the cover is Park Falls, Wisconsin. The pages read all about a company that is dominating the saltwater rod category, fueled by innovation and technology. The trade has recognized St. Croixs saltwater prowess, too, awarding the American manufacturer three ICAST Best Saltwater Rod titles over the past four years.
New this year, St. Croix Rod introduced the Legend Surf.
Extreme fishing. Extreme conditions. Extreme equipment. Insane angler-adventurers who manage to function with sleep deprivation and live for the adrenaline rush of the wallop of 100-pound-plus leviathans, are turning to Legend Surf.
In the pause between heartbeats like a scene from the movie The Matrixeverything stops. Surf slapping, the warrior angler sets the hook...ITS ON! Landing a massive fish isnt easy, and without a quality rod, oftentimes impossible. Surf rods must hold up to the harshness of the surf: slap landing, long casts, wind, and wave after wave.
Trophy hunter and St. Croix Pro staffer, Alberto Knie, or Crazy Alberto as hes called, lives up to his name. The Florida surf-caster has spent years warring the surf all along the Atlantic coast. It was only fitting that Knie was selected as a product tester for the new Legend Surf.
Crazy Alberto was admittedly a closet St. Croix Rod fan even before joining the team. He remembers it well. Youd see St. Croix introducing new technology, and bringing rods to the coast to test in the surf. I knew they were experimenting, and looking for longer, stronger rods with high performance and sensitivity, he said. So Knie got on board.
Not only does St. Croix put rods in extreme anglers hands, they listen to the guys in the field and make adjustments combining technology with field experience to fashion a product that rises above the competition. The high-modulus/high-strain SCIVgraphite blanks are loaded with proprietary technologies. IPC,ART, FRS, and new FujiTorzitesolid-titanium frame surf guides put Legend Surf in a category all its own.
The rods are stronger and higher performing than others in the market. On top of that, the Legend Surf has gotten lighter and lighter, while at the same time stronger and better performing.
Surf fishing involves exceptionally calculated techniques. St. Croix rods allow me to fish my style with confidence, added Knie.
The neoprene handle, which prevents slipping, adds to Legend Surfs ability to subdue monsters. The neoprene feels more comfortable and provides better grip for power casting, too.
Saltwater is corrosive, meaning you could literally spend more time cleaning and maintaining your equipment than actually fishing. With this in mind, the design team added non-corrosive elements. Investing in non-corrosive equipment means more time in the surf.
When you fish like I do, said Knie, youre going to push it to the limit every time. St. Croix rods are made to endure, but if for some reason there is a failure, they have a customer service team to back up the superb warranty. Legend Surfs 15-year warranty gives the confidence that youre making the right choice, said Knie.
St. Croix Legend Surf Features
Integrated Poly Curve(IPC)tooling technology
Advanced Reinforcing Technology(ART)
High-modulus/high-strainSCIVgraphitewithFRS for unparalleled strengthand durability
Designed for extreme surf fishing performance
Off-set, slim-profile ferrules on two-piecemodels provide one-piece performance
FujiTorziteRV K-Series surf guides with titanium frames for unrivalled 100% corrosion-proof performance
Torzite is the first ceramic created to be a guide ring, and is stronger, lighter and 5X less abrasive than Fuji SiC
FujiTorzitesurf top with flanged ring for greatly reduced line friction
FujiDPS reel seat with exclusive E-finish hoods
Custom neoprene handle provides comfort and durability. Positive grip improves when wet
Two coats of Flex Coat slow-cure finish
Designed and handcrafted in Park Falls, Wisconsin
15-year transferable warranty backed by St. Croix Superstar Service
Retail$510-$690
SALTWATER CATEGORY ICAST AWARDS:
ICAST 2012 Best New Saltwater Rod: Legend Inshore
ICAST 2013 Best New Saltwater Rod: Legend Xtreme Inshore
ICAST 2015 Best New Saltwater Rod: Avid Inshore
About St. Croix Rod
St. Croix Rod is a family-owned and managed manufacturer of high-performance fishing rods headquartered in Park Falls, Wisconsin with a 65-year heritage of USA manufacturing. Utilizing proprietary technologies, St. Croix controls every step of the rod-making process, from conception and design to manufacturing and inspection, in two company-owned facilities. The company offers a complete line of premium, American-made fly, spinning and casting rods under their Legend Elite, Legend Xtreme, Legend Tournament, Avid Series, Premier, Wild River, Tidemaster, Imperial and other trademarks through a global distribution network of full-service fishing tackle dealers. The companys mid-priced Triumph, Mojo Bass/Musky/Inshore/Surf, Eyecon and Rio Santo series rods are designed and engineered in Park Falls, Wisconsin and built in a new, state-of-the-art manufacturing facility in Fresnillo, Mexico. Founded in 1948 to manufacture jointed bamboo fishing poles for a Minneapolis hardware store chain, St. Croix has grown to become the largest manufacturer of fishing rods in North America.